Reality Check: Does the north east make more cars than Italy?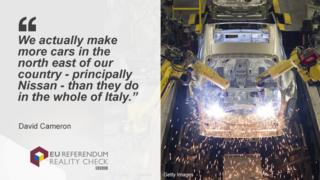 This is one of David Cameron's favourite claims.
He's made it over and over again. But it looks as though it's not actually true - or at least, it's not true any more.
The Society of Motor Manufacturers & Traders (SMMT) says that Nissan, the only significant car manufacturer in the north east, produced 476,589 cars in 2015, a slight fall on the previous year.
Meanwhile, Italy has seen car production bounce back sharply from the severe falls that followed the financial crisis.
Figures from ANFIA, the Italian Association of the Automotive Industry, suggest that car production was on course to be between 650,000 and 700,000 in 2015.
The International Organization of Motor Vehicle Manufacturers (OICA) quotes a figure of 663,139.
That does mark a very big jump from the 2014 figure of 401,317, so perhaps the prime minister can be forgiven for getting it wrong. But will he stop repeating his claim now?
Reality Check verdict: Has been true in recent years but not any more - the latest figures suggest a turnaround in 2015.
---
READ MORE: The facts behind claims in the EU debate
---