Brexit: Who is 'prat on a zip wire' Boris Johnson?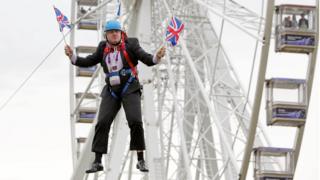 Foreign observers may have noticed an awful lot of recent fuss about the UK's new foreign secretary, Boris Johnson - yes, that man on the zip wire.
The former London mayor fronted the victorious Brexit campaign and was widely tipped to be the next prime minister.
But he shocked everyone by withdrawing after his closest ally declared him incompetent. He appeared down and out, his career over.
Now he's back and for those outside the UK wondering who he is and whether that is actually his hair - read on.
How Britain's new foreign secretary has insulted the world
Boris Johnson is foreign secretary: The world reacts
Read more about the UK's referendum on the EU
Boris
Alexander Boris de Pfeffel Johnson, to give him his full name, was born in New York and is descended from Turkish, French and German stock. He describes himself as a "one-man melting pot".
Given his American birth, he joked on the Letterman show that he could technically run for president. But he has since said his citizenship was "an accident of birth" that he needed to "sort out".
His young life followed the path of many of Britain's top politicians - he went to the exclusive private school Eton and studied classics at Oxford.
He is known to many simply as "Boris". When, as mayor of London, he oversaw a cycle-hire scheme for the city, the bicycles became known as "Boris bikes".
He first made a name for himself in journalism, including a stint as Brussels correspondent for the right-wing Daily Telegraph newspaper and later as editor of The Spectator magazine. His humorous persona led him to become a fixture on various television programmes, including the satirical BBC panel show Have I Got News For You.
He has had a lucrative column in the Telegraph, in which he wrote after the Leave vote that "the verdict of history [would] be that the British people got it right".
As a politician, he has been a Conservative member of parliament for two constituencies, Henley from 2001 to 2008 and then Uxbridge and South Ruislip from 2015.
Lest you think he was putting his feet up between parliamentary mandates, he served two terms as mayor of London, no mean feat in a city where the centre-left Labour Party has tended to hold electoral sway.
That's indicative of the position Mr Johnson has carved out for himself as one of the most charismatic politicians in the UK who has appeal beyond the Conservative heartlands.
So does everyone like him?
Not quite. He has previously courted controversy for his remarks about (among others) the populations of Liverpool, Portsmouth and Papua New Guinea, not to mention run-ins with his own party leadership and TV chef Jamie Oliver.
He has also compared US Democratic presidential candidate Hillary Clinton to a "sadistic nurse in a mental hospital" and written an obscene poem about Turkish President Recep Tayyip Erdogan.
Last October he accidentally flattened a 10-year-old schoolboy at what was meant to be a friendly game of photo-op rugby in Japan.
His journalism career had an inauspicious start when he made up a quote and got fired from The Times, a centre-right British daily newspaper. He had been trying to spice up a dull story about an archaeological dig but the editor - and the history don he "quoted", who also happened to be his godfather - failed to see the funny side.
But none of this seems to have affected his standing among the party faithful or the public at large. Even getting stuck on a zip-wire during the London Olympics in 2012, a surefire route to derision for any other politician, only enhanced his eccentric image.
Independence Day?
Mr Johnson finally ended months of speculation about which side of the EU debate he would back in an immaculately impromptu media scrum outside his home in North London in February. It meant going against the prime minister, most of the UK's politicians and even his own family.
He said he had come to his decision as a result of deeply held convictions and "after a huge amount of heartache".
But rumours flew that it was a way to position himself to succeed Mr Cameron if the prime minister stumbled.
Either he would win or, as seemed more likely at the time, he would lose narrowly but rise hugely in the estimations of the Eurosceptic party faithful, who would then turn to him to replace a mortally wounded Mr Cameron.
In this, some suggest, he followed his long-standing policy on cake: "Pro having it and pro eating it".
Becoming prime minister may not have been quite as grand as World King, his supposed childhood ambition, but he would have reached the apex of power nationally.
At a huge stadium debate on the eve of the EU referendum, he urged voters to "take back control" and make polling day "our country's Independence Day".
In the event, Leave won by a margin of 52-48, surprising many Leave campaigners and appearing to open a path to Downing Street for Mr Johnson, after Mr Cameron said he was stepping down.
But that was before his closest ally Michael Gove turned on him, forcing his withdrawal from a race ultimately won by his new boss Theresa May.
All this despite the fact that Mr Johnson once joked there was as much chance of him becoming prime minster as "being reincarnated as an olive".
So how come he's running for US president?
No, no, no, that's Donald Trump. Also a pioneer of unorthodox political hair, but they don't get on.
When Mr Trump commented that parts of London are "so radicalised the police are afraid for their lives", Mr Johnson retorted: "The only reason I wouldn't go to some parts of New York is the real risk of meeting Donald Trump."
Wasn't he in a Wes Anderson film?
No, I've confused you now by mentioning Donald Trump. Same hair though.
So he's not the Wikileaks guy?
No, that's Julian Assange.
---
Additional reporting by Nalina Eggert