Donald Tusk to publish UK-EU 'settlement'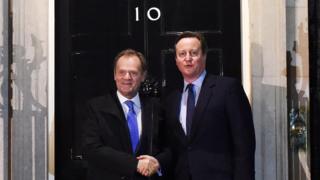 The president of the European Council says "good progress" has been made on David Cameron's reform demands as he prepares to publish a "new settlement" on the UK's EU membership.
Donald Tusk said he would put forward the draft text on Tuesday but warned "outstanding issues" remained.
UK and EU officials have been trying to reach an agreement that will pave the way for the UK's EU referendum.
EU leaders will debate the proposals at a summit on 18 and 19 February.
Mr Tusk tweeted: "Tomorrow around noon I will table proposal for a new settlement for #UKinEU. Good progress last 24 hours but still outstanding issues."
His office said the proposal would be sent to the 28 EU member states at about noon Brussels time, before being published "a bit later".
An early deal, which would require the approval of all the EU nations, would allow Mr Cameron to call a referendum on the UK's EU membership before the summer holidays.
---
Analysis
By Chris Mason, BBC political correspondent
After a day of negotiations described by Donald Tusk as "crucial," confirmation of a breakthrough, at least of sorts.
At 11:00 GMT on Tuesday, the EU will put forward what it calls a "new settlement" between the UK and Brussels.
Both sides acknowledge what they call "outstanding issues" remain; the renegotiation is not yet over.
But, this evening's news does appear to pave the way for a deal at this month's EU summit - and a referendum in June.
---
Earlier the UK claimed "progress" had been made but said there was "more work to do" as officials held a "crucial" day of talks with EU counterparts about the UK's membership.
'Emergency brake'
Talks have been taking place for months between UK and EU negotiating teams on the reforms Mr Cameron wants to see before holding the referendum.
BBC chief political correspondent Vicki Young said Mr Tusk's comments did not mark the end of the negotiations, with the PM due for more talks ahead of the summit.
"The deal is not yet done," she said, adding that objections could still emerge to Mr Cameron's bid to curb welfare for EU migrants.
He has proposed denying in-work benefits to all EU migrants until they have been in the UK for four years, saying this would reduce high levels of immigration to the UK.
EU leaders rejected this idea but suggested an "emergency brake" which the UK could use for up to four years.
The UK could use this to deny in-work benefits to EU migrants but it would have to prove public services were under excessive strain and would need the approval of other EU states.
'Tinkering'
The proposal was to allow the UK to be able to impose the brake within three months of applying for it but Mr Cameron wants it triggered immediately after the EU referendum. He also says there should be no time limit on its use.
After Sunday's talks, the prime minister's spokesman said the European Commission had tabled a text saying the UK met the criteria for triggering the proposed emergency brake, describing this development as a "significant breakthrough".
The European Commission confirmed the text had been drawn up but said it had not yet been circulated to other EU countries.
"The timing is in the hands of President Tusk and Prime Minister Cameron," a Commission spokesman said. "It is not enough for the Commission and Council lawyers to agree, this is a process that is run at 28 (EU countries) and the Commission works for all 28 member states of the union."
Although the referendum does not need to be held until the end of 2017, it has been reported that Downing Street favours a poll on 23 June.
UKIP deputy Leader Paul Nuttall accused Mr Cameron of "playing us for fools" and said any deal would "be nothing more than tinkering round the edges... will not go any way to dealing with the wholesale loss of sovereignty to the EU, the eye-watering cost of it, or indeed go any way to bring back genuine control of our borders from the EU".
---
David Cameron's four main aims for renegotiation
Integration/Sovereignty: Allowing Britain to opt out from the EU's founding ambition to forge an "ever closer union" of the peoples of Europe so it will not be drawn into further political integration. Giving greater powers to national parliaments to block or scrap EU legislation.
Competitiveness: To extend the single market and cut down on excessive regulation - commonly known by critics as "Brussels bureaucracy".
Benefits: Restricting access to in-work and out-of-work benefits to EU migrants. Specifically, ministers want to stop those coming to the UK from claiming certain benefits and housing until they have been resident for four years. But the European Commission, which runs the EU, has said such a move would be "highly problematic" and the focus has now turned to the UK having an "emergency brake" which could stop in-work benefits to EU migrants for four years.
Eurozone v the rest: Securing an explicit recognition that the euro is not the only currency of the European Union, to ensure countries outside the eurozone are not disadvantaged. The UK also wants safeguards that it will not have to contribute to eurozone bailouts
Guide: All you need to know about the referendum
Referendum timeline: What will happen when?
Q&A: What does Britain want from Europe?
More: BBC News EU referendum special
---