Cameron unlikely to win genuine EU reform - Lord Howard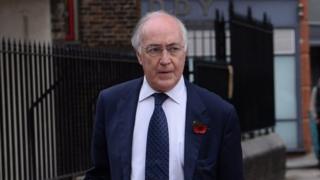 David Cameron is "not looking very likely" to secure a good enough reform deal to justify keeping Britain in the EU, Lord Howard has said.
The former Conservative leader was speaking as the prime minister travelled to Prague on the latest leg of his renegotiation mission.
He hopes to get a deal next month, paving the way for a referendum.
But his call for a four-year ban on in-work benefits is proving a stumbling block with Central European nations.
Responding to Lord Howard's comments, Mr Cameron's official spokeswoman said: "The prime minister has spoken before of the fact that there are many different views around on this debate.
"He is clear that the reforms we are seeking are substantial and significant and will really change our relationship and our membership of the EU."
The Czech Republic has been among the outspoken members of the Visegrad Group - the Czech Republic, Slovakia, Poland and Hungary - in expressing concerns about benefit curbs for migrants.
And Downing Street said it would be one of the key topics for discussion when Mr Cameron meets Czech President Milos Zeman and Prime Minster Bohuslav Sobotka in Prague.
'Unnatural draw'
Mr Cameron has said he is prepared to consider other options on welfare curbs if they will help cut high levels of immigration to the UK.
In an opinion piece for Czech newspaper, Hospodarske noviny, Mr Cameron said he valued the contributions Czechs had made to British life and he believed in the principle of free movement.
But he added: "Britain does face some particular challenges due to the scale and speed of immigration in our communities."
He said the British welfare system was an "unnatural draw for people to come to our country".
"For example, because of Britain's generous in-work benefits system, a graduate from the Czech Republic could be financially better off stacking shelves in a supermarket in Britain rather than undertaking skilled work in the Czech Republic.
"That doesn't make sense for Britain or for the Czech Republic."
'Wait and see'
The prime minister's other reform demands include cutting excessive regulation and allowing the UK to opt out of further political integration.
If he can get agreement from the 27 other EU nations at the next European Council summit on 18 and 19 February, he is widely expected to hold a referendum in June.
But his former political mentor and predecessor as Conservative leader, Lord Howard, said he would be surprised if Mr Cameron came up with a deal that would convince him to back the UK's continued membership.
"I am waiting to see what the prime minister is coming up with.
"I have always wanted the United Kingdom to remain in a genuinely reformed European Union," he told BBC Radio 4's Today programme.
"It is not looking very likely, I have to say, that we are going to see a genuinely reformed European Union.
"We will have to wait and see. I have great respect and admiration for the prime minister. He may surprise us. He has been rather good at surprising us in the past."
'No hurry'
The peer said he had "a lot of sympathy" with the view expressed by actor Sir Michael Caine in an interview with the Today programme, in which he said Britain should leave the EU unless there were "extremely significant" reforms.
Mr Cameron travels to Prague from the World Economic Forum in the Swiss ski resort of Davos.
Speaking to an audience of global business leaders there, he said he would like to secure a deal next month - so he can campaign to "keep Britain in a reformed European Union".
"If there is a good deal on the table I will take it, and that's what will happen.
"But I do want to be very clear: if there isn't the right deal, I'm not in a hurry. I can hold my referendum at any time up until the end of 2017, and it's much more important to get this right than to rush it."
---
David Cameron's four main aims for renegotiation
Economic governance: Securing an explicit recognition that the euro is not the only currency of the European Union, to ensure countries outside the eurozone are not disadvantaged. The UK wants safeguards that it will not have to contribute to eurozone bailouts
Competitiveness: Setting a target for the reduction of the "burden" of excessive regulation and extending the single market
Immigration: Restricting access to in-work and out-of-work benefits to EU migrants. Specifically, ministers want to stop those coming to the UK from claiming certain benefits until they have been resident for four years
Sovereignty: Allowing Britain to opt out from further political integration. Giving greater powers to national parliaments to block EU legislation
Referendum timeline: What will happen when?
Guide: All you need to know about the referendum
Q&A: What does Britain want from Europe?