Michael Gove sacked after he urges PM to resign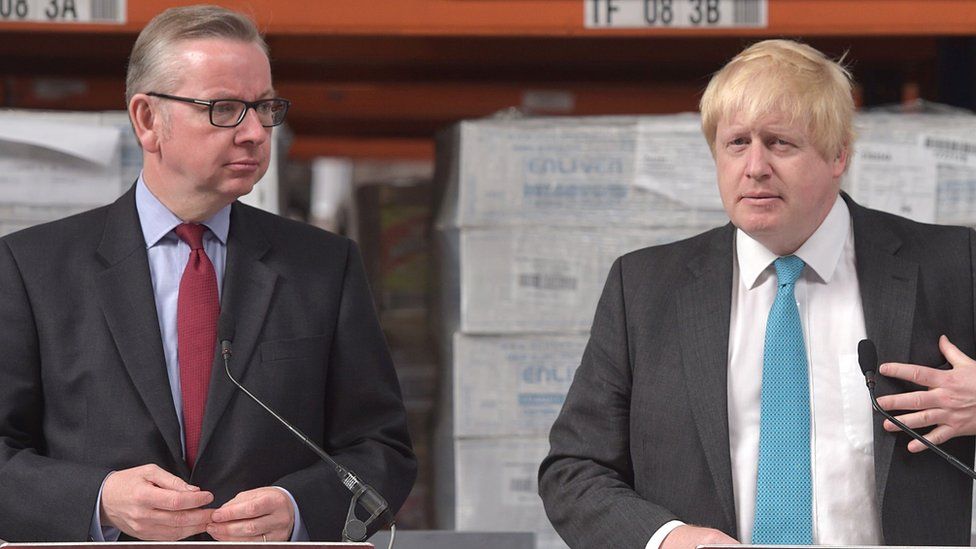 Boris Johnson has fired Levelling Up Secretary Michael Gove from his cabinet, after he urged the PM to resign.
A No 10 source said: "You can't have a snake who is not with you on any of the big arguments who then gleefully tells the press the leader has to go."
The PM rang Mr Gove on Wednesday evening to tell him he was sacked.
He told senior MPs on the Commons Liaison Committee it would not be right for him to "walk away" amid economic pressures and the war in Ukraine.
And a No 10 source rejected speculation Mr Johnson would announce his resignation in Downing Street on Wednesday, saying the "PM fights on".
Among those who have talked to the PM is Home Secretary Priti Patel, a former close ally, as well as Chief Whip Chris Heaton-Harris, Transport Secretary Grant Shapps, and Welsh Secretary Simon Hart.
Mr Hart later resigned from his post, saying he wanted to help Mr Johnson "turn the ship around" but "we have passed the point where this is possible".
Mr Gove has had a fraught relationship with the prime minister, working closely together on the Vote Leave campaign before he derailed Mr Johnson's leadership campaign in 2016 and ran against him.
The Surrey Heath MP's sacking prompted another resignation from government in a day that had been marked by dozens.
This time it was Danny Kruger, a Parliamentary Private Secretary in the Department of Levelling Up, who said he was "very sorry" Mr Gove had been sacked, adding: "As I told No 10 earlier today, it should be the PM leaving office."
Mr Gove's departure leaves just one salaried minister, Eddie Hughes, left at the department responsible for Mr Johnson's flagship policy of levelling up.
The policy is intended to transform the UK by shifting resources to forgotten communities and transferring power from Whitehall to local leaders.
The crisis engulfing Mr Johnson's premiership began on Tuesday, following the dramatic resignations of Chancellor Rishi Sunak and Health Secretary Sajid Javid.
They quit within minutes of each other following a row over Mr Johnson's decision to appoint Chris Pincher deputy chief whip earlier this year.
He added: "At some point we have to conclude that enough is enough. I believe that point is now."
Their departures have triggered a wave of further resignations, with one in five MPs in government roles quitting their posts.
However, several key cabinet ministers have rallied round the prime minister.
And the BBC has been told Mr Johnson has been stressing to his ministers that "millions" of people voted for him, and questioning whether any of his would-be successors would be able to "replicate his electoral success at the next election".
Meanwhile, Tory party bosses on the executive of the backbench 1922 committee have postponed a decision on whether to change the rules governing a vote of confidence.
However, elections to replace the committee have been pulled forward and will now take place next week.
Mr Johnson survived such a vote last month, and under the rules as they currently stand he would be immune from another challenge for a year.