Sajid Javid and Rishi Sunak share more than a love of Star Wars
By Brian Wheeler
Political reporter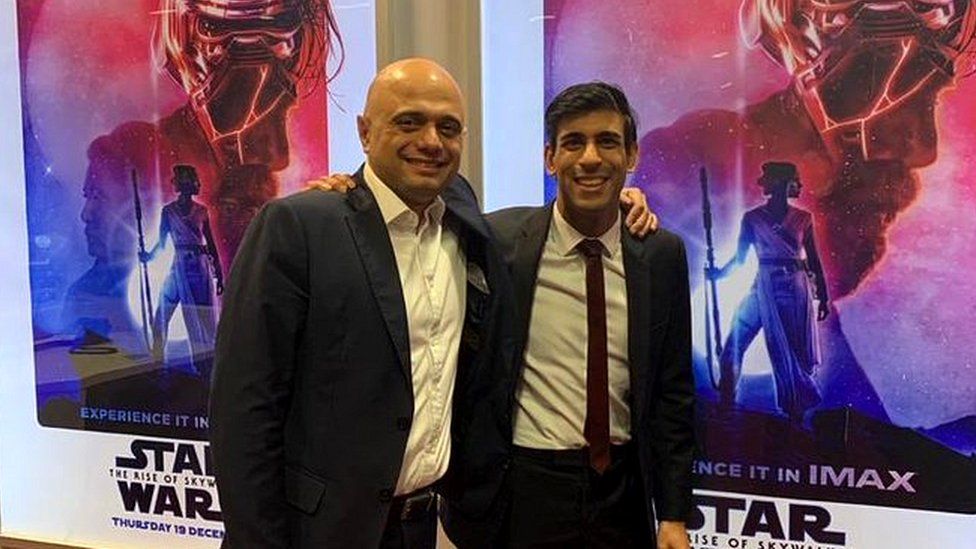 Rishi Sunak and Sajid Javid - who quit the cabinet within minutes of each other in protest at Boris Johnson's leadership - look like political allies right now, but they are also friends.
They both rose from relatively modest beginnings to make a fortune in investment banking, before entering politics.
There is also a shared love of Star Wars - and they haven't been afraid to hide it.
When Mr Javid resigned as chancellor in February 2020, after losing a power struggle with Mr Johnson's former adviser Dominic Cummings, he tweeted about his successor: "The Force is strong in young Sunak."
Just over a year earlier, when he was still number two to Mr Javid at the Treasury, Mr Sunak tweeted a picture of the pair of them at the cinema, where they had just been to see The Rise of Skywalker.
"Great night out with the boss - Jedi Master," wrote Mr Sunak.
The pair are also ideological soulmates, seeing themselves as being part of the low tax and spending Thatcherite wing of the Conservative Party.
In his resignation letter, the 42-year-old former chancellor says Boris Johnson's approach is "fundamentally too different" to his, suggesting the PM is unwilling to take the "difficult decisions" needed to fix the economy.
Mr Javid, 52, also sees himself as a fiscal conservative, who repeatedly warned about the dangers of rising inflation and the size of the national debt before becoming health secretary last year.
Like Mr Sunak, he was tipped for the top almost from the moment he entered Parliament, in 2009 - and the two men were once talked about as the Tony Blair and Gordon Brown of the Conservative Party.
Born in Rochdale, to a first generation immigrant family, Mr Javid's bus conductor father is said to have arrived in Britain from a Pakistani village in 1961, with £5 to his name.
Mr Sunak's background was more comfortable. His father was a GP and his mother ran a pharmacy, and he attended fee-paying Winchester School, before a highly lucrative career in banking and hedge funds.
Elected to Parliament in 2015, he was briefly seen as the frontrunner to succeed Boris Johnson as Conservative leader.
But his fine for attending Mr Johnson's birthday party during lockdown - and revelations about his wife's tax affairs - have put paid to that ambition for now. In his resignation letter, he says: "I recognise this may be my last ministerial job."
The coming days will reveal whether this is false modesty on the part of the now ex-chancellor, or whether he and his fellow Star Wars fan are a spent Force.