Chris Pincher: Boris Johnson was aware of reports over MP's behaviour, No 10 says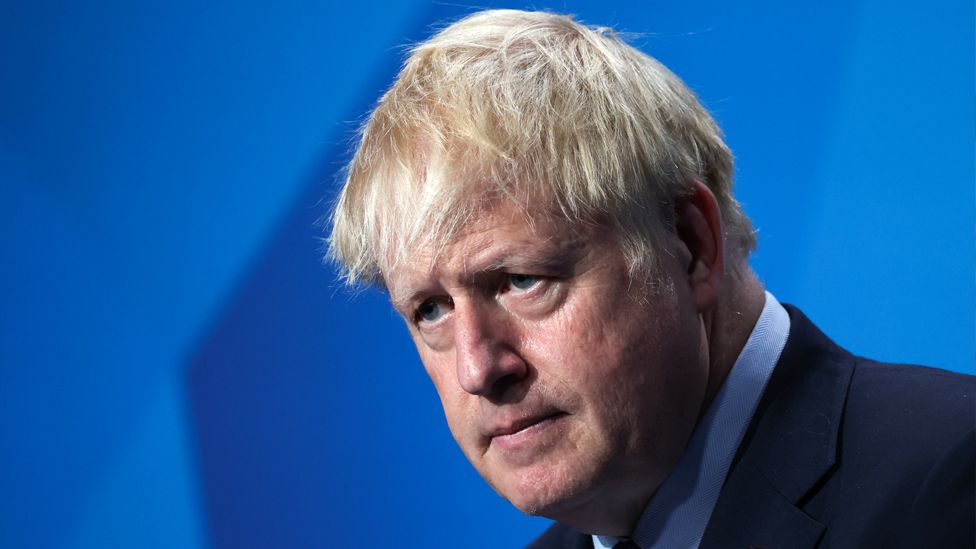 Boris Johnson was aware of "reports and speculation" about the alleged sexual misconduct of the former deputy chief whip, Chris Pincher, before his appointment in February, No 10 says.
Mr Pincher is no longer sitting in Parliament as a Tory MP after a complaint he groped two men.
Since then, he has faced a number of historical claims, which he denies.
Downing Street said Mr Pincher was not blocked from the job because the allegations were unsubstantiated.
Mr Johnson has been under mounting pressure to reveal what he knew about the allegations at the time Mr Pincher was appointed deputy chief whip.
After claims emerged that he had groped two men on Wednesday last week, Mr Pincher resigned as deputy chief whip, telling the prime minister he had drunk "far too much".
On Friday, he was suspended as a Conservative MP, meaning he currently sits in Parliament as an independent.
The prime minister's official spokesman said Mr Johnson knew of "allegations that were either resolved or did not progress to a formal complaint", adding that "it was deemed not appropriate to stop an appointment simply because of unsubstantiated allegations".
The spokesman added that Mr Pincher "had lots of skills and experience for the role", but when asked whether Mr Johnson used the phrase "Pincher by name, pincher by nature", said he would not comment on private conversations.
Education Secretary Nadhim Zahawi said the prime minister has done the "right thing" in his handling of allegations against the MP for Tamworth, in Staffordshire.
Mr Zahawi said "there were of course allegations in the past" but Mr Pincher had denied these and there were investigated and found "not to be correct".
Labour chairwoman Anneliese Dodds has written to the PM seeking details on what No 10 knew of the claims.
"Only Boris Johnson could have looked at this guy's record and thought, 'He deserves a promotion'," she said.
Mr Pincher faces six new claims of inappropriate behaviour stretching back several years, which he has denied.
His resignation last week was the second time he had stepped back from the whips' office, having also quit after Conservative candidate Alex Story accused him in 2017 of making an inappropriate advance.
Mr Pincher was later cleared of any breach of the Conservative Party code of conduct.
On Sunday, Work and Pensions Secretary Therese Coffey said that "to the best of my knowledge" the prime minister had not been aware of specific allegations about Mr Pincher, when he was appointed to the whips' office in February.
She said she had not spoken to the prime minister directly and had received the assurance from the No 10 press office.
A charity fundraiser accused Chris Pincher of touching his bottom in 2018 and urged the MP to "do the honourable thing and resign".
Mark Dabbs alleged the MP was "touchy feely" when he met him to discuss a charity project at his constituency office in Tamworth, Staffordshire.
In an interview with the BBC, Mr Dabbs accused Mr Pincher of touching him as they posed for a photo outside his constituency office.
Mr Dabbs - a marathon runner - said he had arranged to interview Mr Pincher for a book he was writing on MPs to raise cash for a local hospital.
"He was a bit suggestive to me, a bit touchy feely, and then almost completely touchy feely," said Mr Dabbs, a hospital worker.
Describing the incident, Mr Dabbs said: "When it happened to begin with, he said: 'oh you're thin'. I said I was a runner. He said you must have stamina'. But when he said that it was like it was a bit naughty, like you'd say to a girl.
"He said you must have strong leg muscles. And as we were going outside he was touching me like that. I was thinking that's a bit strange behaviour for someone to be doing. But I thought maybe that's just the way he is, maybe it's just banter."
When asked why he did not complain to anyone about the incident at the time, Mr Dabbs said: "Well he was an MP and I was just anybody really, nobody.
"I don't know whether I was sending the wrong signals, if perhaps I'd brought that on myself. I don't know I think sometimes when this happens you sometimes blame yourself and think well, am I at fault for that. So that's one of the reasons why I didn't."
Mr Pincher has strongly denied the allegations.
He said he recalled having a brief meeting with Mr Dabbs, saying a member of his staff was in close attendance at all times, and Mr Pincher and Mr Dabbs were never alone together.