Chris Pincher: PM under pressure over appointment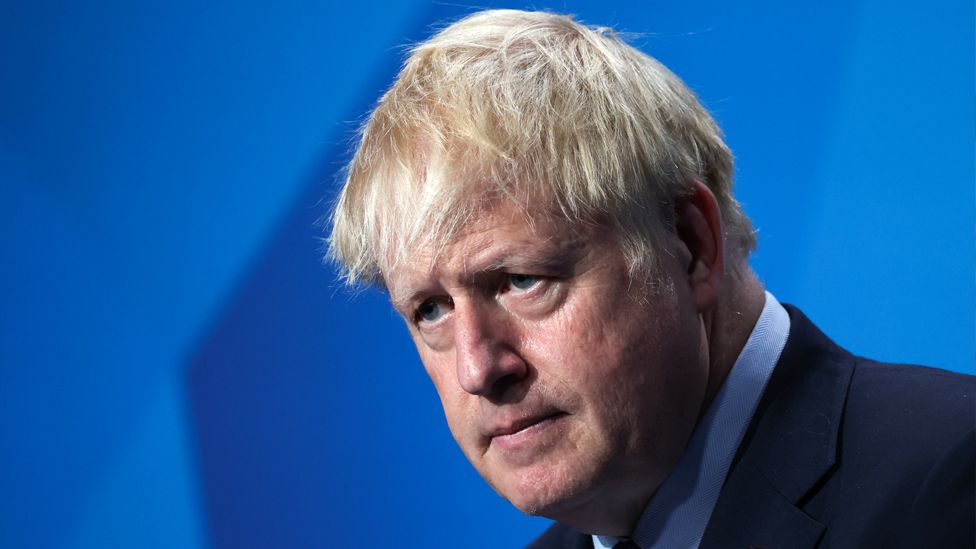 Boris Johnson is under mounting pressure to reveal what he knew about allegations of inappropriate behaviour concerning Chris Pincher when he was appointed deputy chief whip.
Labour chairwoman Anneliese Dodds has written to the PM seeking details on what No 10 knew of the claims.
"Only Boris Johnson could have looked at this guy's record and thought, 'He deserves a promotion'," she said.
Minister Therese Coffey said the PM had not been aware of "specific" claims.
Another, Will Quince, told the BBC he was "uncomfortable" about the allegations against Mr Pincher, adding that they were "hugely damaging for the trust and confidence of the public in Parliament".
After claims emerged that he had groped two men, Mr Pincher resigned as deputy chief whip - whose job it is to uphold discipline among fellow Tory MPs - on Thursday, telling the prime minister he had drunk "far too much".
The following day he was suspended as a Conservative MP, meaning he currently sits in Parliament as an independent.
Mr Pincher now faces six new claims of inappropriate behaviour stretching back several years, which he has denied.
His resignation last week was the second time he had stepped back from the whips' office, having also quit after Conservative candidate Alex Story accused him of making an inappropriate advance in 2017.
Ms Dodds accused the prime minister of being "happy to sweep sexual misconduct under the carpet in order to save his own skin".
She also questioned why he had not been suspended from the Conservative Parliamentary Party until Friday - two days after the alleged incident at London's Carlton Club.
Discussing the allegations against Mr Pincher, Mr Quince, minister for children and families, told BBC Breakfast: "Of course it's uncomfortable. I'm hugely embarrassed as a Member of Parliament to be associated in any way by it."
He added: "But what's really important is that, where people do witness or experience behaviour that is totally unacceptable and below the standards accepted of a Member of Parliament or anyone working on the Parliamentary estate, it's reported."
Mr Quince also said it was necessary to create an environment where victims of such behaviour "feel able to come forward, so investigations and due process can follow and the appropriate disciplinary action be taken".
Work and Pensions Secretary Ms Coffey said on Sunday that "to the best of my knowledge" the prime minister had not been aware of specific allegations about Mr Pincher - MP for Tamworth, in Staffordshire - when he was appointed to the whips' office in February.
She said she had not spoken to the prime minister directly and had received the assurance from the No 10 press office.
Earlier, she told Sky News that Mr Pincher's appointment in February had gone through a vetting process "like normal".
No 10 has not denied a claim by Mr Johnson's former chief aide, Dominic Cummings, that the prime minister referred to the former deputy chief whip as "Pincher by name, pincher by nature" before appointing him.
Mr Johnson is also facing questions from within his own party over his handling of the allegations.
There are suggestions that the upcoming elections for the executive of the 1922 committee backbench group of Conservative MPs could lead to a second confidence vote for the prime minister soon.
It could see a change to the committee's rules, for instance that a vote could be called if 90 Tory MPs - 25% of the total - submit letters to its leadership.
Mr Johnson won a confidence vote last month, with 148 of his MPs voting against him.
Under the current rules, another such challenge to his authority is impossible until next June.
Wednesday 29 June: Chris Pincher was seen "extremely drunk" at London's Carlton Club for Conservative Party members, witnesses later told the BBC
Thursday: Mr Pincher resigns as deputy chief whip, telling the PM he "drank far too much", after allegations emerge that he groped two men at the club
Friday: He is suspended as a Conservative MP after being reported to Parliament's behaviour watchdog
Sunday: New allegations emerge against the MP, which he denies.