My comeback was blocked by Labour factionalism, says former MP
By Joshua Nevett
BBC Politics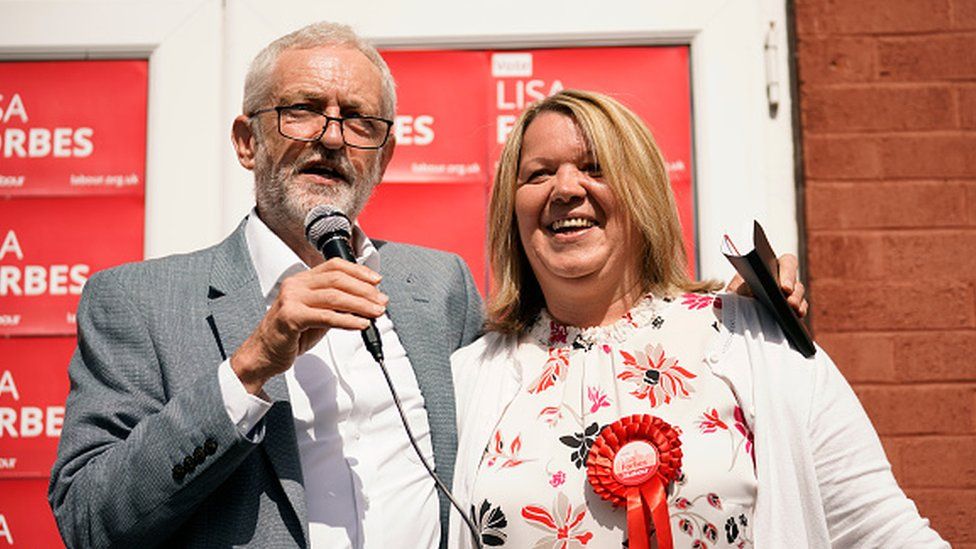 A former Labour MP elected under Jeremy Corbyn has accused the party of "factionalism" for rejecting her bid to be a candidate at the next general election.
Lisa Forbes sought a comeback in Peterborough, a seat she won and held for six months in 2019.
But Labour did not select her after flagging concerns about posts she engaged with on social media from 2019, which were condemned as anti-Semitic by Jewish groups.
The party says all candidates have been told why they were not picked.
A Labour spokesperson said leader Sir Keir Starmer "is committed to ensuring that being a Labour candidate is a mark of quality".
"The Labour leader is determined to stick to his promise to pull anti-Semitism up by its roots and the public have a right to know that everyone the Labour Party puts forward at election time is of a high standard," the spokesperson said.
Ms Forbes won the Peterborough by-election in June 2019, but then lost her seat later that year in the general election.
The BBC asked Ms Forbes why she thought Labour had not backed her to contest the seat again.
She said: "I think my crime here is having the audacity to stand in a by-election when Jeremy Corbyn was the leader. Because before that, the party was very supportive of me and my candidacy, but they're not anymore.
"I'm prepared to stand under Keir Starmer, as I say, I'm not a factional person. But I think other people are."
Mr Corbyn, whose leadership was dogged by allegations of anti-Semitism, stood down as Labour leader following the 2019 election, which gave the Conservatives a large majority.
Soon after publication, Mr Corbyn described anti-Semitism as "abhorrent", but said "the scale of the problem was also dramatically overstated for political reasons".
Sir Keir then suspended Mr Corbyn from the parliamentary party and he now sits as an independent MP.
In later tweets, Ms Forbes said the report "was not the damning indictment that many seemed to hope it would be" and defended Mr Corbyn, who she insisted was not anti-Semitic.
This week, Labour Against Antisemitism told the BBC it had reported these tweets to Labour and called for Ms Forbes to be expelled from the party.
The party said while all complaints are taken seriously and investigated thoroughly, it does not comment on individual cases.
In response to the EHRC's findings in 2020, Sir Keir said there would be "zero-tolerance of anti-Semitism" under his leadership. "If you're anti-Semitic, you should be nowhere near this party," he said.
With the next general election expected in 2024, Labour have started compiling shortlists of candidates to contest seats held by other parties.
In Peterborough - a marginal currently held by Tory MP Paul Bristow - Ms Forbes applied to be a Labour candidate and had already started campaigning online. On social media, shadow minister Rachel Hopkins and former frontbencher Clive Lewis had backed her candidacy.
But Ms Forbes did not make the cut and was informed of this by the party's selection team in a phone call and via email last Friday.
"I must have passed the due diligence to get that email, because there was no reason given," Ms Forbes said.
She suggested the reason was not made explicit, but evidence of her social media activity was shared with her as part of background checks by the selection team, and discussed with her in a meeting.
Compiled in a document seen by the BBC, the evidence included screenshots of posts shared by Mr Corbyn and liked by Ms Forbes.
During the by-election campaign in 2019, controversy engulfed Ms Forbes after she interacted with posts condemned as anti-Semitic by Jewish Labour groups.
She liked a Facebook video post featuring text which said former Conservative Prime Minister Theresa May had a "Zionist slave masters agenda".
Ms Forbes said the video was about showing solidarity with victims of the Christchurch terror attack in 2019 and she clicked the like button without reading the accompanying text.
She also commented under a post whose author claimed that Islamic extremists were the creation of the CIA and Mossad, the Israeli intelligence agency, writing: "I have enjoyed reading this thread so much."
Ms Forbes apologised and accepted the content she "mistakenly engaged with" was "deeply offensive and contained anti-Semitic language and tropes which harm the Jewish community".
Labour Against Antisemitism called her by-election win a "dark day" for the party.
Ms Forbes insisted she had learned from her mistakes by taking an anti-Semitism course, run by Yad Vashem, and meeting with Jewish groups, the Board of Deputies among them.
She asked: "Are the Labour Party saying that you can never recover from that? There's nothing you can do to makes amends for a mistake?"
Candidates with no connection to Peterborough had been "parachuted in", she said. Those candidates include deputy general secretary of the Prospect Union, Andrew Pakes; Labour councillor Naushabah Khan, and Dave Rowntree, the drummer for the rock band Blur.
Labour Against Antisemitism has said that Labour "must continue to demonstrate that it takes a zero-tolerance policy towards anti-Jewish racism - and not just say it does.
"This is especially important when it comes to choosing candidates for election to public office."