UK pays EU £583m after customs ruling on Chinese imports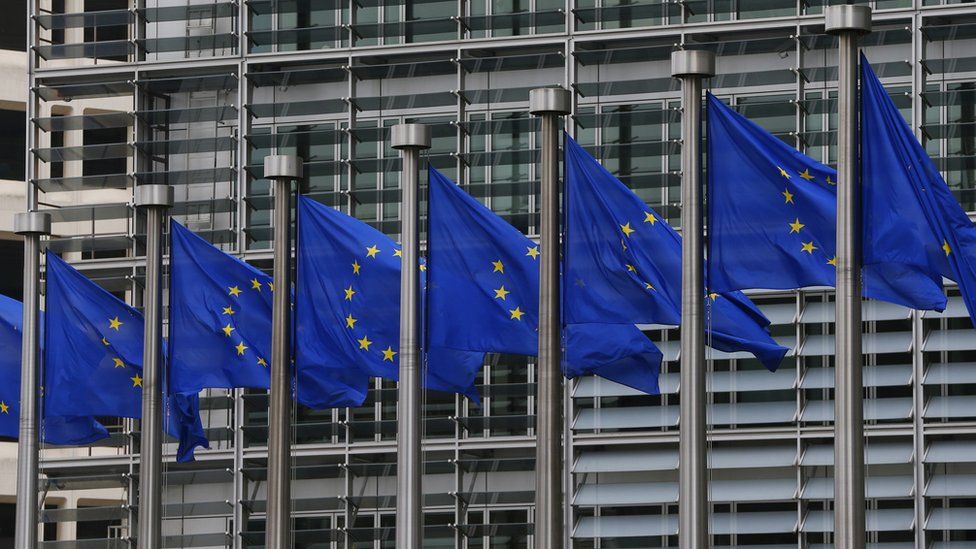 The UK has paid the European Commission €678m (£583m) over a long-running dispute with the EU over fraud on imported Chinese clothing.
It follows a ruling from the EU's top court that the UK failed to pass on the correct amount of tax to the EU for imports between 2011 and 2017.
The commission had sued the UK for €2.7bn (£2.4bn) in 2018.
The EU judges upheld the commission's claim in March, while rejecting how it calculated the amount it was owed.
In a statement, the Treasury said it had yet to receive a fresh recalculation from the commission following the European Court of Justice (ECJ) ruling.
But it said it had paid €678m on 10 June, representing "the amount the UK considers due at this time", to protect taxpayers from interest payments.
The UK formally exited the EU's legal system in January 2021, following an 11-month transition period after it officially left the bloc.
However, the ECJ retains the power to make rulings in cases relating to how the UK applied EU law before Brexit.
The UK was accused of taking inadequate steps to prevent fraud after it was warned about the problem by the EU's watchdog, Olaf, in 2017.
EU member states had been warned by Olaf about the risk of undervalued clothing and footwear coming from China via shell companies.
In its judgement, the ECJ found the UK had done too little to prevent fraud on imports, and had not given enough information to the commission.
It ruled that the undervaluation of imports meant the UK had not passed on the correct share of import taxes or VAT payments to the commission.
As an EU member at the time, the UK was obliged to make the payments to the Brussels-based body as part of its contribution to the EU budget.
The UK disputed the amount owed, arguing that the method used by Olaf to calculate the underpayments was not appropriate.
In its statement, the Treasury said its €678m "paid in full" the amount due before the method was introduced in 2014, as well as the amount the UK "considers due" for 2015 to 2017.
Adding that the UK was liable for interest payments of 16% plus the Bank of England base rate on any outstanding amount, it said it was paying this amount to "protect UK taxpayers from significant continued interest accrual".
It added it would closely examine any renewed claim by the commission for the 2015-2017 period, and would "not hesitate to reject any claim" it believed was not in line with the ECJ ruling.
The BBC has contacted the European Commission for comment.