Chris Mason: Stark language as Nato assesses threat from Russia
By Chris Mason
Political editor, BBC News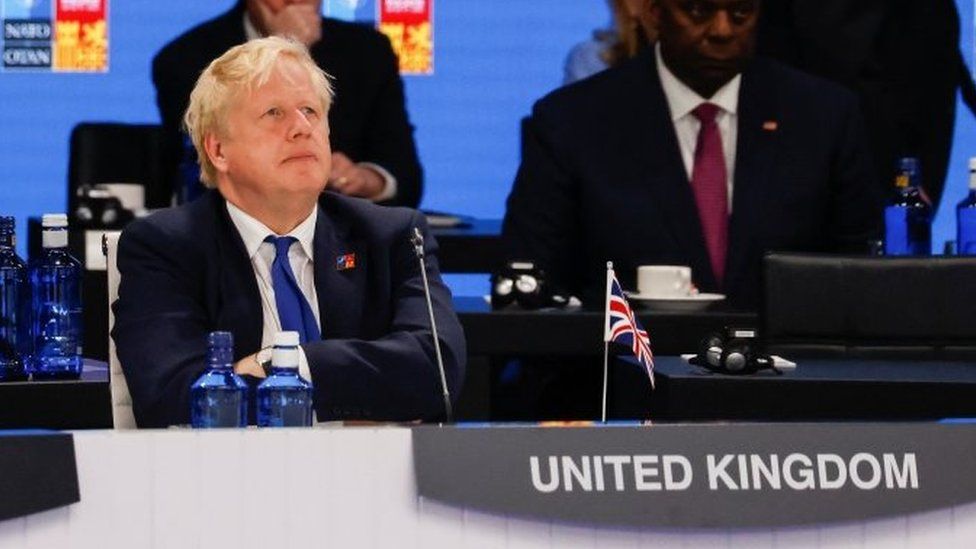 In the basement of a Madrid hotel, the reality of the threat from Russia is laid bare by one Ukrainian MP and ally of President Zelensky.
He's here in person at the Nato summit to make the case for his country's future, and the help it needs to survive.
Oleksiy Goncharenko tells us Moscow is deploying what he calls "scorched earth tactics"; there is a 1,000 mile front line and Ukraine needs ten times more arms to face up to Russia's advance.
45,000 heavy shells and rockets were fired into the Donbas region of Ukraine in one day.
He says: "400 million people are dependent on calories from Ukraine," arguing President Putin is creating "100 million hostages by starving".
Mr Goncharenko knows he and his country won't get what he wants from this summit, what is called a Membership Action Plan for joining the military alliance.
But he will talk to everyone and anyone who will listen to pleas for more help.
Down the road at the summit venue, the language is stark.
Russia is "the most significant and direct threat to Allies' security," Nato says.
This big military alliance is getting bigger, and its biggest member is beefing up its response to Moscow.
President Biden is sending more American war planes to the UK, more ships to Spain and boosting its military presence in the Baltic States, Poland and Germany among others.
There is a pride that Finland and Sweden, shocked out of their neutrality by Moscow's invasion of Ukraine and jittery at their proximity to the Russian border, are joining the alliance, the 31st and 32nd members respectively to sign up.
Not many years ago, there were stark and public criticisms of Nato, from its own members.
Donald Trump, when US president elect, called the military alliance "obsolete", President Macron of France labelled it "brain dead".
But there's a vitality born of necessity here; a collection of countries confronted by an aggressive Russia, awoken from an era of shrivelling defence budgets after the end of the Cold War.
The prime minister had told us repeatedly of his pride in the UK being the third biggest defence spender in the world and the biggest in Europe.
But the public bristling about the adequacy or otherwise of the budget from the defence secretary and the head of the armed forces mirrors private concerns in Parliament and beyond about what is seen as creative accounting; a peacetime budget for a bumpy geopolitical decade, as one observer put it to me.
And as the threat rises, the army shrinks. The prime minister's spokesman told us it was wrong to "focus solely on numbers".
Plus, as prices spiral, money goes less far; a manifesto commitment to ensure the growth of defence spending outstripped inflation every year has been broken.
It is also true the UK's contribution to Nato outstrips that of many of its members - as this alliance faces up to a dangerous future, and a clamour for the money to match.