European Political Community: Could UK join a new club of nations?
By Joshua Nevett & Jessica Parker
BBC Politics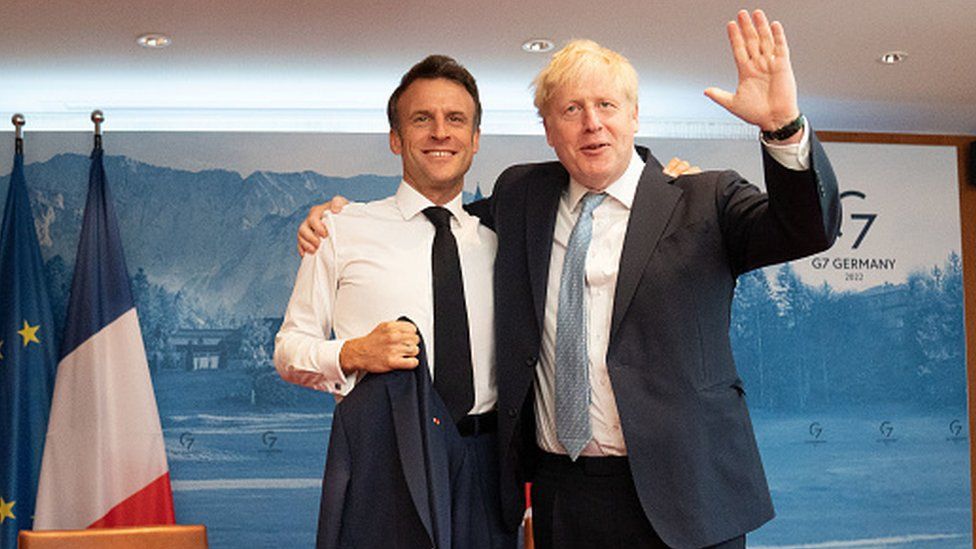 As the war in Ukraine tests Western unity, a big idea for a new political club of nations has been gaining traction among European leaders.
The idea was first floated by French President Emmanuel Macron, who has proposed the creation of a new "European Political Community".
It would not be like other international groupings such as the EU, which is a political and economic union, nor Nato, which is a security alliance.
Instead, Mr Macron's new community would "offer a platform for political co-ordination" for countries in the EU, and those not.
Even the UK - after years of Brexit turmoil - has been mentioned as a possible member, with Prime Minister Boris Johnson expressing enthusiasm for the idea in the form of a new Roman Empire.
Remember though, similar grand schemes have been tried - and failed - in the past. What's different about this one, then?
What is the European Political Community?
Mr Macron first suggested the proposal in an address to the European Parliament in May.
The new community, he told the parliament, would allow democratic nations to "find a new space" for political co-operation on security, energy, transport and the movement of people.
The framework would allow aspiring EU members, and those not part of the union, to be involved in political decision-making at an international level.
"The EU, given its level of integration and ambition, cannot in the short term be the only way to structure the European continent," Mr Macron said.
The European Council of those leaders agreed the community would "address issues of common interest" but not replace the EU or its decision-making powers.
It's one step in what can be a long, arduous process that involves suitability checks, reforms and painstaking negotiations.
In the meantime, the European Political Community could (in theory at least) foster political relationships between the EU and prospective members.
While EU leaders insisted this framework wouldn't replace the process of allowing in new members - so-called enlargement - Mr Macron pointed out that joining the bloc is a "long road".
The French president also warned of "enlargement fatigue" among existing members. He said a European Political Community could be the "right response" to "stabilise our neighbourhood".
Which countries might be involved?
Potentially any country, provided, according to Mr Macron, they share the EU's democratic values.
That could include countries wanting to join the EU - such as Ukraine, Moldova, Georgia and Western Balkans states.
Other countries outside but with deep economic ties to the EU - including Switzerland and single-market members Norway, Iceland and Liechtenstein - may wish to join too.
Long-time EU aspirant and Nato member Turkey has also been named as a potential participant.
Then there's the UK which, despite friction over its departure from the EU, has co-operated closely with European leaders during the Ukraine crisis.
What's the UK's position?
What Mr Johnson called "le bromance" was in the air when he met President Macron at the G7 summit in Germany last week.
Pictured arm in arm, Mr Macron and Mr Johnson appeared to put their differences - not least over Brexit - aside for talks focused on the war in Ukraine.
Since then, Mr Johnson has explained his "interest" in more detail.
Speaking to reporters on board a flight to a Nato summit in Madrid, Mr Johnson said, "I actually claim paternity of this idea", which he suggested when he became foreign secretary in 2018.
But the prime minister set out his vision of a wider grouping that included Turkey and North African states as an alternative plan to Mr Macron's idea of a European Political Community.
Likening his proposed grouping to the Roman Empire, Mr Johnson said "there's got to be a role for all of us in that in a wider conversation about issues that affect all of us".
"Rather than creating new structures let's look at building up relationships."
Building a new Rome won't be done in a day though, and even if it could be, its construction may not be desired by all.
For example, when grilled by a committee of MPs this week, Foreign Secretary Liz Truss rejected the suggestion that the UK had agreed to the idea.
"So you don't buy into his political economic community?" Foreign Affairs Committee Chairman Tom Tugendhat asked.
"No," Ms Truss replied, insisting Nato and the G7 were the UK's "key" military and economic alliances.
Under this Conservative government, "I see little prospect of meaningful UK engagement with this proposal,"said Charlotte Galpin, senior lecturer in German and European politics at the University of Birmingham.
"Objection to the very idea of a 'European Political Community' sits at the heart of Conservative Party Euroscepticism, and the name alone is likely to spark a visceral reaction from hard-line Eurosceptics."
Is it a realistic proposal?
To describe this as being in its early stages would be an understatement.
World leaders seem to be brainstorming ideas, with conversations about security co-operation taking a more earnest tone since Russia's invasion of Ukraine.
Historically, such political communities have been established "when smaller democratic enclaves have feared a threat from a menacing power", said Matt Qvortrup, a professor of political science at Coventry University.
"Originally the EU was in response to a threat from the Soviet Union," he said.
Recently, a senior diplomat told the BBC a forum was needed: "There is no meeting room where everyone, from Iceland to Ukraine, meets."
Don't forget this kind of proposal has been floated before, numerous times and in various guises.
In his speech to the European Parliament in May, Mr Macon cited a proposal for a "European Confederation" by one of his predecessors, former French President Francois Mitterrand.
Proposed during the collapse of the Soviet Union in 1989, Mr Mitterrand's idea eventually faltered as it failed to generate enough support outside France.
That precedent does not bode well for Mr Macron, whose suggestion has been met with scepticism.
"In principle, it is an interesting idea," said Dr Galpin.
"In practice, however, it would likely be beset by similar problems as the EU - who gets to be considered 'European enough' to join, and will countries be able to reach sufficient agreement on co-operative endeavours that result in meaningful action?"
Given Mr Johnson's support for Brexit, it "would be ironic if Johnson joined this endeavour," Mr Qvortrup said.
"Still, as the Roman statesman Cicero once wrote, 'consistency is no great virtue in a politician'."