Officials have stood down over Partygate, says top civil servant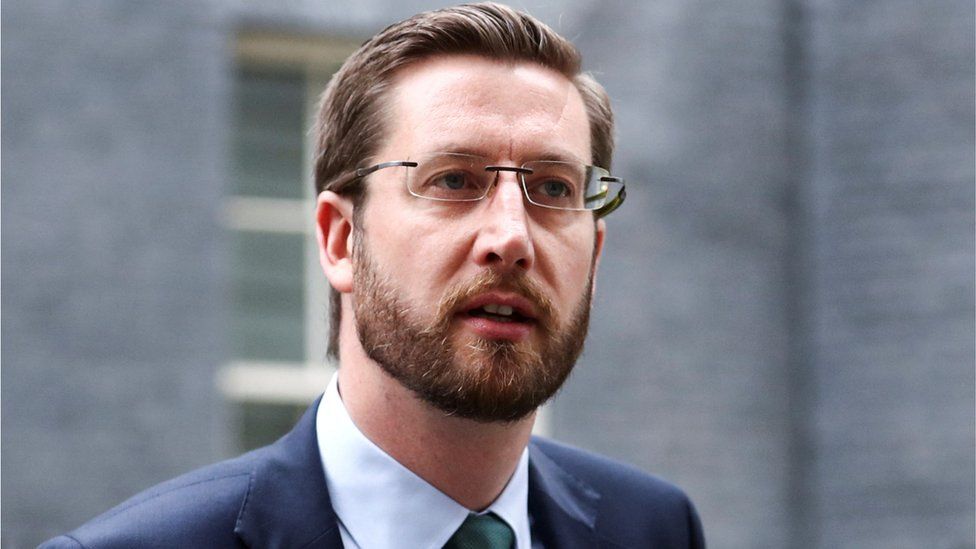 Some officials have left their jobs in the wake of Sue Gray's Partygate inquiry, the UK's top civil servant has said.
Simon Case, the Cabinet Secretary, told MPs "a number of people" had resigned, with a disciplinary process over Covid rule-breaking ongoing.
He revealed civil servants were being encouraged to say if they had been fined during the police inquiry into lockdown parties.
But they would not have to, he added.
The report by senior official Sue Gray, published last month, highlighted breaches of Covid rules in and around Downing Street during lockdown.
The Metropolitan Police issued fines to 83 people, including PM Boris Johnson, his wife Carrie and Chancellor Rishi Sunak, after a separate probe.
Giving evidence to MPs on the Public Administration and Constitutional Affairs Committee, Mr Case said some aspects of Ms Gray's report "would be horrifying in any setting".
"Mistakes were made. Boundaries weren't observed," he added.
He told the MPs he was not involved in the disciplinary process himself, and he could not comment on individual cases because it was confidential.
However, he said the civil service wanted the probe to conclude within weeks, adding: "There's a huge level of uncertainty hanging over individuals who are a part of this".
He added that officials were being encouraged to be "open and honest" about whether they had been fined - but would not be required to be so.
Asked by an MP on the committee whether anyone had offered to resign, Mr Case replied: "Yes".
Asked whether they had left the civil service, Mr Case hesitated, before the MP asked whether they had resigned from their jobs, to which he replied: "Yes".
Mr Case, who has been cabinet secretary since September 2020, was initially put in charge of the Partygate inquiry, after the first reports about parties in government offices emerged late last year.
But he stepped down from the task after it emerged a staff quiz had taken place in his own office in December 2020, with Ms Gray then put in charge.
Mr Case told MPs he had not received a Partygate fine himself, whilst no-one else had been fined for the event held in his office.
But he said he had consulted with "senior colleagues", including his predecessors, whether he would have to resign if he had received a penalty from police.
Ms Gray's Partygate inquiry has led to pressure on Mr Johnson's leadership, with a committee of MPs yet to begin an inquiry into whether he misled Parliament over the scandal.
Tory MP Steve Baker, who has called on Mr Johnson to resign, said the Tory committee overseeing the rules should change the rules to allow another vote if he is found to have misled MPs.
"If he won't go in those circumstances he'll have to be removed," he told BBC Radio 4's Today programme.
Mr Case declined to say whether he had spoken to Mr Johnson about reports the PM had tried to employ his now-wife Carrie as his chief-of-staff while he was foreign secretary in 2018, when they were already in a relationship.
Mr Case said he had "no knowledge at all of these allegations" and they had not been investigated. He added it was not in his remit to investigate.
Mrs Johnson's spokeswoman has said the claim is "not true". Mr Johnson avoided a question over whether he considered appointing his wife to a government post when asked about the claims in Parliament last week.