Where do by-election defeats leave Boris Johnson's future?
By Chris Mason
Political editor, BBC News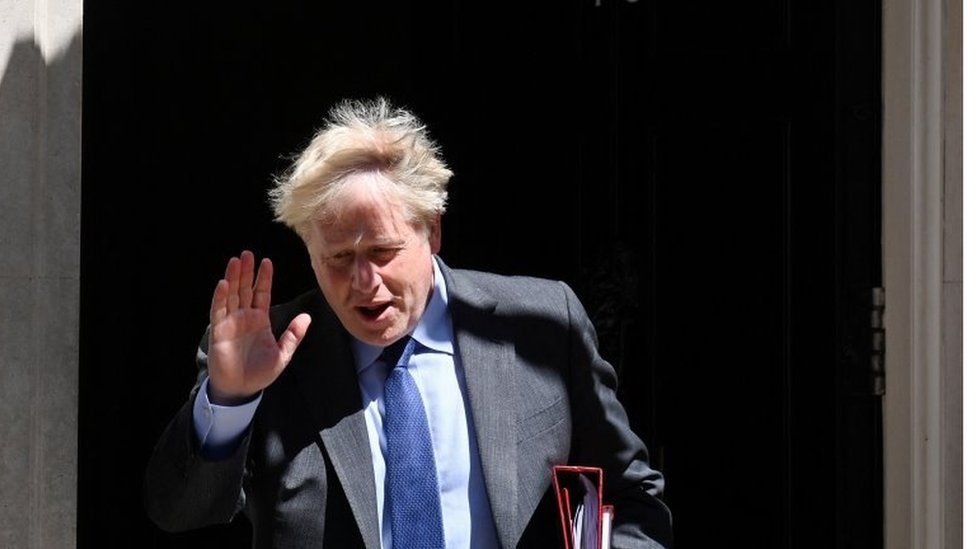 Nothing reeks of panic quite like a resignation letter at 5.35am.
Not just any resignation letter.
But the party chairman. Until now, at least, utterly loyal to Boris Johnson.
Oliver Dowden manages five paragraphs, not one of which endorses him.
"We cannot carry on with business as usual," he writes, "somebody must take responsibility."
"I will, as always, remain loyal to…" he says before signing off "the Conservative Party".
Loyalty to the party means leaving Boris Johnson's side and becoming a backbencher.
So, to be clear, does he have confidence in Mr Johnson? The easiest and most direct question a reporter can ask a politician and their team.
After all, typing the letters Y, E and S takes just a second or two. He and his team are silent.
This morning, the cabinet hold an absent prime minister's fate in their hands.
Boris Johnson is thousands of miles away in Rwanda at a Commonwealth summit.
And he will be out of the country for the next week - there are more summits to come in Germany and in Spain.
He's been on the phone to cabinet ministers, and making it clear he doesn't intend to return to London.
After a wall of silence from loads of senior ministers in the hour or two after Mr Dowden's letter, some are now talking privately.
A few are offering the odd disobliging word about Mr Dowden, suggesting he never wanted to be party chairman in the first place and was very disappointed to be demoted from being culture secretary.
Others say he could well have been sacked in a reshuffle in the next few weeks anyway, and so jumped before he was pushed.
He might well argue in his defence he is doing the honourable thing as a party chairman who has failed to deliver by-election wins.
Other ministers are very clear-eyed about the predicament the government finds itself in, acknowledging privately how volatile things are.
Oliver Dowden's resignation has transformed these by-election results from a story dominated by Conservative defeat, to one dominated by the prime minister's future.
There would have been a bit of chat along these lines anyway, but it's been electrified by Mr Dowden's decision and the manner of it.
And we can also say Boris Johnson would only find himself in territory that could force him out if a significant number of previously loyal MPs now demand he goes, or senior cabinet ministers decide to walk.
His supporters hope that those senior enough to make a difference are also in many cases those who fancy the job themselves, and moving now would look opportunistic.
Some pondered when Boris Johnson won a whopping majority back in 2019 that politics might quieten down.