Boris Johnson avoids question on job for wife Carrie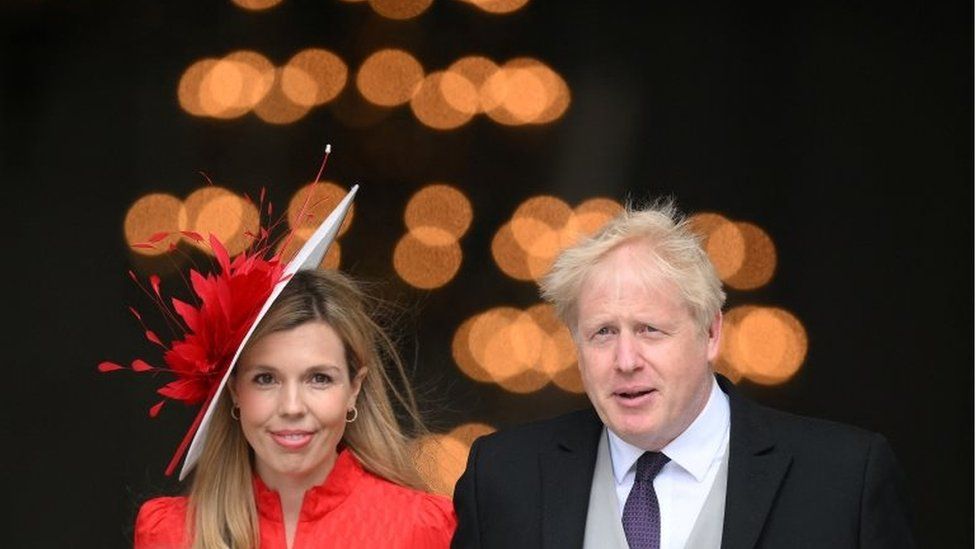 Boris Johnson has avoided a question over whether he considered appointing his wife to a government post or a role in the Royal household.
Labour MP Chris Elmore posed the query at Prime Minister's Questions.
Sources have told the BBC that as foreign secretary, Mr Johnson floated the idea of making Mrs Johnson - then Carrie Symonds - his chief of staff.
Mr Johnson said Labour were only interested in "non-existent jobs" and not the "real world".
A story in the Times newspaper reported the claim about Mrs Johnson on Saturday, but the story was removed from later editions and did not appear on the paper's website.
On Monday, Downing Street confirmed it had spoken to the newspaper after the story came out, but a source told the BBC this had not included mention of possible legal action.
Mrs Johnson's spokeswoman called the allegations in the Times "totally untrue".
But two sources have told the BBC Mr Johnson discussed the idea with multiple aides, who urged him against the proposal.
On Tuesday, a No 10 spokesman said he would not "get into any conversations" the PM "may or may not have had in private".
But he said Mr Johnson had not "recommended" his wife for roles cited in an article in The Daily Mirror.
The newspaper quoted sources saying Mr Johnson had discussed jobs involving the Royal Family and last year's COP26 climate summit in Glasgow.
During a question session in Parliament, Mr Elmore asked Mr Johnson: "Has he ever considered the appointment of his current spouse to a government post or to any organisation in one of the Royal households? Be honest prime minister: yes or no?"
Mr Johnson replied: "I know why the party opposite wants to talk about non-existent jobs in the media because they don't want to talk about what's going on in the real world."
Mrs Johnson, a former head of communications for the Conservative Party, married Mr Johnson in May last year and they have two children together.