Chancellor Rishi Sunak defends likely pensions rise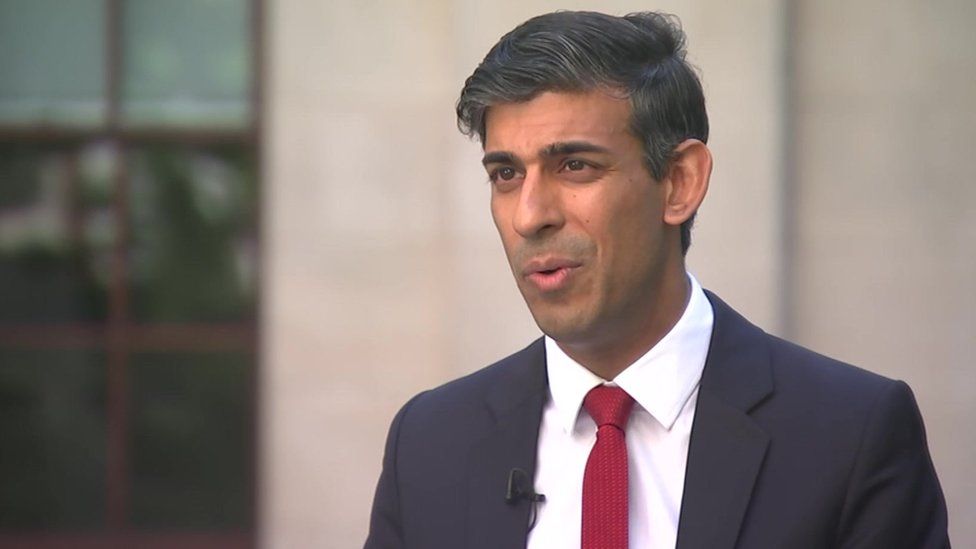 Chancellor Rishi Sunak has defended restoring the triple lock, which could see pensions rise by 10% in line with inflation.
It comes as the government warns workers not to expect pay rises to keep pace with increasing costs.
Economist and Labour adviser Jim O'Neill said the "constant protection of pensioners" was "ludicrous".
But Mr Sunak said pensioners were "among the most vulnerable in society" and needed to be protected.
Inflation - the rate at which the price of things like food and fuel rise - has hit a 40-year high of 9.1% and the Bank of England has predicted it will grow to 11% later this year.
Many trade unions have called for pay rises to help workers with increasing costs and the RMT union, which represents rail workers, are holding strikes in part to secure better wages.
The RMT is calling for a pay rise of 7%, while employers have offered a maximum of 3%.
Elsewhere barristers have voted to strike over pay and conditions, while two teaching unions are considering asking their members if they want to strike over pay.
Chancellor Rishi Sunak said it was "right that we reward our hard working public sector workers with a pay rise" but added that it needed to be "proportionate and balanced with the need not to make the inflationary pressures worse and what's affordable for the taxpayer".
He argued that it was right to restore the pensions triple lock, which ensures that the state pension will always increase each year in line with either inflation, the average wage increase or 2.5%, whichever is the highest.
The triple lock was introduced in 2010 and the Conservatives promised in their 2019 election manifesto to keep it in place.
However, the government suspended it for one year between 2022-2023 citing the pressures of the pandemic on public finances.
Downing Street has confirmed that the triple lock will be restored. The rise will match the inflation rate in September but will only be paid from April 2023.
Speaking to BBC Radio 4, Lord O'Neill - who served as a Treasury minister in a Conservative government but is now working on a review of business start-ups for Labour - said he had "no idea" why the triple lock had been restored.
"The constant protection of pensioners seems ludicrous in itself and in these circumstances is particularly crazy," he said.
Mr Sunak said the government had provided a support package which was "generous and well-targeted at those who need our help".
He said the "most vulnerable in our society" would receive £1,200 of support adding: "There is help available for everyone."
He also argued that pension increases would not add to inflation in the same way as pay rises.
Speaking to the BBC's World at One, former Conservative Chancellor Ken Clarke said the government should: "Stop giving me money."
"I've got £1,100 out of the latest package from the government - it's absurd, I've got two houses... I don't need it."
Work and Pensions Secretary Therese Coffey said Lord Clarke could "send a cheque back to HMRC if he feels that strongly about it".
Asked if the triple lock was motivated by the fact that older people are more likely to vote, Ms Coffey said: "When politicians make a decisions we think about the individuals, we think about the people who are worried if they have enough money to heat their homes."
The UK's welfare bill of about £250bn a year is always going to be a hotly-debated political issue - but, at its heart, it remains vital to the everyday finances of millions of people.
The basic state pension in the UK is far from the most generous compared with entitlements in other European countries, although the Pension Credit top-up does assist lower-income pensioners.
A potential double-digit increase in April for pensions and benefits may raise eyebrows, but it still reflects the higher prices people will be paying for many months beforehand.