Rail strikes: Parties struggle to deal with the politics of pain
By Chris Mason
Political editor, BBC News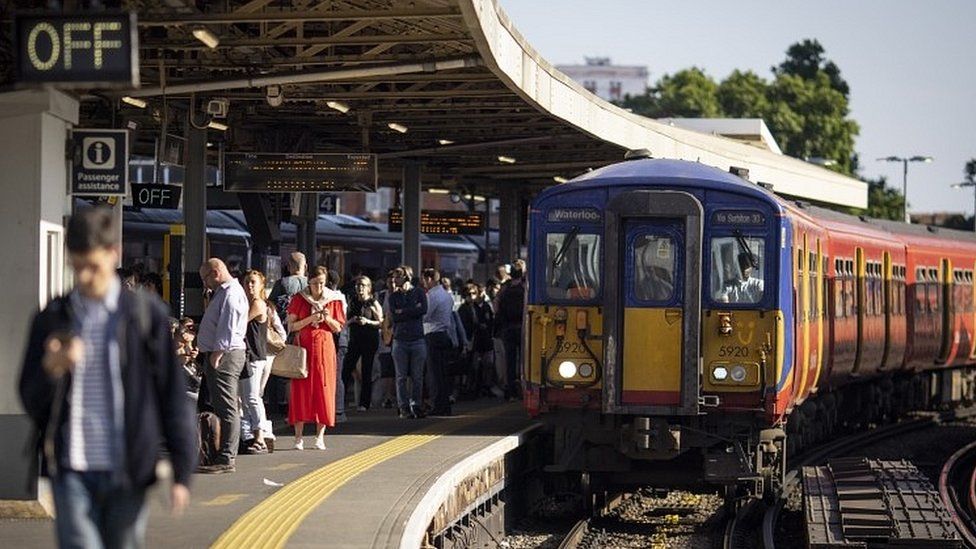 Perhaps you're reading this in a long queue for the bus. Or packed on to one of the few trains that is running.
The RMT trade union reckons the whole thing has been "manufactured" by Transport Secretary Grant Shapps.
Mr Shapps claims it has been "created by the unions."
So what will happen next, both on the railways and in the wider economy?
The government insists there is no point it getting directly involved in this dispute, arguing that you have to go back decades to find a cabinet minister involved in negotiations with a trade union.
Sources also point out there have been around 60 meetings between the industry and the RMT on the fine details of the dispute, and the transport secretary wouldn't be saying anything different were he involved.
As soon as next week we can expect ministers to introduce what is known as secondary legislation, a bolt-on to existing laws, that will allow people with the necessary transferrable skills to fill gaps left by striking workers.
The plan from ministers in the longer term is a new law that requires a "minimum service" to be provided when there are public transport strikes, a promise the Conservatives made in their last election manifesto.
In other words, the government is defiant - and so is the RMT.
Labour argues all of this is a sign of government failure, but it finds itself in an awkward spot too.
That's because, while the government has condemned the strikes, Labour is more careful in its language. It says it wishes the strikes weren't happening, but doesn't condemn them.
And now a row is brewing because a note sent to shadow ministers by the party leadership says: "Please be reminded that frontbenchers including PPSs should not be on picket lines."
A PPS is a parliamentary private secretary, an assistant to a frontbencher, but someone expected to toe the party line.
"Please speak to all the members of your team to remind them of this and confirm with me that you have done so," the note goes on.
But Labour MP Kate Osborne, herself a PPS, has tweeted: "Come what may, I will be on a picket line supporting workers tomorrow."
The general secretary of the Unite union, Sharon Graham, added: "To instruct Labour MPs not to be on picket lines with workers speaks volumes. It's time to decide whose side you're on."
The context here, on the railways and in the wider economy, is Covid.
Passenger numbers are down by a fifth, and an expensive fifth if you are a train operating company.
Commuters and business travellers, who pay a premium to travel at peak times, are not travelling as much.
For that reason, ministers argue, change is inevitable. But the union says it is absurd that there is full employment and yet falling wages.
Which brings us to the bigger picture. Prices are rising at a speed not seen in 40 years.
The Chief Secretary to the Treasury, Simon Clarke, has said wages in the private and public sector can't keep up with these price rises, or inflation will get worse.
The judgement of ministers, in other words, is the only way this gets better in the medium term is for the majority of people to feel poorer in the short term.
That's quite a thing for a senior minister to say: Having less money now is a price worth paying for things getting better sooner.
"That's not possible. Different interest groups will, entirely understandably, fight their corner. But we can't all win."
Ministers are currently trying to work out how to sell this not entirely palatable message.
We can expect a joint speech from the prime minister and the chancellor in the first couple of weeks of next month.
It currently has the working title of A Plan for a Stronger Economy, but they've got to decide precisely what they want to say in it.
"One struggles to work out what their economic policy actually is," one former minister tells me. "You need to look like you know what you want to do.
"They have lots of ideas, but it mustn't look random. And it does look random at the moment."
One idea that has been kicked around in recent weeks is return of those Covid-era Downing Street news conferences, perhaps every fortnight, with ministers, slides, graphs and experts.
So alongside the chancellor might be an official from the Office for National Statistics, for instance.
The rationale is that this would allow ministers to "level with people", which is government speak for telling us bad news.