Rail strikes: Agency staff could cover striking staff under new law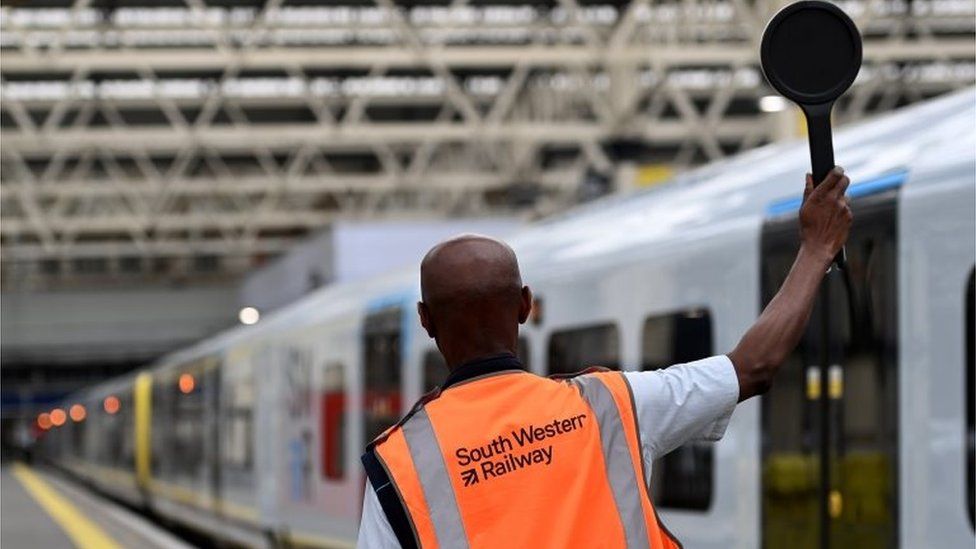 The government is planning to introduce legislation this week to make it legal for employers to bring in agency staff to replace striking workers.
The new law is likely to come into force in mid-July and would not impact train strikes taking place this week.
A government source told the BBC the change was needed because "unions are threatening action across the economy".
However, the Trades Union Congress argue it would undermine the right to strike and create safety risks.
The plan has also been opposed by the Recruitment and Employment Confederation, which represents the recruitment industry.
Speaking to the BBC's World at One, the organisation's head Neil Carberry said many large recruitment companies had signed up to a global commitment not to replace striking workers and that agency workers would not choose "to cross a picket line" because they could find work elsewhere.
He added that there was "cold fury" in the industry because of a lack of consultation about the planned change.
Transport Secretary Grant Shapps has previously argued that changing the law would ensure the country was not "held to ransom" in the future.
Under the government's plan, any employer - public as well as private employers including schools, councils and the NHS - would have flexibility to bring in outside staff to cover striking workers.
It would be an employer's choice whether to do so.
Paul Nowak, deputy secretary general of the Trades Union Congress - the umbrella body for unions, said: "Allowing agency staff to replace striking workers would undermine the right to strike and create genuine safety risks for the public and for the workforce.
"Having repeatedly promised a high-wage economy, ministers now seem determined to reduce workers' bargaining power and to make it harder for working people to win fair pay and conditions."
Labour's shadow business secretary Jonathan Reynolds accused the Conservatives of "driving down the rights and pay of hard working people".
The Conservatives have also promised to introduce a law which would "require that a minimum service operates during transport strikes".
However, there is currently no date for this legislation which would affect the railways and other key industries.
The agency workers announcement comes as barristers - represented by the Criminal Bar Association - voted to take industrial action over pay and conditions.
And two teaching unions are also considering asking their members if they want to strike over pay.
Prices in the UK are expected to rise by 11% in the next few months and the TUC has argued that workers need to cope with cost increases.
However, Treasury Minister Simon Clarke has warned that public sector workers should not expect "inflation-busting pay increases" that could risk fuelling the "evil of inflation".
"If we give awards which are above inflation in this landscape, then we are in a really difficult place in terms of bringing down inflation, which in turn obviously is driving the cost of living."