Brexit: UK signs first US state-level trade agreement with Indiana
By Joshua Nevett
BBC Politics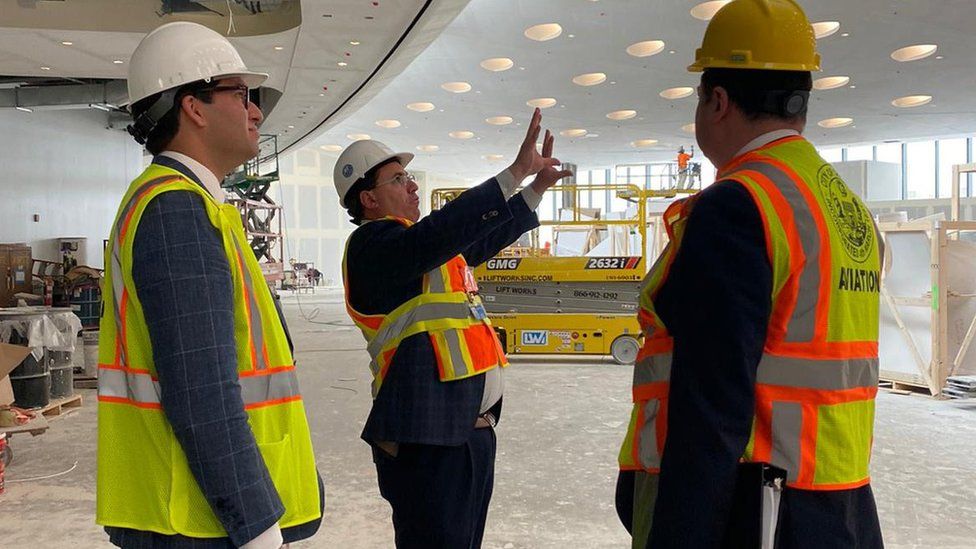 The UK is to sign its first trade agreement with an individual US state, with more expected this year as it attempts to show post-Brexit progress.
The Memorandum of Understanding with Indiana seeks to boost the £1.1bn ($1.4bn) worth of goods the state already buys from the UK.
Trade Minister Ranil Jayawardena will sign the agreement with the Indiana Governor Eric Holcomb on Friday.
But opposition parties said it was no substitute for a UK-US trade deal.
The UK government is looking to strike agreements with about 20 states after talks on a broader US-wide trade deal stalled.
International Trade Secretary Anne-Marie Trevelyan said the Indiana agreement "will help deliver value to UK businesses and support our areas of shared interest, such as levelling up".
Prime Minister Boris Johnson's government once saw the prospect of a trade deal with the US as a whole as one of the biggest prizes of leaving the European Union.
But hopes of a quick deal have faded since US President Joe Biden took office and raised concerns about the UK's handling of post-Brexit trade arrangements in Northern Ireland.
Instead, the UK's Department for International Trade is pushing for agreements with individual US states and cities, to help improve trade relations.
The agreement with Indiana is a memorandum of understanding (MoU), which is a document that sets out the key points of a non-binding economic partnership between two parties.
The UK says its agreement with Indiana - a Midwestern state - will remove barriers to trade and pave the way for businesses to invest, export and create jobs.
Opportunities in areas such as renewable energy, advanced manufacturing and pharmaceuticals will be available to businesses under the agreement, the UK says.
It says the agreement would also streamline procurement processes, enable academics to collaborate more easily, and ensure that professional qualifications were recognized on both sides.
The agreement was the "first of many" the UK would sign "as we look to bolster our £200bn trading relationship with the US", Trade Minister Penny Mordaunt said.
Usually trade deals with the US are signed at a national level, between central governments.
But the US government under President Biden has not made a firm commitment to a full free-trade deal with the UK, despite historic ties between the two countries.
Labour's Shadow International Trade Secretary Nick Thomas-Symonds said the Conservatives had promised a comprehensive US-UK free-trade agreement by the end of 2022.
"With less than seven months to go it seems that this will be another broken promise from this government," he said.
Sarah Olney, Liberal Democrat MP and party spokesperson for trade, said the Indiana agreement "makes a mockery of the government's promise for Global Britain".
She said Mr Johnson had "utterly failed to secure the US trade deal he said he would, being left to negotiate with one state at a time with his tail between his legs".
SNP international trade spokesperson Drew Hendry said the PM had no chance of striking a US-wide deal while he continued his "reckless games" over post-Brexit trade in Northern Ireland.
He added that "piecemeal" agreements with individual US states would do "little to mitigate the huge damage caused by the Tories' chaotic Brexit".
The situation in Northern Ireland, where a dispute over a post-Brexit trade deal has created a block on forming its devolved government, has been a source on tension between the UK and US.
The deal - known as the protocol - is a special arrangement that keeps Northern Ireland aligned with the EU single market for goods, avoiding a hard border with the Republic of Ireland.
But some US lawmakers, who must approve trade agreements, have said they would not support one with the UK if its actions jeopardised the peace process in Northern Ireland.