New MPs' code of conduct to tighten lobbying rules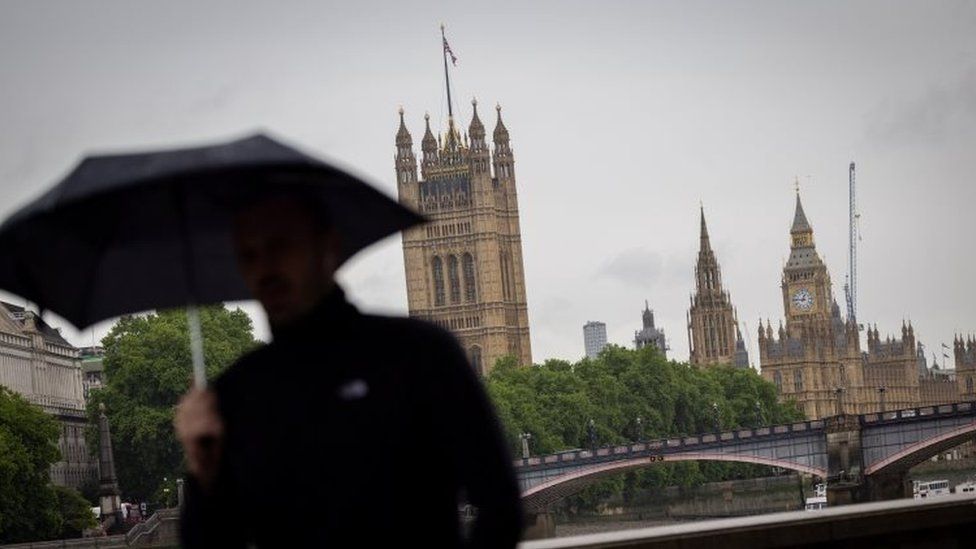 MPs will face tighter restrictions on what they can do for a second job, under a proposed new code of conduct.
The planned rules were drawn up by the Commons Standards Committee after a string of lobbying scandals.
MPs would still be allowed to take outside work - but they would be banned from advising firms on how to get laws changed, under the proposals.
The full package of reforms will now have to be approved by MPs in a Commons vote.
Standards Committee chairman, Labour's Chris Bryant, said the measures would "uphold and strengthen standards in Parliament".
The review of the code comes after a number of lobbying scandals hit Westminster in 2021, leading to questions about whether MPs should be allowed to have second jobs.
Among them was former Tory MP Owen Paterson, who resigned after he was found to have broken lobbying rules by using his position in Parliament to benefit two companies he was working for as an adviser.
The government's attempt to rewrite MPs' standards rules to prevent his suspension from Parliament was ditched after a furious backlash from its own MPs.
But Downing Street insisted it wanted to see a new process for MPs to appeal against the findings of conduct investigations.
The committee's proposals include a formal appeals system for MPs who find themselves under investigation.
MPs are already banned from paid lobbying - where they get money to ask questions in Parliament or raise issues with ministers on behalf of clients.
The current code of conduct says there must be no conflicts of interest between their personal interests and public interest - but it does not stop MPs having second jobs as "advisers".
In its final recommendations, the standards committee - made up of MPs and lay members - stops short of calling for a ban on all second jobs.
But it does call for "an outright ban on MPs providing paid parliamentary advice, consultancy or strategy services".
The committee also said MPs should have a written contract for any outside work "which makes explicit that their duties cannot include lobbying ministers, members or public officials, or providing advice about how to lobby or influence Parliament".
By David Wallace Lockhart, BBC political correspondent
Some recent examples of MPs' second jobs raised eyebrows, with Owen Paterson breaking lobbying rules and Geoffrey Cox earning almost £900,000 through outside work.
This committee wants to tackle any perception that there can be a shadowy relationship between business and parliamentarians - where getting MPs on the books can increase influence.
So, under these proposals, MPs will not be able to work as consultants who give parliamentary advice and they'd need to have a contract in any second job that spells this out.
This may put companies off employing MPs. What's the point if they can't help you navigate the system?
But why not ban second jobs completely? Or at least cap hours and earnings?
That's perhaps not as simple as it seems. What about MPs who do some NHS work at the weekend? Or those who need to keep professional qualifications up to date?
And if you cap earnings, what happens to an MP who pens a book that goes on to become a bestseller?
These proposals won't satisfy everyone. But the aim here is to deal with areas the committee worries can look most murky to the public.
Previously, MPs have been allowed to take part in debates that were connected to people paying them for second jobs, if they declared their interests first.
But now the committee wants to ensure members can no longer "initiate nor participate in proceedings or approaches to ministers, other MPs or officials" that would benefit someone who was paying them.
And it wants ministers to have to declare hospitality - such as tickets to sporting and cultural events, or dinners - in the same way that MPs do, meaning they would have to give more detail about the event and much faster.
Principles of public life
The committee also wanted to include "customised descriptions" of the seven principles of public life - also known as the Nolan principles, after the first chair of the Committee on Standards in Public Life.
It also responded to a review into the fairness of the current MPs' standards system by former judge, Sir Ernest Ryder.
As it stands, MPs facing accusations of breaching the rules are investigated by the Parliamentary Commissioner for Standards, Kathryn Stone, and her work is overseen by the committee.
Sir Ernest said the procedure was "fair and compliant" - but he said the system could be improved by including a formal complaints procedure.
He also called for a single document setting out standards procedures, "plainly and accessibly written". The committee said accepted all of Sir Ernest's recommendations and would publish a draft document along the lines suggested.
Mr Bryant said: "The last year has shown that the public cares passionately about standards in parliament - and so do MPs.
"Our report sets out a package of robust new measures to uphold and strengthen standards in Parliament by improving transparency, tackling conflicts of interest, tightening the rules on improper lobbying and providing an enhanced means of appeal."