Lack of desk space reignites row over civil servants working from home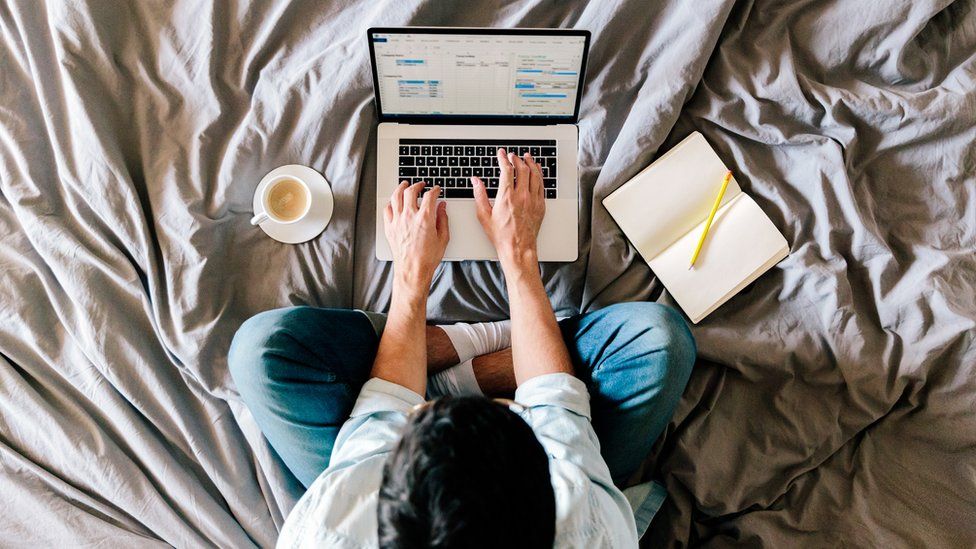 A union has accused ministers of bullying civil servants into working from the office, as figures show there are more workers at the Department for Education than available desks.
Earlier this week, the department said it had 8,009 "full-time equivalent" staff but only 4,525 operational desks.
Ministers have said they want more civil servants to return to offices.
But Schools Week has reported some have been forced to work in the corridors and canteen because of a lack of space.
Early on in the coronavirus pandemic, employees were told to work from home unless absolutely necessary.
However as restrictions have eased, Jacob Rees-Mogg - the government's efficiencies minister - has argued that working in offices provides "value for money" and benefits staff's career development.
In April, he left notes on empty desks in his department saying: "Sorry you were out when I visited. I look forward to seeing you in the office very soon."
Responding to the desk space figures, Mark Serwotka - general secretary of the PCS trade union which represents many civil servants - said: "Jacob Rees-Mogg's Post-It note stunt has been exposed for what it is - an unprofessional and unfair political attack on our members.
"To try to shame them back into the office when they have been working hard and successfully at home throughout the pandemic is bad enough, but when there aren't enough desks - when it's not physically possible - looks like the action of a bully."
He said civil servants should be "treated with respect, not treated like naughty school children".
Replying to a written question, Education Minister Michelle Donelan said the department had 8,009 full-time equivalent (FTE) employed and 4,525 operational desks across 12 locations in the country.
FTE calculates the total number of hours employees work and how many full-time employees that figure equates to.
She added that the staff headcount included some who "regularly attend other 'work settings' as part of their role, for example schools, colleges and learning providers".
She said the department had introduced a policy of hybrid working "to capture the benefits of both remote working and office attendance", but that numbers going into the office had "steadily increased" since January 2022 and daily occupancy was around 60-70% - similar to pre-pandemic occupancy levels.
A government spokesperson said: "Ministers have been clear that departments should make maximum use of office space and progress is being monitored."
The FDA union, which represents senior civil servants said: "The reports about the lack of desk space for staff returning to the office at the Department for Education are hardly surprising given the way this matter has been handled."
"The edict to return to offices shows a complete lack of awareness of the impact on individuals."