Will Sue Gray's report into Downing Street parties be damning for Boris Johnson?
By Iain Watson & Ione Wells
Political correspondents, BBC News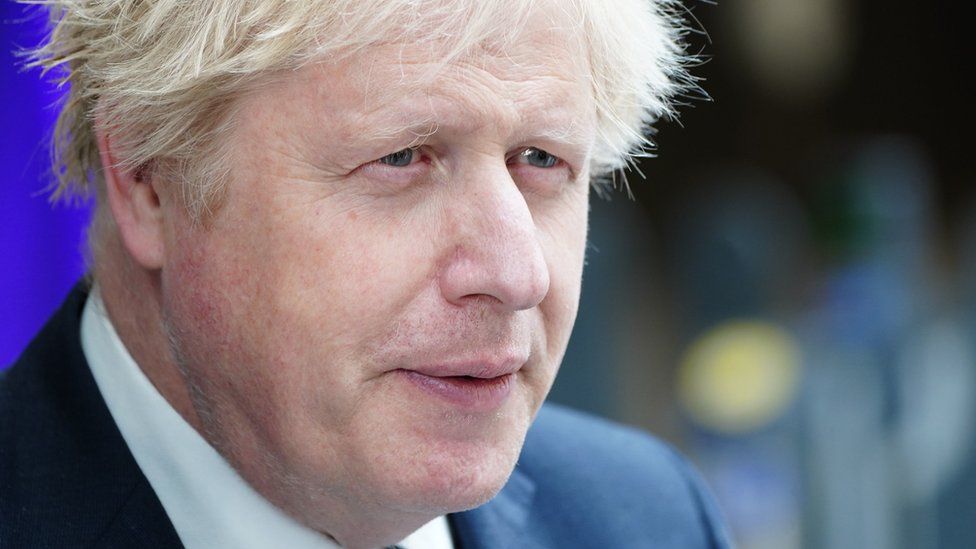 Now that the Metropolitan Police have wound up their investigation, and issued the final batch of fines, the long wait for Sue Gray's findings is almost over.
The expectation is that the senior civil servant will publish her report on Covid-rule breaking parties at No 10 next week - when Parliament is still sitting - and the prime minister will then give his promised statement in the Commons.
Boris Johnson's critics are hoping the Gray report in to "Partygate" will set out the scale of law-breaking on his watch in primary colours.
But will it be quite as devastating as they wish?
We are told Downing Street officials haven't yet seen the full report and have made no attempt to dilute it.
Insiders believe that, while it will be "damning for the civil service", Ms Gray will not deliver a killer blow to the PM.
A source familiar with the report believed Ms Gray's assessment would be that there were trails of evidence to suggest he was badly advised, and not necessarily aware of what events he was stumbling into.
But if the report reveals what one senior Conservative describes as "industrial" rule-breaking at the heart of government, it will be difficult for Mr Johnson to plead ignorance.
Ms Gray's initial update, published in January, was filleted of the detail of any gatherings the police had decided to investigate. A source familiar with details of her report went as far as to say she would not have taken it on had she known the police would delay it.
But that interim report gives strong clues about her likely final conclusions.
In it, she decried failures of leadership and judgement by different parts of No 10 and the Cabinet Office at different times.
She also pronounced that some gatherings "should not have been allowed to develop as they did".
So it could be that gory details of the gatherings will now be provided, and be set unflatteringly in the context of the prevailing rules at the time - and this carries a degree of jeopardy for the prime minister.
She is likely to reveal details of events which the police either didn't investigate - or didn't issue fines for.
For example, we know Carrie Johnson didn't get a Fixed Penalty Notice for an alleged event in Downing Street which Ms Gray is looking at - but this might nonetheless receive a poor verdict in the court of public opinion.
Ms Gray has already stated: "Too little thought (was) given to what was happening across the country in considering the appropriateness of some of these gatherings... and how they might appear to the public."
It's all but certain the official opposition will then have ready examples of families unable to see dying loved ones, or organise parties for young children, on the same days as the events in Downing Street chronicled by Ms Gray.
And the simple act of officially setting out the prime minister's own attendance at some of these events may prove uncomfortable.
But while Ms Gray will confirm what events Mr Johnson attended but may not answer questions, many of his opponents want to know details such as whether he really knew the nature of an event before turning up.
For example, Mr Johnson has maintained he "believed implicitly" that the event in the Downing Street garden, for which some attendees were fined, was a "work event".
But even if Ms Gray were to describe it as no such thing, it simply isn't in her remit to challenge his "belief".
Will there be new evidence?
We know Ms Gray passed a welter of evidence on to the Met, who say they have looked at more than 500 photographs.
But we're told there has been a debate about data protection which may limit what is put in the public domain, and sources in the top echelons of government have suggested it is unlikely to include the photographs.
This could also, potentially, stop the reproduction of WhatsApp messages that Ms Gray has in her possession.
However, sources are suggesting she would not have sought to publish all the evidence in any case.
Ms Gray has been taking independent legal advice on exactly what she can make public and in what form.
She may selectively quote from WhatsApp messages or emails if these are deemed relevant to her narrative, but she is unlikely to reveal entire verbatim exchanges.
Civil servants in the firing line?
Those who are close to the Sue Gray inquiry team believe that most of her ire will be directed at the Civil Service, or parts of it.
She will not think highly of those who may have fallen short of the professional standards she would expect.
One senior government official told the BBC recently that advisers had somehow convinced themselves they weren't breaking any rules.
He argued that senior civil servants, such as the prime minister's principal private secretary (PPS) and the head of propriety and ethics, should have kept Mr Johnson on the straight and narrow.
His PPS was, of course, Martin Reynolds, who sent the controversial "bring-your-own-booze" invitation to the event in the Downing Street garden in May 2020.
And the head of propriety and ethics at the start of lockdown, who then was promoted to the position of deputy cabinet secretary in spring 2020, was Helen MacNamara.
She admitted to receiving a Fixed Penalty Notice (FPN) for attending a colleague's leaving do in June 2020.
However, inside Whitehall there was also a feeling that Mr Johnson himself had exhibited a distinct lack of curiosity about the rules.
There have been concerns about support in place for lower-ranking members of staff who have been fined.
Downing Street's new chief operating officer and permanent secretary, Sam Jones, emailed staff in March, when fines starting coming in, to say her door was open for support.
Ms Gray does not intend to name junior civil servants. But I'm told there has been a "lively debate" on which senior names will appear in her report.
No official is under any obligation, even internally in government, to admit to receiving a fine.
But if their names are associated in the Gray report with one of the eight events for which fines have been issued, then some fear they will face disciplinary action - hence attempts to keep names to a minimum.
So, as presented, some of the evidence in the Gray report may not be as incendiary as some critics are anticipating.
All this does not mean that her full report won't inflict any damage on the prime minister, though.
Mr Johnson is now also facing an inquiry by the cross-party Privileges Committee over allegations that he mislead Parliament after initially maintaining all rules has been followed inside No 10.
The Gray report may provide ammo for that inquiry, though Conservative critics who have contemplated moving against the prime minister may well now wait until the committee reaches a conclusion.
So, even with the publication of the full Partygate report, the eventual fallout is not entirely clear. It's something of a Gray area.