Jamie Oliver vs Boris Johnson: It's a grudge match
By Peter Henley
Political editor, South of England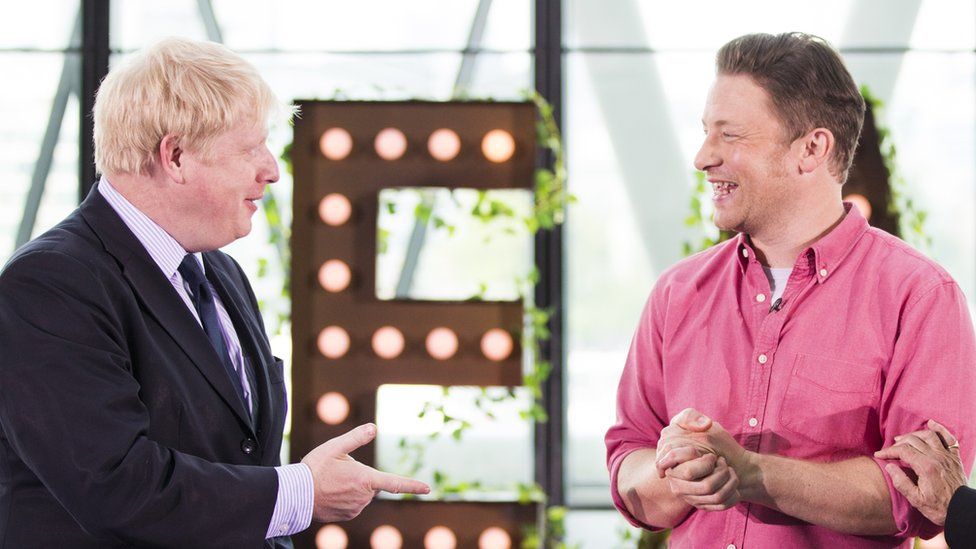 Chef Jamie Oliver is picking a fight with Boris Johnson over plans to ditch a ban on junk food advertising - and there's an edge to the anger, because this is a grudge match.
There was opposition from an unlikely source.
A group of school mums in Rotherham took orders for take-away meals from their children.
They were pictured on the news delivering the unhealthy pies, burgers and chips through the playground railings.
The prime minister, then a lowly Conservative education spokesman, decided to back their cause.
Well, I say decided, he didn't really expect the publicity he ended up getting from his speech at a fringe event at that year's Conservative Party Conference, in Bournemouth.
As a local BBC reporter his constituency fell within my patch, and I was the only journalist present at the meeting, which was billed as "the lunchtime after dinner speech".
We recorded an interview beforehand, and he took the chance to aim a few remarks in my direction as he warmed his audience to his libertarian theme.
"When I was growing up we bounced around like peas in a rattle."
Pushing pies through railings?
"I say let people eat what they like."
It was seen as embarrassing to newly-elected Conservative leader David Cameron, who had heaped praise on Jamie Oliver's healthy eating campaign.
Jamie Oliver was a national saint, but Boris Johnson was jester-in-chief, and now reluctant leader of a pro-pie party.
At the party conference in Bournemouth, the future PM was mobbed by a press pack who had not had a decent story all month.
Boris Johnson tried to say he'd been misquoted - he loved Jamie, he had all the books.
But on the final day of the conference David Cameron forced him on stage to apologise, not just for his comments but for stealing the show at a crucial time for the Conservatives in opposition, saying: "Boris made it all the way to Tuesday afternoon before he put his foot in it."
Jamie plainly hasn't forgotten the run in. And Boris Johnson hasn't either, regularly reminding me of it when we've met for interviews since.
I even teased him back last time, asking how his much heralded diet and fitness drive was going. Too many distractions, he said.
Perhaps that is the key with the plan to postpone new laws to ban junk food promotions and advertising.
The now prime minister turning his talent for distraction to divert the public from rising food prices in the shops with a reprise of an old hit: Jamie vs Boris.