Labour denies Keir Starmer dodging lockdown event questions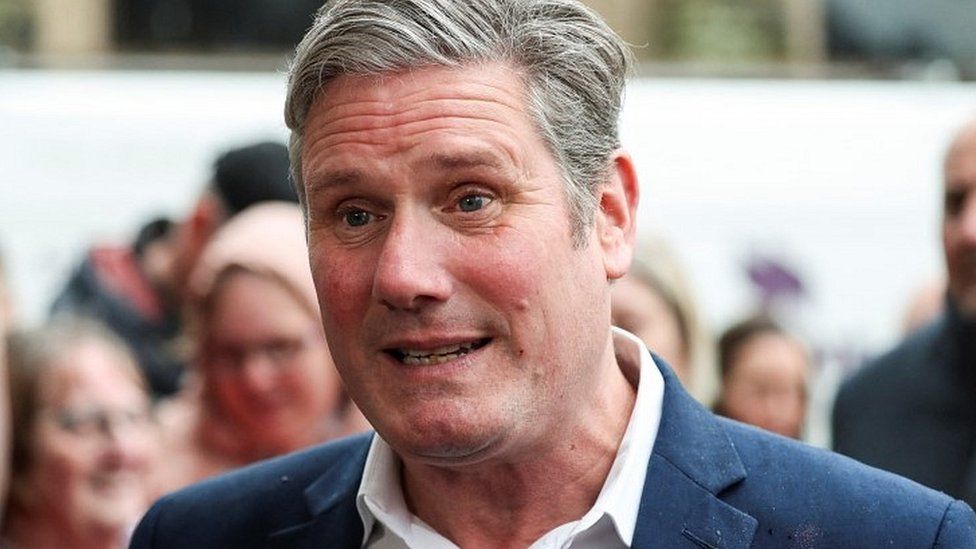 Sir Keir Starmer is not avoiding answering questions over claims he broke lockdown rules, shadow health secretary Wes Streeting has said.
The Labour leader, who drank beer and ate curry in an MP's office during a visit before a by-election last year, has cancelled an appearance on Monday.
Mr Streeting told the BBC Sir Keir was a man of "decency and honesty" and was not "dodging" scrutiny.
But the Tories have accused Sir Keir of double standards.
Sir Keir - who has previously called for Prime Minister Boris Johnson and Chancellor Rishi Sunak to resign over attending Downing Street lockdown events - drank beer and ate curry in the constituency office of City of Durham Labour MP Mary Foy during a visit in April last year when lockdown restrictions were in place.
Durham police have launched an inquiry into whether Covid rules were broken, having previously ruled this out.
A Labour Party spokesperson said: "Keir was working. A takeaway was made available in the kitchen, and he ate between work demands. No rules were broken."
And Ms Foy dismissed allegations that some people who had been in her office were drunk as "untrue", adding: "I do not believe either I or my office staff broke any [Covid] rules."
Sir Keir was due to make a speech and take questions from journalists on Monday afternoon at an event organised by the Institute for Government (IoG) think tank, but he has cancelled his appearance.
The IoG said it had received no explanation for this, but Sir Keir's spokesperson said: "Plans change."
Mr Streeting told BBC Breakfast: "I have no idea why he cancelled the event and I certainly didn't ask before I came on because I think it's such a trivial issue.
"The idea that Keir has been dodging questions... I mean he's been out all weekend, even after a local election campaign where we did very well, he's been out thanking Labour teams, particularly in the places that we did particularly well in these elections."
"The idea that Keir is somehow ducking scrutiny is simply not true," he added, saying he would not "even entertain the idea" that the Labour leader would be found to have broken Covid rules and fined for this.
Sir Keir has said the visit in Durham in April 2021 had been within the rules.
An internal memorandum for the trip, obtained by the Mail on Sunday, scheduled time for "dinner", after which the visit would conclude.
Asked on Sky News whether Sir Keir should resign, Conservative MP and Universities Minister Michelle Donelan said: "This is a decision for him. He's going to have to search his soul after making this a top priority over the last few months at the expense of key issues like the rising cost of living."
"My takeaway is that it does smack of sheer hypocrisy," she added.
Sir Keir has said he will lead Labour - which picked up more than 100 councillors in last week's local elections in England, Scotland and Wales - into the next general election.
The coronavirus rules in place when the drinks took place in Durham on 30 April last year meant it was illegal in England to socialise indoors with people from outside one's own household or support bubble.
There was an exemption for "work purposes", although working from home was recommended in the guidance, but the rules did not mention socialising at work.