All-party groups: Foreign influence could be next scandal, MPs warn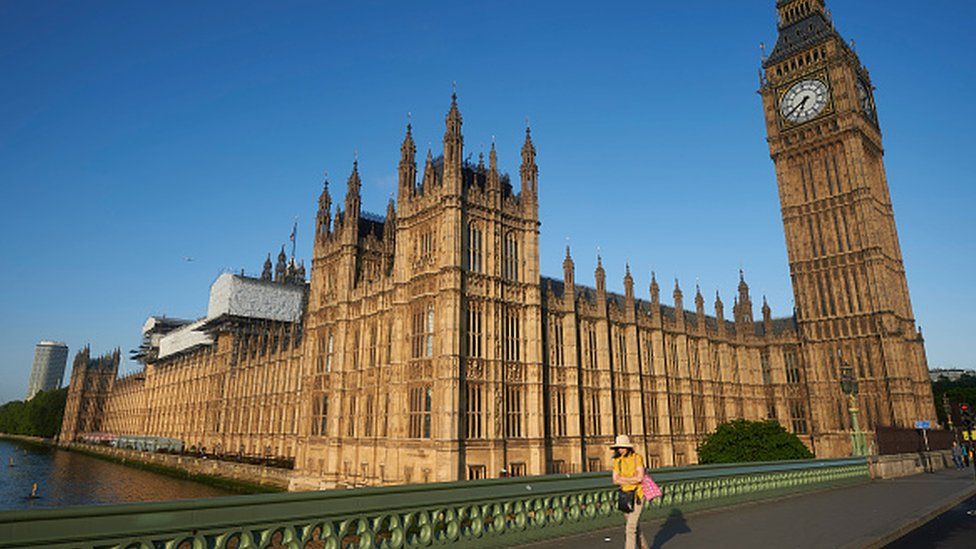 Hostile states buying access to MPs and peers could be "the next great parliamentary scandal" unless reforms are made, a report has warned.
It found All-Party Parliamentary Groups (APPGs) were at risk of "improper lobbying" by foreign actors.
Labour's Chris Bryant said the groups "must never be a backdoor means of peddling influence".
It comes after MI5 warned of political interference by a Chinese agent.
In January the security service said Christine Lee fostered links with British politicians to promote the interests of the Chinese Communist Party (CCP).
MI5 said Ms Lee had a key role in setting up the Chinese in Britain APPG and made donations to MPs, including Labour's Barry Gardiner and Liberal Democrat Sir Ed Davey.
Mr Gardiner received more than £420,000 from her over five years - but said he had always made the security services aware of the donations. Sir Ed received a £5,000 donation when he was energy secretary and the money had been accepted by his local association.
China denied interfering in UK politics and accused MI5 of "smearing and intimidation" against the UK's Chinese community.
APPGs are informal committees set up by MPs and peers with a shared interest and are typically focused on policy areas, such as climate change or foreign relations.
They can set up meetings with ministers and publish reports, but unlike select committees, they have no official status and are not funded by taxpayers.
The Select Committee on Standards launched an inquiry into APPGs in October 2020 to investigate their activities and governance.
The committee has since gathered evidence from politicians, lobbyists and security officials before publishing a report on its findings on Friday.
The expert evidence, the report found, "shows that the risk of improper access and influence by hostile foreign actors through APPGs is real, though difficult to measure".
A "dramatic increase in the number of APPGs in recent years" has "made it more difficult to monitor adherence to the rules", the report said.
The committee concluded: "We are concerned that if left unchecked, APPGs could represent the next great parliamentary scandal, with commercial entities effectively buying access to and influence of parliamentarians and decision-makers."
The report cited testimony from the director of security for Parliament, Alison Giles, who said APPGs were "an attractive avenue for access or influence by foreign governments".
"The fact that they are relatively unregulated and, crucially, dependent on outside interests for funding and support makes them very easy to engage with," she said.
"Many APPGs will be actively looking for the kind of support that foreign entities and governments would be only too pleased to provide."
House Speaker Lindsay Hoyle, who also gave evidence to the committee, said he "had concerns about the security risks presented by some APPGs in terms of their indiscriminate engagement with state actors hostile to UK interests".
"I have also had fears about the proliferation of such groups, the influence of lobbyists over them, and the lack of transparency and regulation about their activities," he said in a statement, welcoming the report.
Under the current system, most of the groups do not produce, or make readily available, a detailed breakdown of their funding and spending.
The standards committee proposed four approaches to "address the current threats posed by APPGs".
They included reducing the number of APPGs, which currently stands at 744, and enhancing the transparency of funding sources.
Regulatory enforcement was also advised, as was limits on support staff employed by the groups to "reduce the risk of improper access".
Standards Committee chairman Chris Bryant, who chairs two APPGs himself, on Russia and Acquired Brain Injury, said the report "represents a wake-up call for us all".
"The evidence we have gathered is chilling and points towards an urgent need for the House to take action," the Labour MP said.
"Parliament always has, and always will, be a target for hostile foreign states. But with better regulation and transparency around these informal groups, we can ensure they continue to make a positive contribution to our democracy."
The committee will now consult on the proposals before preparing a final report with recommendations for MPs.