Deadline for publishing Lebedev peerage documents missed
By Nick Eardley & Justin Parkinson
BBC News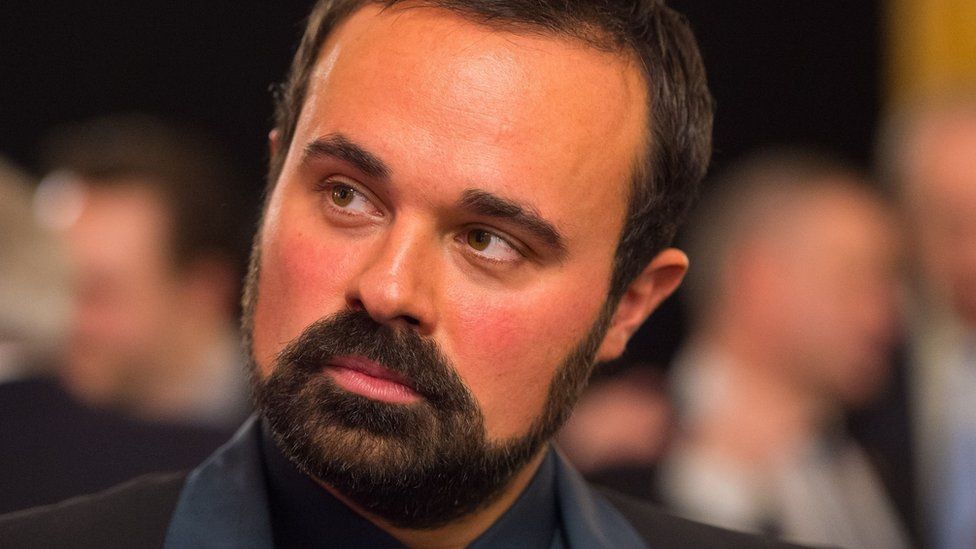 The government has missed a deadline to publish the security advice it received on awarding a peerage to Russian-born newspaper publisher Evgeny Lebedev.
Parliament voted last month for the material to be made available to MPs by Thursday 28 April.
Labour accused ministers of "bending the rules to dodge scrutiny" and asked whether they had "something to hide".
But the government said it was not possible to release the details before Parliament is suspended on Thursday.
In a letter, Cabinet Office Minister Michael Ellis argued that he could not give out information where it was "not in the public interest to do so" and the government would need more time to deal with "all the necessary considerations".
These included what details pertaining to national security, individuals' data protection and communications with Buckingham Palace could be divulged.
Mr Ellis promised to publish the information "promptly" after Parliament returns from its break on 10 May.
Lord Lebedev, the son of a former KGB agent and owner of the Independent and London Evening Standard, became a non-party, crossbench peer in July 2020, after being nominated by his friend Boris Johnson.
He has denied posing a "security risk" to the UK and has backed the publication of the government's advice on the issue, tweeting: "I have nothing to hide."
The prime minister's former aide Dominic Cummings has said the prime minister was made aware of security service concerns about the plan to award the peerage. Another source has confirmed to the BBC that issues were raised.
A Labour motion calling for the government to publish any advice about Lord Lebedev held by the Cabinet Office or the prime minister's office was backed by the Commons in March.
The government had argued against this, accusing the opposition of being anti-Russian, but the motion passed unopposed after Conservative MPs abstained.
Following the government's decision to delay publication, Labour deputy leader Angela Rayner said: "By failing to comply with the democratic will of Parliament and release these important documents, the government is once again bending the rules to dodge scrutiny.
"This last-minute delay just kicks the can further down the road, and has all the hallmarks of a government with something to hide."
She added: "If the prime minister wasn't involved in forcing through the appointment of an individual of concern to our intelligence services, why won't he come clean and publish the guidance in full, as Parliament voted for?"
Earlier this month, Lord Bew, chair of the House of Lords Appointment Committee, which approves peerages, denied it had tried to block Lord Lebedev being given a seat in the Lords.
He told MPs there had been "uncertainty" around the case, which had involved a "a special set of circumstances".
In a lengthy session in Parliament, he said there had been "particular complexity" and protracted conversations with vetting agencies.
But Lord Bew said: "There was no pressure on this issue from No 10 or the prime minister."