Boris Johnson horrified at onshore wind farm delays, sources say
By Ione Wells
Political correspondent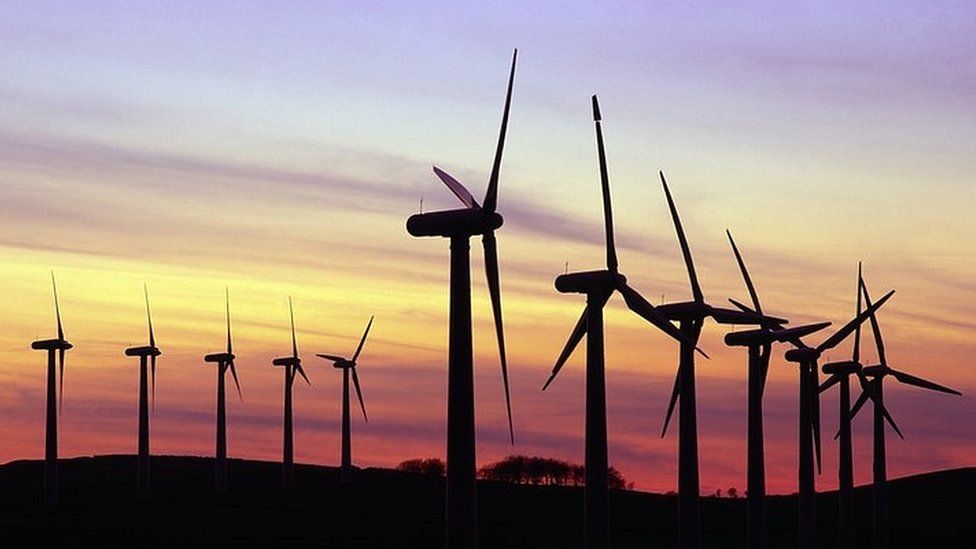 Boris Johnson has a "working assumption" that onshore wind will feature in the government's energy strategy, despite opposition within the cabinet, sources have told the BBC.
The PM is said to be "horrified" at how long it takes for land wind farms to get approval in England.
Some ministers want the government to look at whether planning laws can be changed to speed up the process.
The energy strategy, delayed amid cost concerns, is expected next week.
But no final decisions have been made.
A senior government source said Mr Johnson wanted to make "two big bets" on nuclear and offshore wind, but that wind farms on land, which sometimes face local opposition, were also featuring in his thinking.
The energy security strategy will outline plans to make the UK more "energy independent", hit net-zero emissions targets and move away from the use of Russian oil and gas.
The strategy had been due this week but was postponed after the Treasury raised concerns that some targets would apply for decades to come, going beyond the government's current spending plans period.
For example, the prime minister has said he would like to produce 25% of the UK's energy through nuclear power by 2050.
On Thursday, Mr Johnson chaired a meeting with industry leaders from the wind power sector, having previously held talks with nuclear and North Sea oil and gas industry bosses.
A Downing Street spokesperson said the prime minister had reaffirmed his "commitment to ramp up the supply of wind power".
A No 10 source told the BBC that Mr Johnson wanted to increase use of nuclear and offshore wind power - and convert much of the electricity to produce hydrogen, to be stored for future use, from water.
But they added that it was now the "working assumption" that onshore wind would also be included in the strategy, despite some cabinet ministers opposing it.
In 2015, planning laws were toughened in England, making it harder for onshore turbines to get approval, but some ministers want to review this, including Business Secretary Kwasi Kwarteng.
The government has considered whether incentives - such as cheaper energy bills for those living near onshore wind farms - could help provide a community benefit to more turbines and make them more popular.
For Labour, shadow energy secretary Ed Miliband told BBC Radio 4's World at One that such incentives should "definitely" be introduced.
"The reason why these things have been blocked is because the government introduced a planning system that said there needed to be unanimous consent in local areas, so if one person objected, it couldn't go forward," he added.
"That doesn't sound like a very democratic way to go forward."
At Thursday's roundtable discussion with the wind sector, the prime minister was told it could take a day to put up an onshore wind turbine but 10 years for it get approval in England, and that this had "horrified" him.
A source added that he had found the arguments for more onshore turbines, and for providing people with incentives such as lower energy bills, "persuasive", but there would be a "high bar for local support".
It is also understood that ministers plan to "keep the door open" to fracking in the energy strategy, after the firm Cuadrilla was given an extra year to seal up two shale gas wells.
But the government's ban on fracking remains in place, with a senior government source saying they would be "astonished" if the nod to the practice in the strategy actually leads to more of it actually happening.
Mr Johnson has been under pressure from some Conservative MPs from the Net Zero Scrutiny Group to end the 2019 moratorium on fracking.