Ukraine war: Russia's ex-president among 370 new UK sanctions targets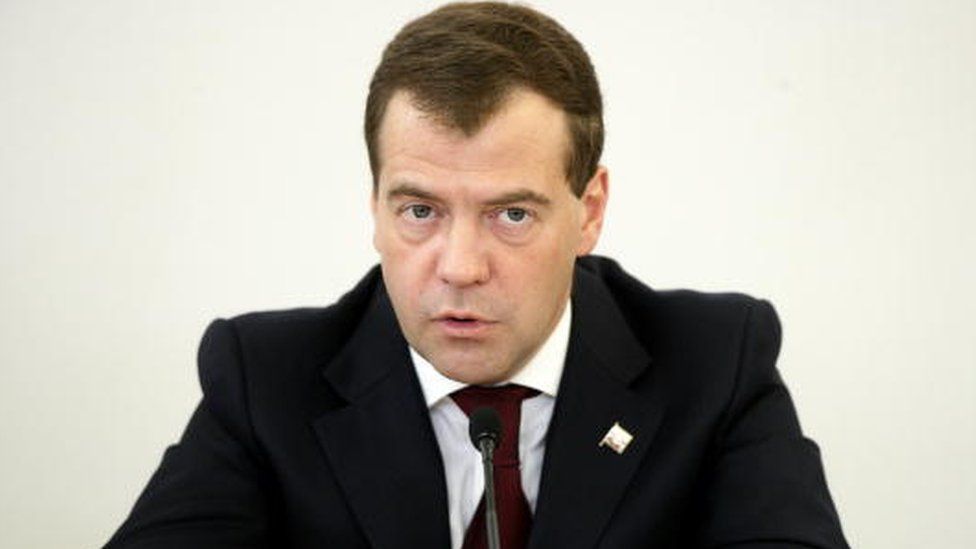 The UK has announced 370 more sanctions, with Russia's former president one of those targeted, in its latest response to the war in Ukraine.
Dmitry Medvedev and President Vladimir Putin's spokesman are among those to be hit with asset freezes and travel bans.
Earlier, the UK hit Russia with trade restrictions, including an additional 35% tariff on vodka.
The move comes after the passage of new legislation to speed up and harden UK sanctions.
The government fast-tracked the Economic Crime Act through Parliament after criticism that UK had been too slow to target Russians with links to President Putin.
The legislation allows the UK to sanction those who have had their assets frozen by the EU, US or Canada, and take action to stop wealthy Russians using London for money laundering.
Parliament's Intelligence and Security Committee of MPs, which oversees the UK's intelligence community, said it hoped the new legislation was "at least the first step" in helping authorities ensure the UK is "no longer a safe haven for the oligarchy and their enablers".
But a statement from the committee said it had made it clear two years ago in its report on Russian interference in British politics that the UK had been "welcoming Russian money for many years with few questions - if any - being asked about the provenance of this considerable wealth", and urgent action had been needed then.
Russian Prime Minister Mikhail Mishustin and Defence Minister Sergei Shoigu were among the other high-profile allies of President Putin to be sanctioned by the UK.
Others include Mr Putin's press secretary Dmitry Peskov and Russian Foreign Affairs spokeswoman Maria Zakharova, who the UK government called "Russian propagandists".
Foreign Secretary Liz Truss said the UK was "going further and faster than ever in hitting those closest to Putin".
"We are holding them to account for their complicity in Russia's crimes in Ukraine," she said. "Working closely with our allies, we will keep increasing the pressure on Putin and cut off funding for the Russian war machine."
A growing number of Russians have been sanctioned by the UK and its western allies since President Putin launched his invasion of Ukraine on 24 February.
Ukrainian President Volodymyr Zelensky has been issuing increasingly frank pleas for stronger sanctions and western military intervention as Russian shelling of Ukrainian cities exact an ever-higher death toll.
In a video call with Prime Minister Boris Johnson, Mr Zelensky said "we can still stop the Russian war machine" and it was vital to do so because otherwise "they will come for you".
They related to trade with Russia and included a 35% import tariff hike on Russian vodka and hundreds of other goods worth £900m.
The latest package of UK sanctions was targeted at individuals and organisations with links to President Putin's administration.
Some of them had already been sanctioned by western allies, among them Mr Mishustin and Mr Peskov, described by the US as "a top purveyor of Putin's propaganda".
A prominent name on the UK's latest list of sanctioned individuals was Mr Medvedev.
Currently deputy chairman of the Security Council of Russia since 2020, Mr Medvedev served as president from 2008 to 2012 and as prime minister from 2012 to 2020.
Once regarded as more liberal than President Putin, Mr Medvedev warned western nations against sanctions in a tweet earlier this month.
Do not forget, he wrote, "that in human history, economic wars quite often turned into real ones".
New law lifts sanctions barriers
The UK government has been accused of moving too slowly on sanctions against Russians with links to President Putin.
Opposition parties were worried a delay in imposing them meant some could move many of their assets out of the UK before they were frozen.
The Economic Crime Act received royal assent in the early hours of Tuesday morning. It has given ministers the power to go further, and quickly sanction those who had been targeted already by the EU and the US.
Ministers had expressed frustration about the process for sanctioning individuals under previous legislation.
The Economic Crime Act should remove some of the difficulties around building legal cases to justify sanctions under UK law.
The UK government also said Russian oligarchs with a combined estimated worth of more than £100bn were added to its sanctions list.
On the list was billionaire Mikhail Fridman, founder of Alfa Bank, the largest private bank in Russia. He lives in London and has business interests in the UK.
At a London press conference on 1 March, he said while the Ukraine war was a "huge tragedy", sanctioning oligarchs would not sway President Putin.
Some of the other oligarchs sanctioned by the UK included:
German Khan, a business partner of Mr Fridman in Alfa Bank, with an estimated net worth of £7.8bn
Petr Aven, a former president of Alfa Bank, with an estimated net worth of £4bn
Alexey Mordaschov, a majority shareholder in steel company Severstal, with an estimated net worth of £22.4bn
Andrey Melnichenko, the founder of EuroChem Group, with an estimated net worth of £13.7bn
For Labour, shadow international trade secretary Nick Thomas-Symonds said: "Urgent sanctions have been needed so that Putin and his inner circle cannot live a Mayfair lifestyle in Moscow while committing atrocities in Ukraine.
"The government now needs to ensure that the export ban has no loopholes so it has maximum impact."
War in Ukraine: More coverage