Tensions between Priti Patel and No 10 over Met Commissioner Cressida Dick
By Laura Kuenssberg
BBC political editor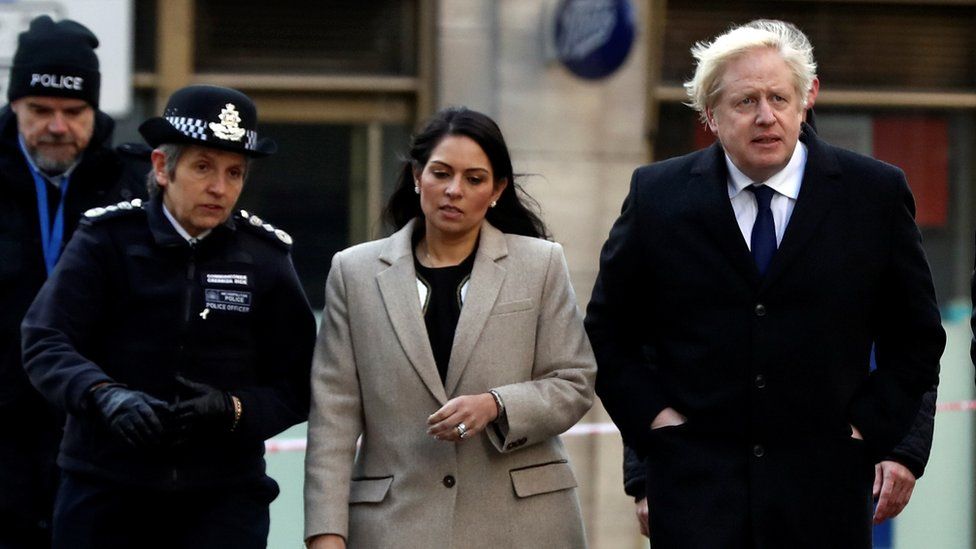 There was tension between the home secretary and Downing Street over whether to try to recruit a successor for Metropolitan Police Commissioner Dame Cressida Dick in the wake of the controversy over the Sarah Everard case, multiple sources have told the BBC.
Priti Patel and No 10 both had concerns about leadership at the Met, and discussed whether or not to try to find a new commissioner.
There was widespread anger over the force's handling of the case and the treatment of female protestors holding a vigil for Ms Everard, who was killed by a former Met officer Wayne Couzens.
But it's understood that both Ms Patel and Boris Johnson were unenthusiastic about the likely internal candidate, senior Met officer Neil Basu, who had previously criticised the PM's comments and was seen in No 10 as "too political", sources say.
However, the home secretary did consider going through the recruitment process where a civil service panel interviews candidates, before recommending the candidate to her.
Two sources familiar with the discussions said Ms Patel was "overruled" by Downing Street, and the decision was taken to extend Dame Cressida's contract for two years.
Another source disputed that account, and said once the Home Office and No 10 had "worked through all the options", extending the commissioner's contract was the compromise.
It is understood the home secretary wants to begin the search for the next Met commissioner - the most powerful policing job in the UK - this summer and is keen to look to candidates outside the force.
The relationship between the most senior politicians in the country, and the most senior police officers in the country is rarely easy.
Under this government, and this Met Commissioner, it has been tricky indeed.
There's unhappiness again in the last 24 hours over how some Met officers were revealed to have behaved, and tensions and accusations of cover up around the Met's investigations into parties in Downing Street which has held up the full investigation into what exactly what went on in Number 10.
A Home Office spokesperson said: "In September 2021, following consultation with the Mayor of London, the home secretary extended the commissioner's term until April 2024.
"This extension was agreed in order to provide continuity and stability as we emerge from the coronavirus pandemic and deliver on our promise to recruit more police officers while driving down crime in the capital."
The Met would not comment.