Boris Johnson facing further calls to resign amid parties row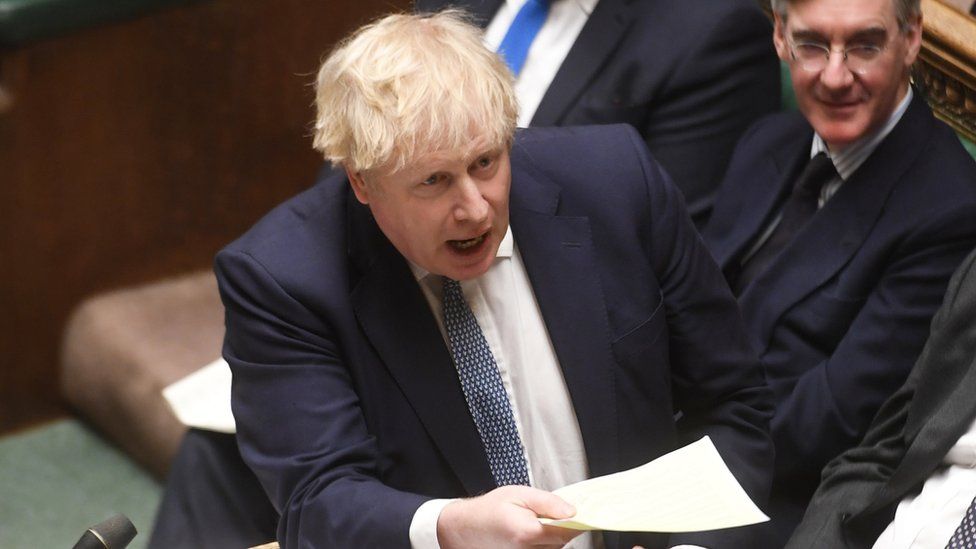 Boris Johnson is under fresh pressure after three Tory MPs joined efforts to oust him as prime minister.
Ex-minister Tobias Ellwood said on Wednesday he submitted a letter of no confidence in the PM, amid the ongoing row over lockdown parties in No 10.
He was joined by backbenchers Anthony Mangnall and Sir Gary Streeter, who also called for a vote on his future.
The BBC is aware of 17 Tory MPs who have submitted letters of no confidence.
Of these, only nine have publicly confirmed that they have taken this step, and the situation remains fluid. Only the chairman of the backbench 1922 committee Sir Graham Brady knows the exact number.
At least 54 MPs need to write to Sir Graham to trigger a vote on the PM's leadership of the party.
Mr Johnson is seeking to head off a potential leadership challenge from Tory MPs angry about his response to reports of parties in government buildings held whilst Covid restrictions were in place.
Speaking to the Sun, the prime minister rejected calls for him to resign, telling the newspaper he was "focused" on leading the Tory party into the next general election.
Culture Secretary Nadine Dorries, a close ally of the PM, attacked the latest MPs to put in letters on Wednesday, claiming they were "a handful of egos [who] want to make it all about them."
She added: "It's selfish, doing Labour's work and it's really not helping their constituents."
Only a dozen Conservative MPs have called publicly for Boris Johnson to go. More of them privately have claimed to have sent letters of no confidence, though well short of the 54 required.
So far, this effort has not been hugely co-ordinated.
One of the PM's longstanding critics told me that today's three letters felt like "a wave" of opposition, but it would take more to sweep the PM from power.
And over the next 48 hours there will be discussions aimed at better managing the process.
Potentially rebellious ministers and ex-ministers had wanted to make their move only after the full Sue Gray report was published or after May's local elections, whichever was the sooner.
The assessment was that there would be more chance of unseating Mr Johnson at that stage, with bad election results or bad behaviour providing ammunition.
Because while it takes 54 MPs to trigger a confidence vote, 180 would then be required to ensure his removal.
With some of the rebels motivated not by ideology but by a desire to protect the party's - or their personal - reputation, the prime minister's position remains delicate.
At Prime Minister's Questions on Wednesday, the prime minister refused to confirm press reports that he was at a party in his Downing Street flat on 13 November 2020.
The SNP's Westminster leader Ian Blackford claimed Mr Johnson misled MPs in December last year when he denied being at this event.
"Surely he doesn't need to wait for an investigation to tell us exactly where he was?" asked Mr Blackford.
Mr Johnson said processes had to be followed and he was getting on with delivering the government's recovery plan.
Mr Ellwood, who chairs the Commons Defence Committee, called on the PM to "cut to the chase, to call a vote of confidence in himself" and said the party was on a "glide path to a very, very dark place".
He told the BBC the prime minister had not shown enough "contrition" in his Commons statement on Sue Gray's report, on Monday, and had already had plenty of time to make the changes he had promised.
Anthony Mangnall, Tory MP for Totnes and South Devon, also revealed shortly after PMQs he had submitted a no-confidence letter in the PM.
He tweeted: "At this time I can no longer support the PM. His actions and mistruths are overshadowing the extraordinary work of so many excellent ministers."
Writing on his Facebook page, South West Devon MP Sir Gary Streeter, a Eurosceptic who was first elected to Parliament in 1992, said he had not taken the decision "lightly" to submit his letter.
But he added: "I cannot reconcile the pain and sacrifice of the vast majority of the British public during lockdown with the attitude and activities of those working in Downing Street".
Another former minister told the BBC on Wednesday they had resolved to submit a no-confidence letter in the PM, but they are waiting until they are sure he would lose the subsequent vote.
They added that colleagues "didn't want to jump the gun," because if Mr Johnson won a no-confidence vote then under Tory rules he would be safe from another challenge for a year.
Speaking to the BBC, backbencher Simon Hoare said he had given "serious thought" to sending in a letter, but he was persuaded the PM "gets the scale of the challenge".
But he warned: "I'm not saying we're in the last-chance saloon, but closing time is getting closer."
Mr Johnson is also facing calls to withdraw a claim he made in the Sue Gray debate on Monday that Sir Keir Starmer failed to prosecute Jimmy Savile when he was director of public prosecutions (DPP).
Tobias Ellwood and other Conservatives have criticised the PM for these comments, with Mr Ellwood suggesting it was one of the reasons he decided to submit a letter of no confidence in him.
Sir Keir has called Mr Johnson's comments a "ridiculous slur" - and he made a brief statement on them at Prime Minister's Questions.
Addressing Conservative MPs, the Labour leader said: "Theirs is the party of Winston Churchill. Our parties stood together as we defeated fascism in Europe.
"Now their leader stands in the House of Commons parroting the conspiracy theories of violent fascists to try and score cheap political points. He knows exactly what he was doing. It's time to restore some dignity."
The Labour leader was head of the Crown Prosecution Service in 2009 when Surrey Police interviewed Savile and consulted a CPS lawyer, who decided there was insufficient evidence for a prosecution to take place.
The CPS has said Sir Keir was not the reviewing lawyer on the case, and there is no mention of his involvement in a 2013 review into the case.
Nazir Afzal, a former chief crown prosecutor for the North West, said on Monday: "It's not true. I was there. Keir Starmer had nothing to do with the decisions taken."
On Wednesday, senior Tory Sir Bob Neill called on Mr Johnson to withdraw his claim - calling it "baseless and unworthy".
He joined former Northern Ireland secretary Julian Smith, who said on Tuesday the PM's accusation was "wrong and cannot be defended".