Downing Street party: Boris Johnson faces crucial week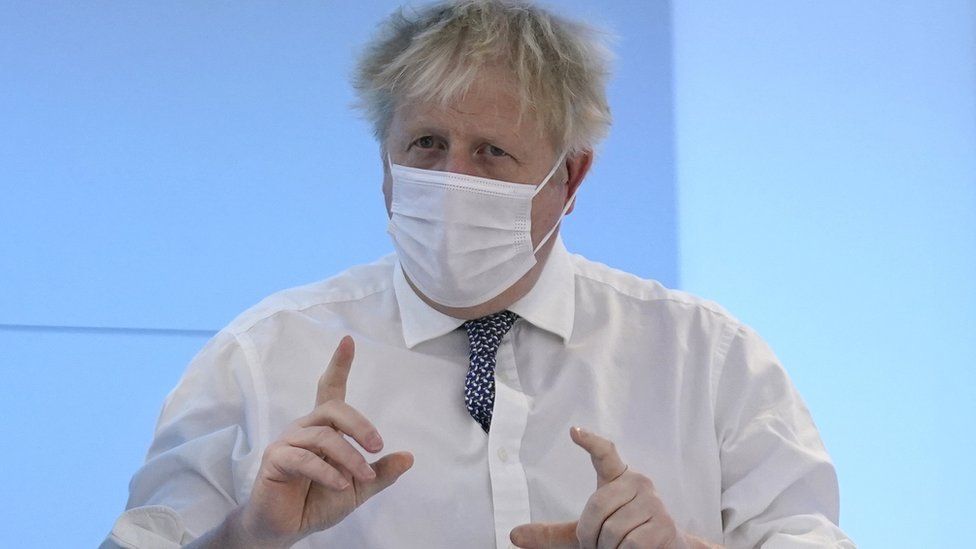 Boris Johnson has entered a crucial week for his premiership, ahead of a report over alleged parties at Downing Street during lockdown.
Civil servant Sue Gray is expected to publish her findings this week - although the date is not confirmed.
The PM's former aide, Dominic Cummings, has said he sent Ms Gray written evidence but wouldn't be meeting her.
Meanwhile, senior Tory William Wragg, who claimed MPs seeking to oust the PM were "blackmailed", met police earlier.
Mr Wragg, chairman of the Commons Public Administration and Constitutional Affairs Committee, raised his concerns last week and advised colleagues who felt threatened to go to the police.
He said he wanted to leave any probe to "experts" rather than No 10, but Downing Street said it had not seen any proof of the behaviour he alleges.
Mr Johnson's troubles worsened on Monday, when Treasury minister Lord Agnew quit the government over its handling of fraudulent Covid business loans.
Making a dramatic resignation in the House of Lords, the Tory peer accused the Treasury of having "no interest in the consequences of fraud to our society".
Ms Gray - who is currently a permanent secretary at the Cabinet Office - is investigating a series of allegations about lockdown-breaking parties at Downing Street.
Her report is "the biggest threat" to Mr Johnson's premiership on what is expected to be a significant week for his government, the BBC's political editor Laura Kuenssberg says.
She says many MPs see Ms Gray's report as the crucial piece of evidence that will help them make up their mind about whether it is time to end Mr Johnson's leadership.
The prime minister is reported to be determined to hang on to his position - believing he has done nothing wrong.
So far six Conservative MPs have publicly declared no confidence in Mr Johnson.
But more are thought to have submitted letters to Sir Graham Brady, chairman of the backbench 1922 committee, who organises Tory leadership contests.
If 54 letters are submitted a no confidence vote is triggered which could result in a leadership election.
A further challenge for Mr Johnson emerged at the weekend after claims by Conservative MP Nusrat Ghani that one of the reasons given for why she was sacked as a minister in 2020 was because she is a Muslim.
The PM has ordered the Cabinet Office to look into the allegations.
According to media reports, 16 gatherings allegedly took place in either No 10 - where the prime minister lives and works - or other government departments during the Covid pandemic.
London's Metropolitan Police have not commented on reports that officers on duty guarding Downing Street when the gatherings were held have been questioned.
Mr Johnson stressed it was a "work event" and said he stayed for 25 minutes to thank staff for their efforts.
No 10 has already apologised to Buckingham Palace for the two events in April.
Ms Gray has been asked to look at the nature and purpose of the gatherings, including who went to them "with reference to adherence to the guidance in place at the time".
The internal investigation was ordered by Mr Johnson who set the terms of reference and Ms Gray - who is required to be impartial - will report back to him.
In a blog post, Mr Johnson's former top advisor, Mr Cummings, said he was not giving evidence to Ms Gray in person on Monday, contrary to reports.
When approached by Ms Gray, Mr Cummings wrote, he suggested they should "keep everything in writing" to make "both our lives easier".
"She agreed," Mr Cummings wrote. "So I have answered questions in writing and will answer further questions in writing if she wants."
No timeline has yet been announced for the Cabinet Office inquiry into Ms Ghani's claims.
She became the first female Muslim minister to speak in the Commons when she was appointed to a post at the Department for Transport in 2018.
But she told the Sunday Times that when she asked for an explanation as to why she lost that job, it was stated her "Muslimness was raised as an issue".
Conservative Chief Whip Mark Spencer said the accusations were "completely false and defamatory" and denied ever using the words Ms Ghani had alleged.
Prime Minister Boris Johnson has ordered a Cabinet Office inquiry into Ms Ghani's claims. She welcomed the investigation and said: "The terms of reference of the inquiry must include all that was said in Downing Street and by the whip."