Downing Street party: Johnson says he is satisfied no rules were broken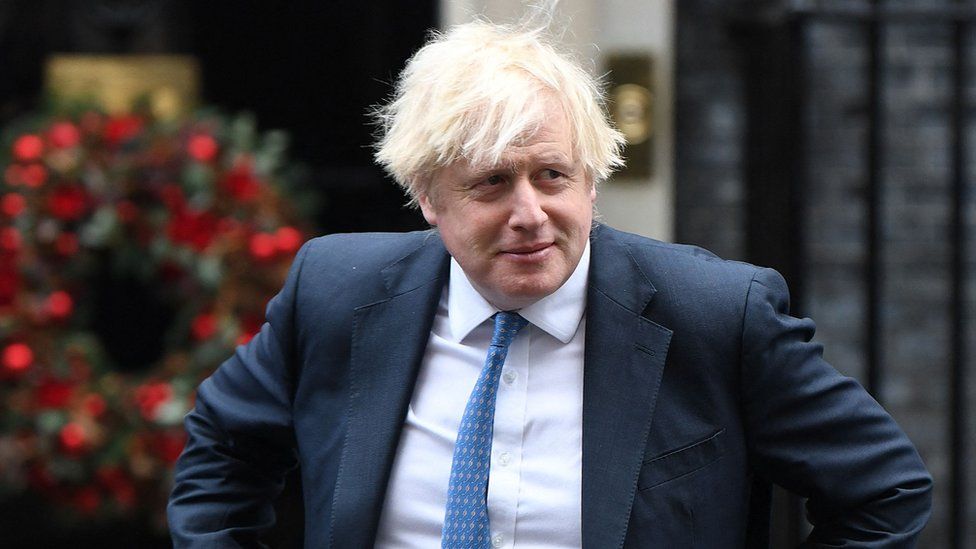 Boris Johnson says that he's "satisfied" that no Covid rules were broken during a party for staff in Downing Street last year.
The event - which the PM did not attend - took place on 18 December, with a source telling the BBC "several dozen" people attended.
But the Covid restrictions operating at the time banned such get-togethers.
No 10 has refused to explain how party-goers complied, despite days of questioning by reporters.
The Mirror said last year's official Downing Street Christmas party was cancelled due to restrictions, but staff held an unofficial gathering.
A source who attended later told the BBC that party games were played, food and drink were served, and the party went on past midnight.
Asked during a visit on Tuesday whether a party had taken place, Mr Johnson responded: "What I can tell you is that all the guidelines were observed."
Asked whether he had personally investigated the gathering, the PM replied: "I have satisfied myself that the guidelines were followed at all times."
On Tuesday, the Times reported that the event was organised by civil servants via a group on messaging service WhatsApp.
The newspaper added that staff were asked to bring "Secret Santa" presents, and some of those attending wore Christmas jumpers.
Asked about the Times report, the PM's spokesman told reporters: "There wasn't a party as described."
What were the rules on office parties in December 2020?
Any party at Downing Street would have breached the government's guidelines at the time.
Its guidance for the Christmas period specifically said: "Although there are exemptions for work purposes, you must not have a work Christmas lunch or party, where that is a primarily social activity and is not otherwise permitted by the rules in your tier."
The other question is whether it would have been illegal.
There was also a specific prohibition on organising an indoor gathering of more than 30 people.
But there may have theoretically been a loophole for government buildings like 10 Downing Street because of the 1984 legislation used to bring in the tier system, according to Adam Wagner - a barrister at Doughty Street Chambers and an expert on Covid regulations.
Another barrister, Charles Holland from Trinity Chambers, tweeted that there would have needed to be an agreement with Westminster City Council for the regulations to apply in Downing Street.
On Tuesday, Labour leader Sir Keir Starmer said: "We don't need a criminal investigation, we need a prime minister who is honest about it.
"I think what should happen now is the prime minister should be honest.
"They know that party took place, they know what happened - have the guts to be honest about it," he added.