December date for Owen Paterson replacement by-election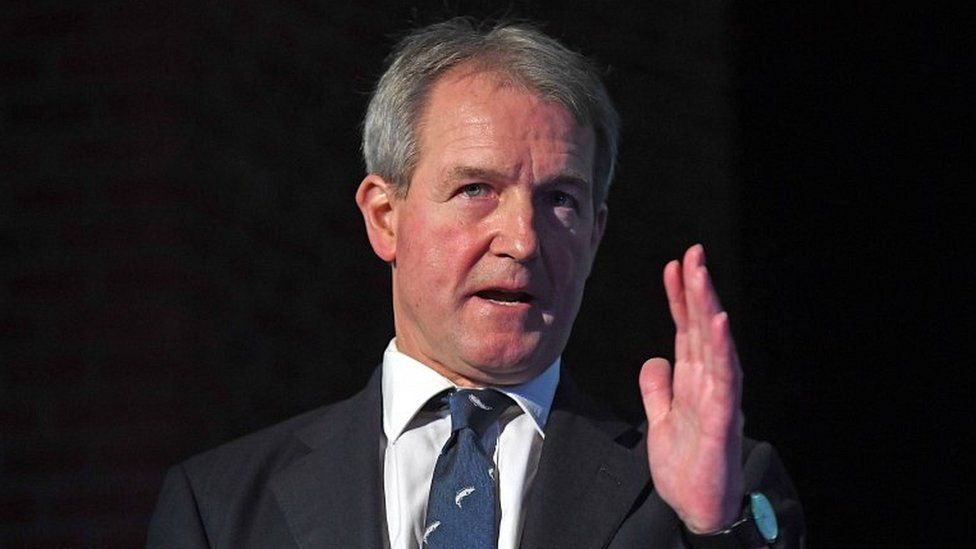 The by-election caused by the resignation of Tory MP Owen Paterson will take place on 16 December.
The contest for the North Shropshire seat follows findings that Mr Paterson, a former cabinet minister, broke Parliamentary rules on lobbying.
He had held the constituency, which has long been a Conservative stronghold, since 1997.
Labour, the Liberal Democrats and the Green Party are among those who will put up candidates in the by-election.
Labour came second in North Shropshire at the last general election, in 2019, with the Liberal Democrats third. Mr Paterson took 62.7% of the vote.
He announced his resignation last week, saying he wanted a life "outside the cruel world of politics".
Before this, Mr Paterson had been at the centre of a row over the work he did for two companies while an MP.
Parliament's Committee on Standards proposed banning him for 30 sitting days from the House of Commons after he was found to have lobbied on behalf of Randox and Lynn's Country Foods.
But the government ordered Conservative MPs to vote to change the rules on politicians' behaviour, which put back Mr Paterson's punishment.
Following an outcry among opposition, and some Tory, MPs, it reversed its decision, prompting Mr Paterson's decision to go.
The days will be short, the weather will be cold and voters might be more focused on their Christmas shopping than choosing a new MP, but the North Shropshire by-election campaign is coming.
Any other party would need to pull off something special to take the safe Conservative seat.
Will sleaze dominate or will the row about standards in Parliament have blown over by mid-December?
Will Labour be able to seize on events around Owen Paterson's resignation or struggle to set the narrative?
Will the Lib Dems find enough support to come anywhere better than their distant third in 2019?
Only the verdict of voters on 16 December will tell us.
The government has admitted making a "mistake" in its handling of the issue but insisted its backing of rule changes had been intended to give all MPs a right of appeal when punished.
The writ for the by-election - necessary before any contest takes place - was moved unopposed in the Commons.
Mr Paterson denies any wrongdoing.
What did Owen Paterson do?
Mr Paterson has been a paid consultant for clinical diagnostics company Randox since 2015 and to meat distributor Lynn's Country Foods since 2016, earning a total of £100,000 a year on top of his MP's salary.
MPs are allowed to have these jobs, but are not allowed to be paid advocates - using their influence in Whitehall for the company's gain.
Making three approaches to the Food Standards Agency relating to Randox and the testing of antibiotics in milk
Making seven approaches to the Food Standards Agency relating to Lynn's Country Foods
Making four approaches to ministers at the Department for International Development relating to Randox and blood testing technology
Mr Paterson was also found to have broken conduct rules by:
Failing to declare his interest as a paid consultant to Lynn's Country Foods in four emails to officials at the Food Standards Agency
Using his parliamentary office on 16 occasions for business meetings with his clients
And in sending two letters relating to his business interests, on House of Commons headed notepaper