Brexit: Irish deputy PM Leo Varadkar warns nations UK might not keep its word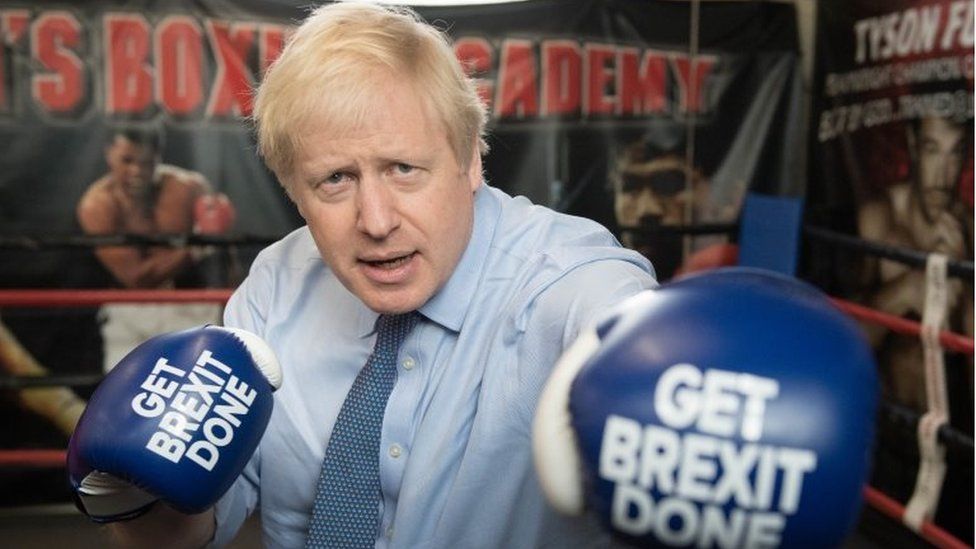 Ireland's deputy PM has warned governments doing trade deals with the UK that it is a nation that "doesn't necessarily keep its word".
Leo Varadkar made the comment after Dominic Cummings suggested the UK had always intended to tear up the Brexit deal it signed with the EU in 2019.
Boris Johnson's ex-adviser said the plan had been to "ditch the bits we didn't like" after winning power.
The government said the deal had not worked as intended and must be changed.
And it accused the EU of failing to protect the Good Friday peace agreement in its implementation of the Northern Ireland Protocol.
Mr Johnson fought the 2019 election on a "Get Brexit done" platform.
During the campaign, he repeatedly claimed the withdrawal agreement he had negotiated with Brussels - including the Northern Ireland Protocol - was a "great" deal that was "oven ready".
The UK now wants to change the deal to allow goods to circulate more freely between Great Britain and Northern Ireland.
Mr Cummings - who has turned against Mr Johnson since being removed from Downing Street at the end of 2020 - claims the prime minister never understood what the withdrawal agreement really meant.
He tweeted: "What I've said does NOT mean 'the PM was lying in General Election 2019', he never had a scoobydoo [a clue] what the deal he signed meant.
"He never understood what leaving Customs Union meant until November 2020."
When the prime minister did finally comprehend, said Mr Cummings, "he was babbling 'I'd never have signed it if I'd understood it' (but that WAS a lie)".
Asked if Mr Cummings was correct in his assessment, Lord Frost said: "We all understood extremely well what the deal meant, it delivered on democracy, took the UK out of the EU whole and entire, and it was a very good deal."
But he said it now had to be changed because it was "undermining the Belfast Good Friday Agreement, not supporting it".
"The problem with the protocol at the moment is that EU law, with the European Court of Justice as the enforcer, is applied in Northern Ireland without any democratic process. That has to change if we are to find governance arrangements people can live with," he said.
In a statement, the UK government said the protocol needed "significant change" to avoid further severe "economic, political and societal" disruption in Northern Ireland and to make it "sustainable for the future".
Mr Cummings - the former Vote Leave campaign chief - said that when Boris Johnson entered Downing Street in 2019, the country was facing the "worst constitutional crisis in a century" with much of what he called the "deep state" angling for "Brino" [Brexit in name only] or a second referendum.
"So we wriggled through with best option we could and intended to get the trolley [his nickname for Boris Johnson] to ditch bits we didn't like after whacking [Labour leader Jeremy] Corbyn. We prioritised," he said.
In July this year, Mr Cummings told the BBC's Political Editor Laura Kuenssberg the Irish government had also wanted to "fudge things" and "it suited both sides to sign up to something that was not what either side had really wanted and which punted difficult questions into the future".
In his latest tweets, Mr Cummings dismissed suggestions that abandoning elements of the deal would mean breaking international law.
"Our priorities meant e.g. getting Brexit done is 10,000 times more important than lawyers yapping re international law in negotiations with people who break international law all the time," he said.
Mr Varadkar told RTE television: "I hope Dominic Cummings is speaking for himself and not for the British government.
"But those comments are very alarming because that would indicate that this is a government, an administration, that acted in bad faith and that message needs to be heard around the world.
"If the British government doesn't honour its agreements, it doesn't adhere to treaties it signs, that must apply to everyone else too.
"At the moment they're going around the world, they're trying to negotiate new trade agreements...
"Surely the message must go out to all countries around the world that this is a British government that doesn't necessarily keep its word and doesn't necessarily honour the agreements it makes.
"And you shouldn't make any agreements with them until such time as you're confident that they keep their promises, and honour things, for example, like the protocol."
The Taoiseach (Ireland's PM) Micheál Martin has given his backing to EU proposals for changes to the Northern Ireland Protocol, but he urged both sides to work "in good faith" and focus on "addressing disruption in trade between Northern Ireland and Great Britain".
Theresa May's former chief of staff, Lord Gavin Barwell, has, meanwhile, warned the UK's proposal for changing the Northern Ireland protocol has "no chance of success and is going to do even further damage to our relationship with our nearest neighbours".
"My problem is if you agree something and fight an election saying what a fantastic deal this is - and then almost immediately afterwards you start to try and unpick the thing - the danger is the people you negotiating with think you didn't agree it in good faith in first place, and that makes it much more challenging when you try to renegotiate it," he told an Institute for Government event.
He said he did not like the current Northern Ireland Protocol - but argued that the UK government had to meet the EU "half way".