Conservatives: Who funds them, and what's in it for them?
By Chris Mason
Political correspondent, BBC News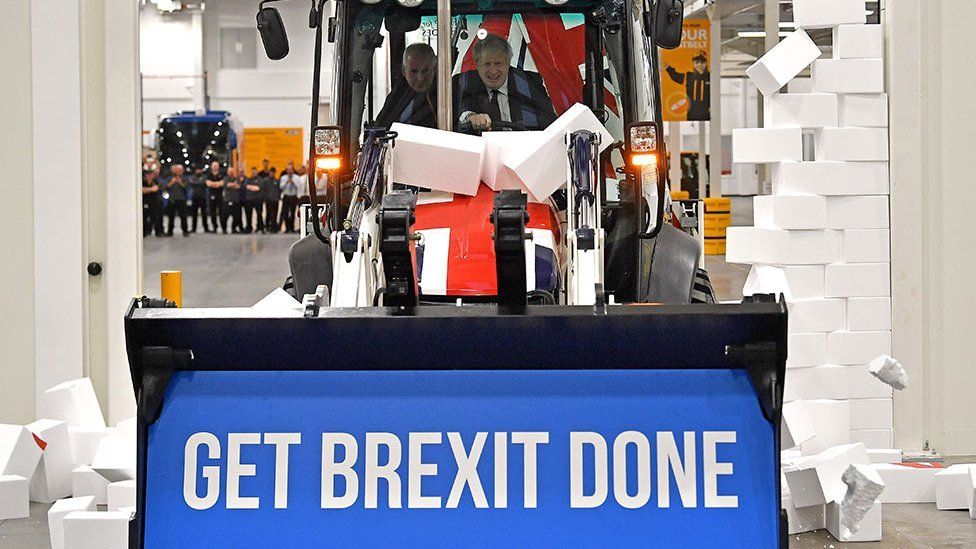 Welcome to the One Million Pound Club.
To make the top ten donors to the Conservative Party since Boris Johnson became prime minister, you need to have stumped up a seven figure sum.
At the top of the chart, by a considerable margin, the providers of one of the most memorable political images of the last few years.
Boris Johnson at the wheel of a JCB, a polystyrene wall smashed, his 'Get Brexit Done' slogan in the mechanical shovel.
JC Bamford Excavators Limited has given just over £2.5m in the last two years. Lord Bamford, the chairman of the family owned company, has personally given £100,000 since 2010, when the Conservatives returned to government. He became a Conservative peer in 2013.
I've been trying to find out what motivates people to give money to the Conservative Party, how do they choose how much to give and how do they measure if it is worth it?
Incidentally, I put all these questions to JCB, but Lord Bamford didn't want to talk to me. That, of course, is his prerogative - what he chooses to do with his own money is his own business.
But collectively, these are important questions to explore - for they offer an insight into how our governing party is bankrolled, and by whom.
It is also a window into the world of the super-rich, what motivates them to donate, and the context of some stark and big numbers you might occasionally read about.
So who is willing to talk publicly?
"It is a perfectly reasonable thing to ask about."
Meet Alasdair Locke, a veteran of the shipping and oil and gas industries, and a multimillionaire.
"They will put you in everything you want," he says, when I ask what he gets in return.
Mr Locke has agreed to talk to me on the record, where others said they would speak to me, but only if I protect their identity.
He has donated £280,000 to the Conservative Party since Boris Johnson became prime minister.
Electoral Commission rules mean any donation over £7,500 to a party has to be reported by that party, and the figure and the donor will be published.
"I can get access via the Leaders Group. It is usually senior ministers and 15 or 20 people. Sometimes in person. Sometimes on Zoom. The last thing I attended was a lunch with Michael Gove in July. It was all donors who were there."
To become a member of the Leaders Group, you have to have donated £50,000 in the last year.
Two to three lunches a week are arranged, to which around a dozen donors are invited.
Groups don't tend to be bigger than this, to ensure all those who turn up get a chance to feel part of something that isn't impersonal.
Some donors are very regular attendees, others don't come to any.
Does this amount to buying access, and influence?
"It is interesting, but I'm not sure we are that influential. Politicking doesn't really interest or excite me. I would reckon I do get heard, but I don't expect it to be acted upon," Mr Locke says.
"Politicians are always cautious, in any case. At the lunch with Michael Gove, I asked about trade relations with the US. There was no attempt by any of us to influence policy."
Mr Locke was drawn into political donations by a "strong conviction" for keeping Scotland in the United Kingdom.
"I started off with the Conservatives when they were facing oblivion in Scotland. I am an old fashioned One Nation Tory, there wouldn't be much between me and centrists in the Labour Party.
"I wanted to support the centre right unionist party. I wanted to move the Scottish Conservatives away from the patrician tweedy layered image, to involve people who people would vote for," he tells me.
He is a big fan of the Scottish Conservative Leader Douglas Ross, and Baroness Davidson, a predecessor.
It is not just the Leaders Group that donors can be a member of.
There is the Treasurers Group, for those who have given £25,000, although I am told plenty of prospective members can be tempted to upgrade to the Leaders Group, as those with a spare 25 grand rattling around can often afford to double it.
There is then the Advisory Board, for those who have given £250,000 or more in the last year.
But how transparent is this?
The short answer: not very.
Yes, there is the legal obligation for donors' names and how much they have given to be published.
But what they actually get for that money is much, much less clear, and less clear than it used to be.
Back in 2012, there was a big row about the then Conservative co-treasurer, Peter Cruddas.
He resigned as party co-treasurer after The Sunday Times suggested he was offering access to then Prime Minister David Cameron for a donation of £250,000 a year.
But the following year he won £180,000 in damages in a libel victory against the newspaper.
The newspaper's appeal succeeded in part and the damages were later reduced to £50,000.
Peter Cruddas is sixth in the league table of Conservative donors since Boris Johnson became prime minister, having given £1.1m.
In December last year, Mr Johnson nominated him for a peerage, against the advice of The Lords Appointments Commission, describing the earlier allegations as "historic and untrue".
After the row in 2012, David Cameron decided greater transparency was the answer, even if some internally felt donors were already being told they would be named by the Electoral Commission and a further step was unnecessary.
But then, in 2018, they stopped. And there has been nothing since.
The former housing secretary Robert Jenrick got caught up in one of the most awkward of political binds possible with a donor last year.
He found himself sitting next to businessman Richard Desmond at a Conservative fundraiser.
Mr Jenrick said he regretted the contact and Downing Street supported him, at the time.
He was sacked from the cabinet this month; one minister telling me his dismissal was far too late - he should have been shown the door a year earlier.
A Conservative spokesperson didn't address the question of the register straight on, but they did say: "Donations and donors to the party are declared to and published by the Electoral Commission as required by the law and this is freely and openly available on the Electoral Commission's website."
So what do donors get for their money?
"It does give me the chance to speak to some people," a very significant donor tells me privately.
But, when I ask if this represents value for money, I'm told: "I'm not sure how you measure it, to tell you the truth. It doesn't amount to being involved in making policy."
This is where we get into a fascinating subtlety about very rich people and what they do with their money.
This same donor offers an insight that all of my conversations tacked back to: he said his - by any conventional metric - vast donations to the Conservative Party, amounted to "barely a flicker" compared to the sums involved in the charitable work he does.
This single example of giving is matched by the picture more broadly. The Conservative Party generates around £25m a year. Charities, collectively in the UK, are a multi billion pound sector, with around 50 generating more than £100m a year.
Some inside the party ponder how giving money to any political party could be perceived to be more noble, as a contribution to public life, rather than so often raising awkward and, usually, unanswered questions.
Should party political donations be treated like donations to charity, which are subject to tax relief, called Gift Aid?
Maybe, argue some, while acknowledging it would look self serving and so politically awkward.
But let's get back to what motivates people to give money.
Beyond access to ministers, and, for some, eventually, maybe a knighthood or a seat in the House of Lords (although their other work, in industry or for charity, might qualify them for this anyway), there is an X factor available here too.
Auctioning off a weekend for two at a plush hotel in the Lake District doesn't tick any boxes for a donor who may just own that hotel anyway.
But offer them a dinner at which the prime minister is speaking and there is, perhaps, a near equivalent in terms of social cachet to said donor having spent vast sums having a stratospherically famous rock star play privately at their 60th birthday party.
Or there might be an auction lot for something with next to no monetary value, but which offers a rich anecdote.
I'm told of one such auction, where a speech the prime minister was yet to even give was to be sold off and might fetch around £1,500.
Think this through: it's a pile of A4 paper with words printed on it, which, by the time you receive it, is already in the public domain, and has been merely garnished with a prime ministerial scrawl, his signature.
It might even turn out to be a speech which you barely agree with a word of. Or a complete dud.
But, to those for whom material purchases have little added value, because they have all they could ever want, something that can hang on the back of a toilet door and comes with a story, and a smiley picture of you and the prime minister, might just be tempting.
Questions will forever swirl about political parties and how they are funded.
Where does the money comes from, who is giving it, how much, and to whom? Who are the donors? Why are they doing it, what are they getting out of it?
The alternative, many people I spoke to said, was state funding of political parties: asking the taxpayer to pick up the tab for politics.
In the grand scheme of public spending, the cost of this would be minimal, but most political parties would probably think twice, or more than twice, before attempting to sell the merits of a potential voter picking up their tab.
As one donor said: "It doesn't always look good. It really doesn't. But, intellectually, it is the least bad way of funding political parties."
And a Conservative spokesperson points out that the party is funded by membership, fundraising and donation, which are properly and transparently declared to the Electoral Commission, published, and comply with the law.
"Fundraising is a legitimate part of the democratic process. The alternative is more taxpayer-funding of political campaigning, which would mean less money for frontline services like schools, police and hospitals."