Cabinet reshuffle 2022: Who is in Boris Johnson's cabinet?
By The Visual Journalism Team
BBC News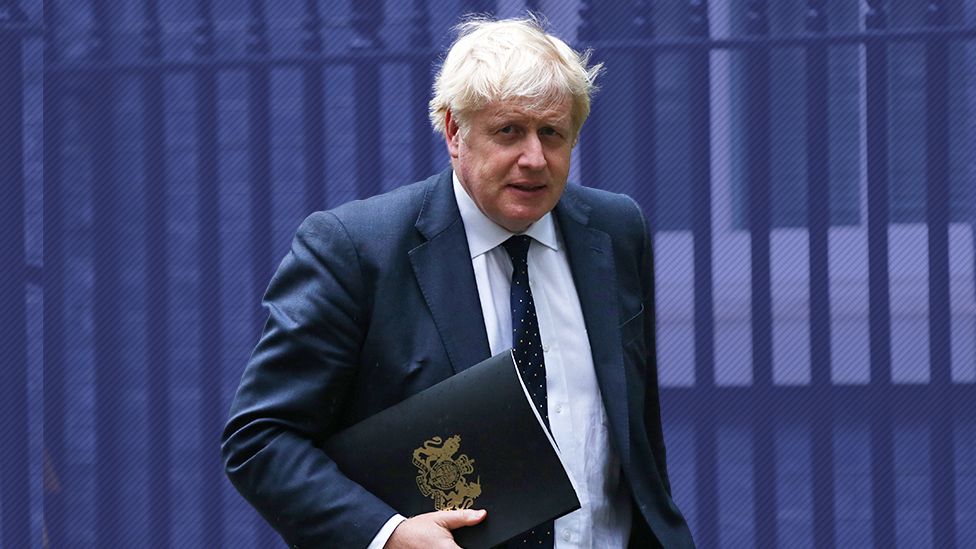 Prime Minister Boris Johnson carried out a minor reshuffle of his cabinet on Tuesday.
It was a much smaller change than the previous reshuffle in September 2021, when 12 people either entered cabinet or changed role, including Liz Truss becoming foreign secretary.
This time only Jacob Rees-Mogg has moved into a full cabinet position, in the new role of minister for Brexit opportunities and government efficiency.
Who else is in the current cabinet? Here's a guide to the people that make up Mr Johnson's cabinet, with the latest new faces and who's changed places.
Boris Johnson

Prime Minister

@BorisJohnson

Boris Johnson became prime minister in December 2019 and immediately faced the UK's looming exit from the EU and the start of the coronavirus pandemic.

The health crisis has been described as perhaps the biggest challenge the country has faced since World War Two.

Mr Johnson's election win secured him the largest Tory majority in Parliament since 1987.

He succeeded Theresa May as prime minister. His only previous cabinet post was foreign secretary, which he quit over differences with Mrs May over Brexit.

Since being at 10 Downing Street, he married his fiancee Carrie Symonds and the couple have had two children.

Rishi Sunak

Rishi Sunak was appointed chancellor during the 2020 reshuffle, following the resignation of Sajid Javid.

Within weeks, he faced the challenge of steering the UK economy through the coronavirus pandemic and national lockdown.

Under his guidance, the government has had to spend many billions of pounds to fight coronavirus and protect the economy.

Seen as rising star, and often touted as a future prime minister, was previously a successful businessman, co-founding a large investment firm.

Mr Sunak is married to Akshata Murthy, daughter of an Indian billionaire. The couple lived in California for a number of years before coming back to the UK.

Priti Patel

Home Secretary

@pritipatel

Priti Patel was appointed home secretary in Boris Johnson's first cabinet and has kept her position since then.

A prominent Brexiteer, Ms Patel had previously argued that Mr Johnson was the only person who could save Brexit and the Tories.

She had previously served as Theresa May's international development secretary, until she was forced to quit following a row over unauthorised meetings with Israeli politicians.

She was first elected to the seat of Witham, Essex, in 2010, after working for several years in PR for the Conservative Party, as well as lobbying for tobacco and alcohol industries.

Liz Truss

Foreign Secretary

@trussliz

Liz Truss replaced Dominic Raab as foreign secretary in September 2021.

Her first role in Boris Johnson's cabinet was as international trade secretary.

She was previously in Theresa May's cabinet as the first female lord chancellor between 2016 and 2017. She served as environment secretary in David Cameron's government from 2014-16.

Ms Truss was elected to Parliament in 2010 after serving as deputy director of think tank Reform.

In a widely-publicised speech in June 2018, she attacked cabinet colleagues for demanding more money, saying it would only lead to higher taxation.

Stephen Barclay

Chancellor of the Duchy of Lancaster

@SteveBarclay

Stephen Barclay replaced Michael Gove as Chancellor of the Duchy of Lancaster and minister for the Cabinet Office in September 2021.

In February, Boris Johnson appointed him as the new chief of staff at Number 10.

Mr Barclay previously served as Brexit secretary under Theresa May and Boris Johnson.

He was elected MP for North East Cambridgeshire in 2010.

Ben Wallace

Defence Secretary

@BWallaceMP

Ben Wallace has been defence secretary since July 2019.

Mr Wallace trained at Sandhurst before joining the Scots Guards as a platoon commander.

During his eight-year spell in the Army, he served in Northern Ireland, Germany, Cyprus and Central America.

He was a member of the Scottish Parliament, before winning his seat of Lancaster and Wyre in 2005.

Anne-Marie Trevelyan

International Trade Secretary

@annietrev

The MP for Berwick-upon-Tweed replaced Liz Truss as international trade secretary in September 2021.

She returned after losing her place in the cabinet when the Department for International Development was scrapped.

Ms Trevelyan was promoted to a role as Armed Forces minister shortly after the Conservatives' 2019 election victory.

An outspoken Brexiteer, she resigned from a previous junior ministerial role in November 2018 in protest at the Brexit withdrawal deal negotiated by former PM Theresa May.

The former chartered accountant has also served on the Public Accounts Committee, responsible for scrutinising government spending.

Sajid Javid

Health & Social Care Secretary

@sajidjavid

Sajid Javid was appointed health secretary in June 2021, following the resignation of Matt Hancock who stepped down for breaking social distancing guidelines.

Mr Javid previously served in a Boris Johnson cabinet as chancellor in 2019, but only lasted six months following tensions with the prime minister's then-advisor Dominic Cummings.

He joined the health department at a critical time, as the country again faced rising cases of coronavirus amid the global pandemic.

The MP for Bromsgrove since 2010 was born in Rochdale in 1969, one of five sons of parents who had moved to the UK from Pakistan.

Nadhim Zahawi

Education Secretary

@nadhimzahawi

Nadhim Zahawi remains education secretary.

He was previously a business minister and minister for vaccines.

Mr Zahawi was elected as Conservative MP for Stratford-on-Avon in May 2010.

Prior to his career as an MP, he co-founded the market research firm YouGov.

Jacob Rees-Mogg

Brexit Opportunities and Government Efficiency

@Jacob_Rees_Mogg

Jacob Rees-Mogg takes on a newly created role in cabinet having previously been an attending member as the Leader of the House of Commons.

He is one of the Conservative Party's highest profile Brexiteers and a key member of party's European Research Group (ERG).

He was a constant critic of former Prime Minister Theresa May over Brexit.

Before being elected MP for North East Somerset in 2010, Mr Rees-Mogg worked in finance, originally based in Hong Kong and later moving back to London. He set up his own investment management company in 2007.

Mr Rees-Mogg, a Catholic, is married with six children. He is against abortion and gay marriage, but it was his position on Brexit, as well as his old-fashioned dress and courteous manner, which have brought him mainstream attention.

Nadine Dorries

Culture Secretary

@NadineDorries

Nadine Dorries remains culture secretary, having replaced Oliver Dowden in the role in September 2021.

She was previously a minister for health and social care.

Ms Dorries was elected as the Conservative MP for Mid Bedfordshire in May 2005.

In November 2012, she was temporarily suspended from the Conservative party after taking part in reality TV programme I'm A Celebrity Get Me Out Of Here.

Before she entered politics Ms Dorries trained as a nurse, then went on to set up her own business and later became a director at BUPA.

Kwasi Kwarteng

Business Secretary

@KwasiKwarteng

Kwasi Kwarteng remains as business secretary.

The MP for Spelthorne in Surrey, seen as a rising star on the right of the party for many years, had been energy minister since July 2019.

He was previously a junior Brexit minister.

Before becoming an MP in 2010, he worked as an analyst in financial services.

Michael Gove

Levelling Up, Housing and Communities

@michaelgove

Michael Gove is the cabinet minister with the most experience and is reponsible for "levelling up"- the programme to help communities who feel they have been left behind.

Mr Gove became environment secretary in June 2017 and proved a key advocate of Theresa May's Brexit deal, while other Brexiteer cabinet ministers resigned.

In 2016, he famously scuppered the leadership hopes of his friend Boris Johnson, by announcing his own candidature on the morning of Johnson's own campaign launch. He lost out to Boris Johnson in the Conservative leadership campaign in summer 2019.

Mr Gove was a key ally of former Prime Minister David Cameron and has served as MP for Surrey Heath since 2005.

He made his name as a radical education secretary, bringing in major changes to exams and the curriculum and battling teaching unions during his four years in the role.

Therese Coffey

Work & Pensions

@theresecoffey

Therese Coffey remains as work and pensions secretary.

The former environment minister was initially appointed to the role after Amber Rudd resigned over the government's approach to Brexit.

Ms Coffey has previously served in a number of roles including Commons deputy leader and assistant whip.

She backed Remain in the 2016 referendum and voted in favour of Theresa May's Brexit deal.

However, she later spoke about the need to honour the referendum result and supported Boris Johnson's Tory leadership bid.

Dominic Raab

Justice Secretary, Lord Chancellor and Deputy Prime Minister

@DominicRaab

Dominic Raab replaced Robert Buckland as justice secretary in September 2021.

Mr Raab faced criticism and calls for his resignation over his handling of the Afghanistan crisis.

He was appointed foreign secretary and first secretary of state in Boris Johnson's first cabinet.

A staunch Brexiteer, Mr Raab served as a justice minister in 2015, but was sacked by Theresa May when she became prime minister the following year. He made a return as Brexit secretary in July 2018 after the resignation of David Davis, but quit only months later in opposition to Mrs May's Brexit deal.

Mr Raab started his career as an international lawyer, before joining the Foreign Office as a diplomat.

Grant Shapps

Transport Secretary

@grantshapps

Grant Shapps remains transport secretary. The former international development minister was appointed to transport in July 2019.

He was once seen as a high-flyer in the Tory party until he resigned following allegations he ignored warnings about bullying when he was party co-chairman.

He was born in Watford and educated at a local grammar school, before going on to Manchester Polytechnic to study business and finance. He later set up his own successful printing business.

Mr Shapps was elected MP for Welwyn Hatfield in Hertfordshire in 2005.

George Eustice

Environment Secretary

@DefraGovUK

George Eustice has been environment secretary since February 2020.

Mr Eustice previously held ministerial posts under David Cameron and Theresa May, but resigned in 2019 in protest the latter's promise to allow MPs a vote on delaying Brexit if her deal failed to pass the House of Commons.

He has represented the Cornish constituency of Camborne and Redruth since 2010.

Brandon Lewis

Secretary of State for Northern Ireland

@BrandonLewis

Brandon Lewis remains as Northern Ireland secretary.

The former Conservative Party chairman rejoined cabinet under Boris Johnson as home office minister in July 2019.

Previous positions include minister without portfolio, minister for housing and and minister for immigration.

A former barrister and leader of Brentwood Borough Council, Essex, Mr Lewis has been MP for Great Yarmouth since 2010.

Alister Jack

Scottish Secretary

@ScotSecOfState

Businessman Alister Jack was elected MP for Dumfries and Galloway in 2017 and has supported what he calls "a successful Brexit for Scotland".

He founded tent-hire and self-storage companies and is also a dairy farmer.

His constituency includes the busiest ferry-port serving Northern Ireland.

He was appointed assistant government whip in February 2019.

Simon Hart

Secretary of State for Wales

@Simonhartmp

Simon Hart remains as Welsh secretary.

Mr Hart has represented Carmarthen West and South Pembrokeshire since 2010.

He previously served as a junior minister in the Cabinet Office.

Baroness Evans

Leader of Lords

@UKHouseofLords

Baroness Evans was appointed Lords Leader in 2016, her first ministerial role since being ennobled by David Cameron in 2014.

She attended London's Henrietta Barnett School and Cambridge University, where she studied social and political sciences.

She went on to become deputy director of the Conservative research department.

She was previously deputy director of the centre-right Policy Exchange think-tank.

She was also director of the New Schools Network, the organisation set up by Rachel Wolf, which runs the free schools programme.

Oliver Dowden

Party co-chairman and minister without portfolio

@oliverdowden

Oliver Dowden is Conservative Party co-chairman and will attend cabinet as minister without portfolio.

He replaces Amanda Milling and co-chairs the party with businessman Ben Elliot.

Prior to his appointment as culture secretary in the last cabinet, Mr Dowden had been a minister in the Cabinet Office - playing a key role working with No 10 in implementing government policy.

Before becoming an MP, the Cambridge-educated law graduate worked in public relations and cut his teeth in the Conservative Research Department.

He then worked as an adviser to David Cameron, becoming his deputy chief of staff in Downing Street. He subsequently received a CBE for his services.

Alok Sharma

COP26 President

@AlokSharma_RDG

Alok Sharma was president of the UN COP26 climate conference, which took place in Glasgow in November.

He had also been business secretary until January 2021, when he left the role to focus full-time on the summit.

The MP for Reading West backed Boris Johnson for prime minister and joined the cabinet in July 2019.

Prior to being elected in 2010, he qualified as a chartered accountant and worked in banking.

Nigel Adams

Minister without portfolio in the Cabinet Office

@nadams

Nigel Adams is Minister of State (Minister without Portfolio) in the Cabinet Office.

Mr Adams supported Brexit and backed Boris Johnson in the 2019 Conservative leadership election.

He has held an number of ministerial positions, including minister for Asia, and has served as a government whip.

He was first elected in May 2010 as the Conservative MP for Selby and Ainsty, the community where he grew up.

Simon Clarke

Chief Secretary to the Treasury

@SimonClarkeMP

Simon Clarke is chief secretary to the treasury, and also attends cabinet.

The MP for Middlesbrough South and East Cleveland was previously a minister in the housing, communities and local government department.

Mr Clarke, a qualified solicitor, worked as a policy specialist on health and education before being elected in 2017.

Kit Malthouse

Home Office and Justice minister

@kitmalthouse

Kit Malthouse remains Minister of State jointly at the Home Office and the Ministry of Justice and attends cabinet.

He became MP for North West Hampshire in 2015. He was a deputy mayor of London from 2008, serving under Boris Johnson.

He came to the fore in the Brexit debate when his name was put to a so-called compromise plan to replace the Northern Ireland backstop with "alternative arrangements".

A chartered accountant who has run his own small businesses, he says that in over two decades of frontline politics, he's signed trade deals around the globe.

Michelle Donelan

Education minister

@michelledonelan

Michelle Donelan remains an education minister, in a post that attends cabinet.

She was previously a government whip.

Ms Donelan was elected as MP for Chippenham in 2015.

Before her political career she worked in marketing.

Mark Spencer

Leader of the Commons

@Mark_Spencer

Mark Spencer moves from the role of government enforcer as the chief whip to the Leader of the House.

Mr Spencer had served in the whips' office since 2016 and was also parliamentary secretary to the Treasury.

From farming family, Mr Spencer did not attend Oxbridge, unlike many of his colleagues. He attended Shuttleworth Agricultural College before joining the family farming business.

He started his political career as a local councillor and won the Sherwood seat from Labour in the 2010 general election.

Chris Heaton-Harris

The MP for Daventry moves from the Foreign Office to become the new chief whip, in charge of disciplining Conservative MPs.

He was first elected in 2010 but before becoming a politician, ran his family's wholesale fruit and vegetable business in New Covent Garden Market.

The former MEP is a qualified football referee and referees on the Northamptonshire Combination League.

Michael Ellis

Minister of State, Cabinet Office

@Michael_Ellis1

Michael Ellis QC has been appointed minister for the Cabinet Office, where he will take on some elements of Stephen Barclay's role.

He will remain paymaster general, which he was appointed last year.

Mr Ellis worked as a barrister for 17 years before being elected MP for Northampton North in 2010.

His legal experience has also seen him given the role of attorney general and he became a member of the Privy Council in 2019.

Suella Braverman

Attorney General

@SuellaBraverman

Suella Braverman replaced Geoffrey Cox as attorney general in 2020 and remains in that role.

A strong Brexit supporter, Ms Braverman chaired the European Research Group from June 2017 to January 2018 and became a minister at the Department for Leaving the EU under Theresa May.

She resigned in November 2018 in protest at Mrs May's draft EU withdrawal deal

Suella Braverman has served as MP for Fareham since 2015.