Tax on landlords could help pay for social care, says Keir Starmer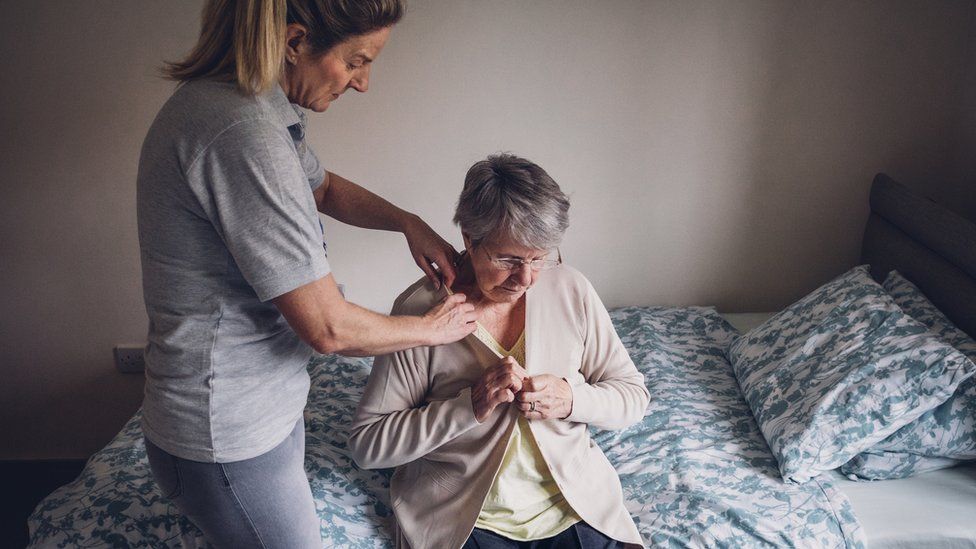 Money to pay for social care could have been raised through taxing landlords, Sir Keir Starmer was expected to tell a conference.
It comes after Boris Johnson announced plans to raise National Insurance tax on workers and employers in order to pay for the NHS backlog and social care
Sir Keir was to describe the rise as "unfair" and "poorly thought through".
But the Labour leader has come under pressure in recent days to detail his own plan to fund social care.
Addressing the House of Commons earlier this week, Mr Johnson acknowledged his tax rise broke a manifesto commitment not to raise taxes, but defended the move as "the right, reasonable and fair approach" in light of the pandemic.
He criticised calls for a rise in capital gains tax - the levy you pay on the profits when you sell an asset - arguing that it would not raise enough money to "even begin to deal with this problem".
Speaking to the Local Government Association which represents councils in England and Wales, Sir Keir was expected to attack the Conservatives' plans, arguing that: "Working people will pay more tax now, but might still have to sell their home to pay even more later."
"This is an unfair plan that doesn't work. And who is left with the bill? It's working people. It's especially low earners and young people who have already borne the brunt of the economic impact of the pandemic," he was to say.
Instead he was to argue that "the money could have been raised by taxing the incomes of landlords, and those who buy and sell large quantities of financial assets, stocks shares".
Mr Johnson's plans, he was to say, leave "a private landlord renting out multiple properties not paying a penny more in tax, and their hard-working tenants to pick up the burden".
He was to add it sees "an Amazon worker's taxes raised, but Amazon itself able to squirrel profits away in tax havens and only pay a fraction of what high street shops do".
Earlier this week, Sir Keir told Sky News he would back "wealth taxes" to fund social care but did not set out further details.
Giving shape to a future Labour policy, Sir Keir was also expected to say that his party would introduce a principle of "home first" care, shift the focus to prevention and early intervention, and introduce a "new deal" for care workers.
Under Mr Johnson's proposals there will be a 1.25 percentage point rise in National Insurance from next April for workers and employers.
It means that someone earning £30,000 will pay an extra £255 a year, while someone on a £50,000 salary will pay £505.
Income from share dividends - earned by those who own shares in companies - will also see a 1.25% tax rate increase.
In 2023, National Insurance will return to its previous level and the tax increase will become a separate health and social care levy on earnings.
The majority of the £36bn fund raised by the rise will go towards tackling the backlog of NHS cases created by the pandemic.
A smaller portion of the money - £5.4bn over the next three years - will also go towards changes to the social care system, with more promised after that.
In his speech, Sir Keir was to warn that the government plans would not provide any money for councils in the short term and would force them to put up council tax in order to meet demand.