Social care tax rise: Boris Johnson defends plan ahead of vote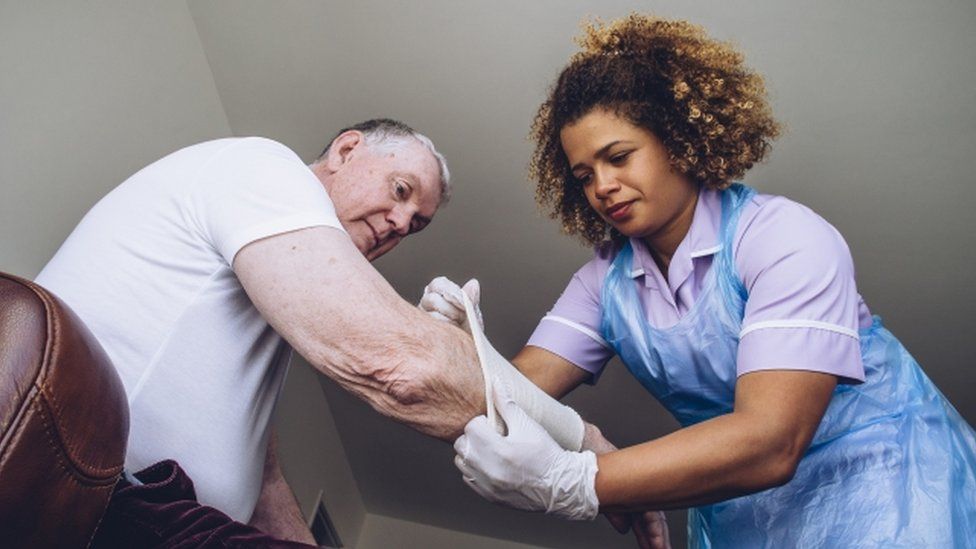 Boris Johnson has defended his plan to raise National Insurance to fund health and social care, saying it deals with "catastrophic costs" faced by millions.
In a testy exchange in Prime Minister's Questions, Labour leader Sir Keir Starmer pressed him on whether he stood by his promise that no one who needed care would have to sell their home.
The PM did not answer directly, saying his party was taking tough decisions.
MPs are debating the plan in the Commons and will vote at 19:00 BST.
In the manifesto-breaking move, the prime minister hopes to raise £12bn a year to tackle the health backlog caused by the Covid pandemic and boost social care.
Mr Johnson said his plan - which includes capping care costs in England at £86,000 - was broad-based and progressive according to the economic think tank the Institute for Fiscal Studies.
"The plan deals - after decades - with catastrophic costs faced by millions of people, the risks that they face, the threat they could face the loss of their homes, their possessions, their ability to pass on anything to their children," he said.
He added it was the first time the state had stepped in to deal with the threat of such costs and meant insurance companies would now be able to help protect people against the costs of care.
But Sir Keir said the tax was unfair on working people, adding: "Under his plan, a landlord renting out dozens of properties won't pay a penny more, while their tenants in work will face tax rises of hundreds of pounds a year.
"A care worker earning the minimum wage doesn't get a pay rise under this plan but does get a tax rise. In what world is that fair?"
Labour's shadow chancellor, Rachel Reeves, confirmed during the debate that the party would be voting against the tax.
A handful of Conservative MPs are also expected to vote against, including former minister Steve Baker, who called on his party to "rediscover what it stands for" rather than "every time there is a squeeze on the public finances, coming back for higher taxes."
But with an 80-seat majority, Mr Johnson's plan is still expected to pass.
The SNP also oppose the move, with its Westminster leader Ian Blackford calling it a "regressive tax" on millions of Scottish workers without consultation.
And Liberal Democrat leader Sir Ed Davey - who is also carer for his disabled son - said the plan "forgot family carers" who just want "a fair deal".
It is widely agreed that major changes are needed to England's social care system, which helps older and working-age people with high care needs to carry out day-to-day tasks, such as washing, dressing, eating and medication.
The key proposals of the new plan are:
People will no longer pay more than £86,000 in care costs - not including food and accommodation - over their lifetime, from October 2023
Once people have reached this cap, ongoing costs for personal care will be paid for by local authorities
Those with between £20,000 and £100,000 in assets will get means-tested help towards costs from their local council
Those with less than £20,000 will not have to pay towards care costs from their assets at all, but might have to contribute from their income
The tax will be raised through a 1.25 percentage point rise in National Insurance - which working people and their employers pay to ensure benefits like the state pension - from next April
This will cost £255 a year for someone earning £30,000, and £505 a year for someone on £50,000, the government says
Mr Johnson has said the majority of the £36bn fund raised by the tax rise will go towards catching up on the backlog in the NHS created by Covid - increasing hospital capacity and creating space for nine million more appointments, scans and operations.
A smaller portion of the money - £5.4bn over the next three years - will also go towards changes to the social care system, with more promised after that.
But there has been anger from the social care sector over the amount they had been promised.
The UK Home Care Association, which represents home care providers, said it was "nowhere near enough", while Unison, a union for care workers, said the money "doesn't even come close" and those in need of care would be feeling "extremely let down".
Chairman of the Independent Care Group Mike Padgham also said the plan did not address the staffing crisis which was "sending the sector into meltdown on a daily basis as care providers struggle to cover shifts".
Asked about staff shortages and low pay, Health Secretary Sajid Javid said the levy would mean local authorities could pay more for care and a new staff training and development programme would be introduced.
From those who work in, commission services or have their lives shaped by the care they get, the reactions to the prime minister's plans to reform this crumbling system have been mixed.
The fact there is a plan is welcome because it means there is something to work with, but charities, councils and the people who run home care and care homes, are worried by the lack of a vision of what a future care system should be trying to achieve.
And there is even more concern about the money. One senior local Conservative politician described the mood in local government to me in one word - "despair".
Councils are facing a significant increase in people asking for help already, but there is no extra money now.
There's scepticism about whether the funding given to the NHS in the short term will actually be released to social care in three years' time.
The politician said the authority feared that as the new levy comes in, their costs will go up as they expect more people will be eligible for council support (with more generous means-testing) and wage bills will rise for them and care providers.
They worry that people believe the social care system is fixed now, but the situation may have just got worse.
The new tax will begin as a 1.25 percentage point rise in National Insurance from next April, paid by both employers and workers, and will then become a separate tax on earned income from 2023 - calculated in the same way as National Insurance and appearing on an employee's payslip.
This will be paid by all working adults, including older workers. The government says it will be "legally ring-fenced" to go only towards health and social care costs.
Income from share dividends - earned by those who own shares in companies - will also see a 1.25% tax rate increase, to stop people getting round the tax by taking more earnings in the form of dividends rather than salary.
The Institute for Fiscal Studies also said the £12bn a year extra for health and social care risked being swallowed up by the NHS.
It suggested that the experiences of the past 40 years showed NHS spending plans were almost always topped up, meaning that health would continue to require the bulk of the revenue raised by the new tax, which "could leave little if any of the tax rises announced available for social care".
The UK-wide tax will be focused on funding health and social care in England, but Scotland, Wales and Northern Ireland will also receive an additional £2.2bn to spend on their services.
Mr Johnson said no Conservative government wanted to raise taxes but defended the move as "the right, reasonable and fair approach" in light of the pandemic, which saw the government spend upwards of £407bn on support.
While he said he did not want to raise taxes further, he did not rule out more increases before the next election.
Sir Edward Leigh said as a "low tax Conservative" MP, it would be "easy to attack" the new levy, warning it could end up "subsidising" wealthy pensioners in the south east of England at the expense of those elsewhere.
But during Wednesday's debate, he said it was "much more difficult to provide an alternative" when the funding was needed for care and the NHS now.
The Tory backbencher did warn the leadership, however, not to think they can "solve these problems by becoming a tax and spend party" to cheers from his colleagues, adding: "It is simply not going to wash".