Afghanistan: Calls to UK veterans mental health helpline double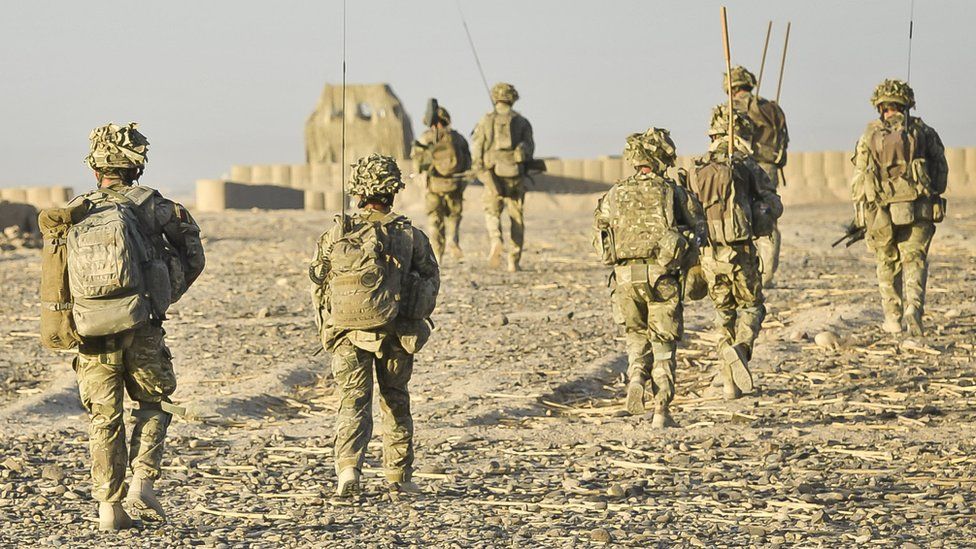 Calls to a veterans' charity have doubled since the Taliban took control of Afghanistan, as ex-service personnel seek mental health support.
Combat Stress says it normally gets about 30 calls a day but this has more than doubled to 70.
On Wednesday, Tory MP Tom Tugendhat said many veterans are struggling "through anger, grief and rage".
Health Secretary Sajid Javid has said he is "urgently" looking at more support for Afghanistan veterans.
About 900 British troops are on patrol at Kabul airport as part of efforts to evacuate UK nationals and Afghans who supported the British military.
Interim chief executive of Combat Stress, Jeff Harrison, told the BBC the charity is "very concerned".
"Every time you turn on the television and every time you pick up a newspaper, Afghanistan is what you see, for those veterans, it's just restarting those memories for them again, so that causes a problem."
He said the helpline was an "initial port of call" for ex-service personnel seeking support.
In recent days, calls to the service were 125% higher than normal on one day, and 103% higher on another.
"That will then lead into further work for our clinicians in doing assessments and appraisals and in therapy work. So yes, absolutely, it is affecting us," Mr Harrison said.
Speaking on BBC Radio Derby, Mr Harrison said many veterans the charity helps are diagnosed with post-traumatic stress disorder (PTSD), related to how individuals process memories from "difficult times of trauma".
"They've found a way to cope with it but anytime that those memories starts to come up again, that exacerbates the problem and can start those mental health issues coming back again."
But he said many ex-service personnel are also dealing with "moral injury".
"While they were there, they knew they were doing something that was really worthwhile - they were helping out a country, they were keeping the rest of the world safe, they were doing everything that was asked of them.
"They knew that it was a moral cause they were there for, and it was an ethical cause.
"And they look now at what's happening, about people just pulling out effectively overnight, and they just wonder what it was all for, was it just a futile effort."
In Wednesday's emergency debate in the House of Commons, former Conservative minister Owen Paterson called on the government and "every one of us" to do more to help.
"These images will be shocking for those veterans," he said.
"Every time they look at the screen, the horrors of their experience in Afghanistan will come back.
"We owe it to those veterans now to go out and look after them."
Conservative MP Jonny Mercer - a former soldier who served in Afghanistan - said the government must "step up and support this group of bereaved families and veterans".
"We will see a bow wave of mental health challenges. We are not trained to cope with the feelings that we have now."
Tom Tugendhat - who also served in Afghanistan - said Health Secretary Sajid Javid had "made a commitment "to do more for veterans' mental health".
Mr Javid said he was talking to the defence secretary and confirmed he was "urgently looking" at more to support for those who served in Afghanistan.
"As a government the welfare of our veterans is a priority.
"I would absolutely understand if veterans perhaps are feeling traumatised and feel they need support. I will 100% make sure that support is there."
About 75% of Combat Stress's funding comes from charitable donations, the rest from various NHS trusts and the Armed Forces Covenant Trust.
In 2020, a funding crisis, forced the charity to scale back its work to focus on treating veterans with the most complex mental health needs resulting from military trauma.
Mr Harrison said the charity was "extremely grateful" for financial support from government, and donations.
"If our funding increases we can see more veterans, it just really is as simple as that."
Labour's shadow minister for mental health Dr Rosena Alin-Khan said mental health charities do "incredible work, but this should complement a properly resourced mental health service."
If you have been affected by issues raised in this story, sources of support are available via the BBC Action Line.