The remarkable rise of the independent councillors
By Alex Forsyth & Brian Wheeler
Political correspondent, BBC News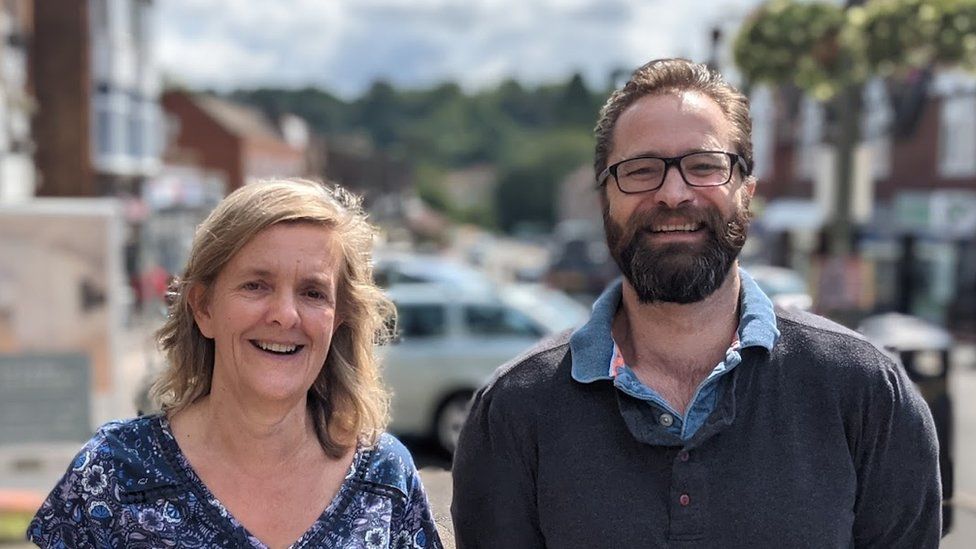 A quiet revolution has been going on in town halls across England and Wales, as voters turn their back on the big Westminster parties in favour of local, independent candidates and residents' groups. What's behind the surge in support for them?
Catherine Sayer never expected to run her local council.
A successful thriller writer with a background in media, local politics was the last thing on her mind.
But in 2008, talk spread through her Surrey town about plans to build thousands more homes.
Fearful for their green belt, members of the local community teamed up to form the Oxted and Limpsfield Residents' Group, and Catherine's decision to join set her on a whole new path.
"I think it started for us with concerns about over development, and I think that's true of many places in the South East," she said.
"Then it just spiralled."
Catherine is part of a growing movement - local citizens passionate about their area, who get together to challenge the big Westminster parties at the ballot box.
It can be a daunting process if you are new to the world of electioneering, but with the low turnout at many local elections, enthusiasm and good local connections can go a long way.
Within a decade of forming a residents' association, Catherine and a handful of her colleagues had won seats on the local district council, hoping to give their group more profile and clout.
At the elections in May this year, independent candidates and members of residents' groups won more seats than any other party and took over the leadership of Tandridge District Council from the Tories - with Catherine at the helm.
"I think what I've found canvassing is that people don't want party politics at a local level. They find all the fighting, infighting, sniping is a real turn off," says Catherine.
"We've found we've had a lot of support among younger people, who almost embrace it immediately because I don't think people see the point of party politics locally."
Deputy leader Cllr Kevin Bourne added: "The squabbling doesn't get anyone anywhere and it doesn't get anything done, so coming away from that is a massive part of the appeal as far as I'm concerned.
"It's choice. Independents and residents' groups give people choices."
In the mid-1970s 20% of local councillors were categorised as independents
Their numbers have been in decline for years but recently took off again
In 2019, independents had a massive breakthrough, making over 650 gains
They now make up about 13% of all local councillors in England and Wales
32 local councils are led by an Independent, according to the Local Government Association
A further 34 further councils have Independents or smaller parties playing roles in the administration
In some places, like Ashfield, in Nottinghamshire, where 30 out of the 35 seats on the District Council in 2019 were won by the Ashfield Independents just four years after forming a group, the breakthrough has been dramatic.
But the vast majority of local authorities in England and Wales are still controlled by the national parties - Labour, the Conservatives, the Liberal Democrats, Plaid Cymru, with an increasingly buoyant Green Party snapping at their heels.
And not everyone is convinced by the rise of the independents.
On Oxted high street there was support for them from those who are clearly disillusioned with the party system, but there was scepticism too.
One shopper, Valerie Greet, told us: "With independent people you're not quite sure of what the policies might be, so from that point of view I would prefer to see a respected well-known party, whichever one it is."
Another added: "I much prefer either Conservative or Labour. Although independents have local interests at heart, they're really not focused enough to get an overall consensus to make things happen."
Support for independents tends to go up when voters are disillusioned with the "mainstream" parties, says Alistair Clark, an expert in local democracy from Newcastle University.
The spike in 2019 came seven months before the general election prompted by the UK Parliament's paralysis over Brexit.
Although that breakthrough was "remarkable", says Dr Clark, he believes the big parties will eventually regain ground, even if it means pilfering the policies of their independent rivals.
"It is a cyclical thing," he says.
But Independents are no longer operating in isolation - the Local Government Association runs training courses for them and a networking group to identify and groom potential candidates.
Some are well-organised groups with regional ambitions, such as The Yorkshire Party or the North-East Party.
In a post-Brexit world, where local pride and identity are increasingly powerful political forces, standing under the name of your area can be an advantage, says Alistair Clark.
Independents are also making waves at Westminster elections, even if the prize of a Commons seat remains a distant dream for most, thanks to the campaigning power and name recognition of the big parties.
At May's by-election in Hartlepool, the Conservatives' victory over Labour grabbed all the headlines, but Samantha Lee, a local businesswoman with no previous political experience, came third with 2,904 votes, a 9.7% share, after promising to "show politicians that we are sick of their party games and empty promises".
A few weeks later at the Batley and Spen by-election, which Labour won by a whisker, the decision of Paul Halloran, of the Heavy Woollen District Independents, not to stand was seen by some as pivotal. Mr Halloran came third in the constituency at the 2019 election, with 12% of the vote.
But the rise of independents at the grassroots level might be halted by the latest changes to local government structures.
A recent report for the LGA's independent group warned that a move to fewer, bigger councils with more powers - a model the government recently approved for North Yorkshire, Somerset and Cumbria - would make it harder for independents or members of residents' groups to get elected.
Marianne Overton, leader of the Local Government Association's independent group and member of North Kesteven District Council and Lincolnshire County Council, said: "The bigger the area, the far more difficult just to be known. And there's the practicalities - you've got a lot more doors to knock on."
The government is looking at the way local government works, but says areas won't necessarily have to abolish smaller councils in favour of larger ones to get more powers, and any reform is best achieved through locally-led proposals.
In Durham, the size of the council has not stopped independent councillors gaining traction.
In May, they won enough seats on the county council to team up with other opposition parties and deprive Labour of control for the first time in decades.
Cllr Alan Shield, leader of the Durham Group, which is made up of independents, said specific local issues had contributed to their success, but the national picture played a part.
"Particularly about Brexit," he says.
"A lot of the population believed they weren't being listened to by mainstream politicians, and that independents spoke specifically for the people they were elected to represent."
His colleague, Cllr Chris Lines, believes independents can go further, although he says it will not be easy, given the financial and organisational muscle deployed by the major parties.
"But (with) what's happened in Durham County Council, given 25% of the councillors are independents, I think there's a chance."