Drugs: Review urges more funding for addiction treatments in England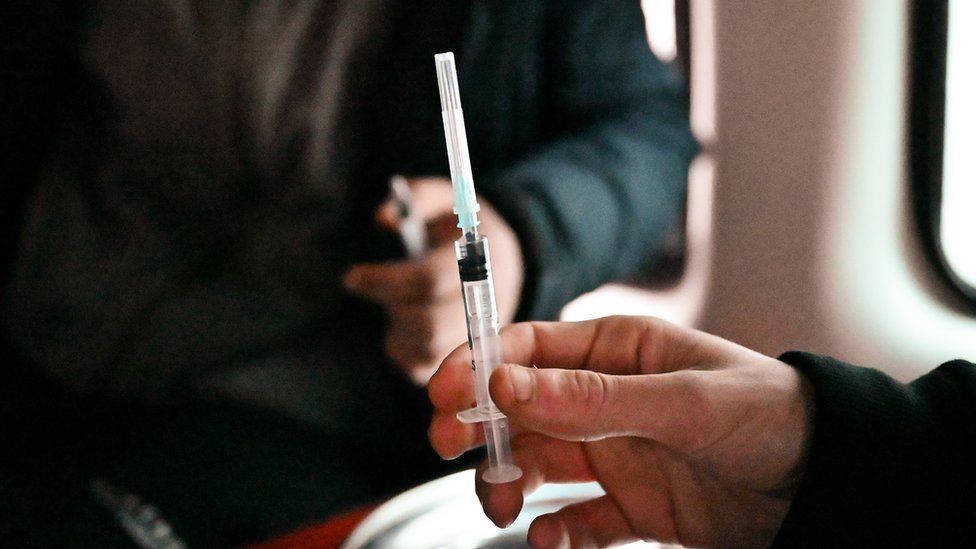 The government has been urged to boost spending on recovery services and treatment for drug addicts by an independent review.
The report by Dame Carol Black said cuts have left services "on their knees" and urged an extra £552m investment over five years in England.
It also advised a £15m boost towards jobs support for those in treatment.
Health Secretary Sajid Javid said ministers would "look closely" at the recommendations.
The government has announced it will follow one of the recommendations, to set up a new cross-government unit on tackling drug misuse.
Mr Javid said it would ensure "strong collaboration" on the issue, which is the shared responsibility of several different departments.
The report is the second part of a two-stage review originally commissioned by Mr Javid in February 2019, when he was home secretary.
The second part, which focuses on treatment services, found "vital services" have been cut back, with support workers "depleted" and "demoralised".
Dame Carol, a medic and government health adviser between 2006 and 2016, said this included specialist services for young people, detox treatment in hospitals, and rehab programmes in specialist facilities.
Speaking on Radio 4's Today programme, she said people dependent on drugs were stigmatised when they should be treated as having a chronic health condition, in the same way as someone with diabetes.
She said a change of attitude and culture was needed so that when an addict completes a treatment programme, they are given ongoing support, rather than being discharged immediately with no follow up care.
'I'd never heard of recovery'
Lena Larsen from Merseyside says she became addicted to heroin "within a few days" after she started taking it aged 19.
The 46-year old says she managed to stop taking the drug in 2002 without going through any recovery treatment, but later started using again after entering an abuse relationship.
"Although I'd stopped the drugs, I hadn't changed anything," she says. "For eight years I managed, but I'd not changed."
She adds she had "never heard of recovery" before a friend took her to a women's refuge and she started attending a specialist centre.
She adds that two and a half years later, her life is "so much different from what it was". She recently came off methadone, a heroin substitute, and also volunteers at the centre, helping other problem drug users.
"You need to engage in something, whatever route it is," she says.
"Putting the drugs down, that's easy, but you need to get involved in whatever it is… putting the drugs down isn't enough."
Dame Carol said many drug addicts committed minor crimes and then ended up in prison.
She said: "I'm calling for there to be consideration within the criminal justice system and the probation system to think about diversion.
"We know that we used to have many more people diverted into appropriate treatment.
"The numbers have decreased because we don't have the quality and the quantity of treatment to permit this to happen with good results."
Nic Adamson, the executive director of drug recovery organisation Change, Grow, Live welcomed the idea of a more health-based approach.
She said: "Drug use doesn't come in isolation, it's part of a much broader societal issue in relation to deprivation and poverty and the broader range of health issues that come with it.
"Talking about it as a health condition means it's much easier for us to access the broader range of help that people need."
Dame Carol said a recent pledge to spend an extra £80m on treatments in England was welcome, but should lead to further spending pledges this autumn.
And she welcomed the announcement by ministers of a Joint Combating Drugs Unit as providing "a very fair chance to deliver" on her recommendations.
Dame Carol's review also called for:
funding to set up a new professional body for drugs treatment professionals
funding for "peer mentors" in job centres to encourage drug addicts to access employment support
ensuring everyone leaving prison has ID and a bank account, so they can access the benefits system
a fund to research which measures work best at changing the behaviour of "recreational" drug users
The Local Government Association, which represents council leaders in England, said funding for treatment services had "not kept pace with demand".
Drug-related deaths in England and Wales reached their highest level since records began in 2019, the last year for which figures are available.
This marks a 52% increase in drug-related deaths in the past 10 years.