Jonathan Bartley: Green Party co-leader to stand down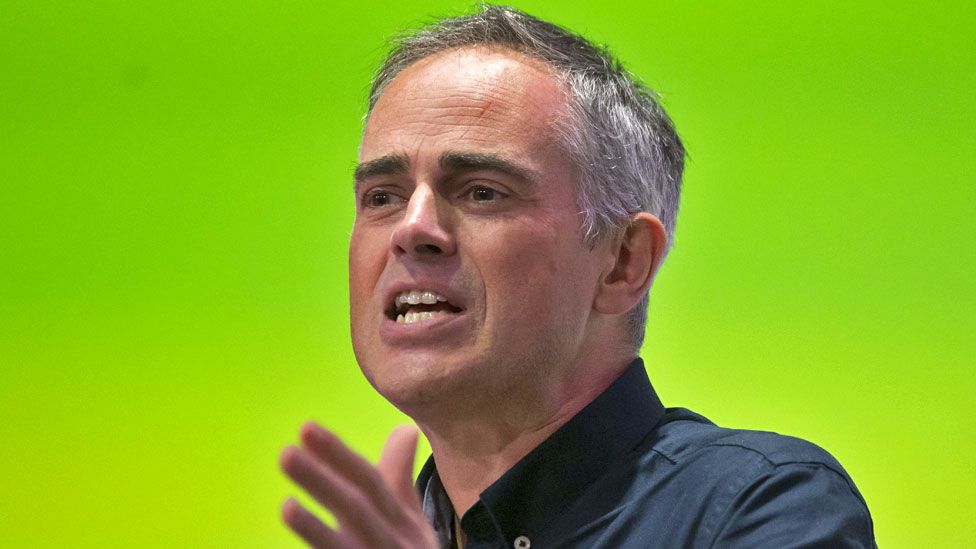 Jonathan Bartley is to stand down as co-leader of the Green Party in England and Wales at the end of July.
The London councillor said he wanted to give the party time to choose new leadership before the next general election.
He has co-led the party since 2016, first alongside Green MP Caroline Lucas and then current co-leader Sian Berry.
Ms Berry will remain acting leader whilst a leadership election takes place.
In a statement, Mr Bartley said the party's new leadership team "needs time to get used to the role" before voters next head to the polls.
He added it was "increasingly clear" the prime minister could use new powers to call a general election earlier than the planned date of 2024.
Mr Bartley and Ms Berry were due to face re-election in September 2022, as the Greens have a policy of electing new leaders every two years.
Party officials are yet to decide whether single candidates will be able to stand in the race to replace them, as would happen for a scheduled contest.
They will also have to decide whether to elect a new deputy leadership at the same time, so the terms for the two roles can continue to run in sync.
The party normally elects its leadership and deputy leadership together, in order to meet gender balance rules in its constitution.
Mr Bartley added he was "hugely proud" of what the party had achieved in the last five years, adding it is now "vying to be the country's third party".
He said he planned to use his experience as co-leader to "develop the wider movement for a progressive alliance".
"Until progressive parties work together, there is a risk of Conservative governments for years to come," he said.
He added he hopes to play a "full, if different role in the Green Party" after stepping down.
For many years, the Greens did not have a leader, just "principal speakers", to distance themselves from the traditional Westminster power structures.
There are separate Green parties in Scotland and in Northern Ireland.