Drugs: Government adviser to urge more focus on health of users
By Jack Fenwick
BBC Politics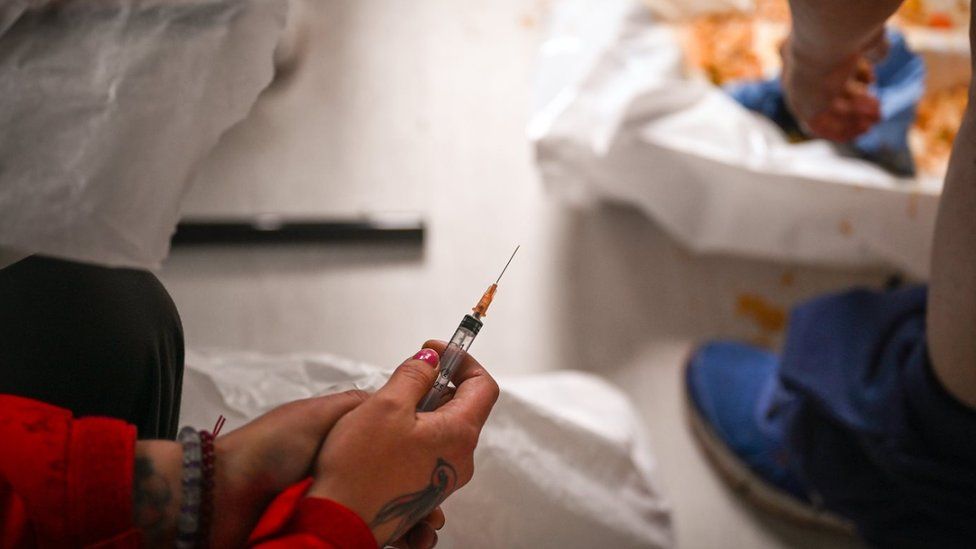 An independent review into the UK's drug policies is likely to recommend a more health-based approach, the BBC understands.
"Health-based" approaches to drugs put a greater focus on treatment and recovery services for addicts.
It is likely to acknowledge system failures after a squeeze on funding for youth services in local government.
The review was originally commissioned last July, and will highlight shortcomings due to cuts across national government.
The recommendations could lead to a more significant role for the Department of Health and Social Care (DHSC) when formulating drug policy.
Responsibility is currently split between departments including the Home Office, the Ministry of Justice and the DHSC.
Next month's publication is unlikely to include any spending commitments, but it is understood conversations have been going on with the Treasury for a number of months.
The recommendations are expected to be factored into the spending review later this year.
Dame Carol, who was a government health adviser between 2006 and 2016, has previously said she believes drug addicts have been treated differently to people with other illnesses.
Her report is likely to recommend more support for problem drug users dealing with secondary health issues such as anxiety.
Conservative MP Crispin Blunt, who chairs the Conservative Drug Policy Reform Group, has welcomed the likely recommendations.
He said current policy is "dominated by the Home Office security agenda" and a health-based approach would be "supported by the evidence".
"If drug misusers' issues were dealt with as a health problem, rather than as a criminal justice problem, we're likelier to have a much healthier and better society as a consequence.
"We can protect children, we can reduce criminality and we ought to be able to drive a research and scientific dividend and an economic dividend," he told the BBC.
Last month more than 50 MPs and peers, including Mr Blunt, called for the Misuse of Drugs Act to be replaced.
But the parameters of Dame Carol's review, set by the government, prevented the report from looking into a change in legislation.
Figures release by the Office for National Statistics showed almost 4,400 drug deaths recorded in England and Wales in 2019, the highest since records began in 1993.
The National Records of Scotland recorded more than 1,200 drug deaths in 2019 and last year First Minister Nicola Sturgeon appointed a dedicated minister for drug policy.
The SNP has recently called for the UK government to further devolve drug powers to Holyrood.
A UK government spokesperson said: "We are committed to tackling the root causes of substance misuse to improve health outcomes and save lives.
"The initial findings of Dame Carol's review set out the scale of the challenge and our focus is on ensuring that appropriate services are in place to support the treatment and recovery of drug users, as well as preventing drug use in our communities in the first place.
"We look forward to the publication of Dame Carol's recommendations and working with her and others on the solutions."