Euro 2020: Fans should not boo players taking the knee, says No 10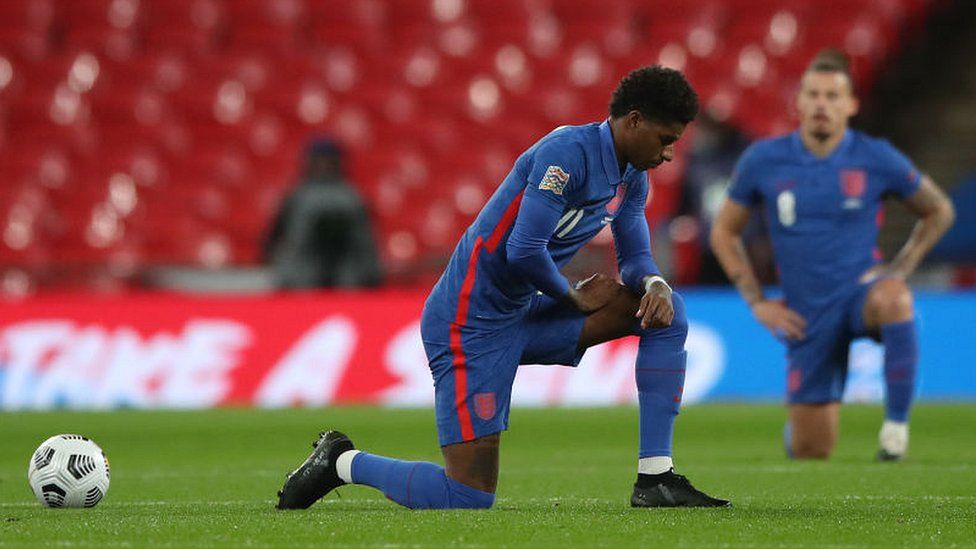 Football fans should not boo players who decide to "take the knee" before matches, Downing Street has said.
Boris Johnson wanted to see fans "getting behind the team to cheer them on" instead, a spokesman said.
But the prime minister has not condemned fans who jeered when England players took the knee during two recent games.
Labour leader Sir Keir Starmer said booing was "wrong," and accused the PM of lacking "the guts to call it out".
Meanwhile, Scotland players have now decided to take the knee for their Euro 2020 game against England next week, having previously decided not to.
England players are set to continue making the gesture during the delayed European championship, which gets under way this week.
No 10 has declined to condemn fans who jeered when England players took the knee at two recent warm-up games for the tournament.
Asked on Friday whether Mr Johnson would condemn supporters who boo, his spokesman replied: "The prime minister respects the right of all people to peacefully protest and make their feelings known about injustices.
"I think the prime minister has spoken before about his desire to get everybody to get behind the national team and the PM would like to see everyone getting behind the team to cheer them on, not boo."
Education Minister Gillian Keegan has said players taking the knee, done in support of Black Lives Matter, was "creating division".
But in an interview with The Guardian, Sir Keir Starmer said England players were right to do it, calling it "an important collective decision by the team about their expression of their opposition to discrimination and racism".
"The idea you boo the team is completely wrong," he said.
"The prime minister was wrong when he refused to call it out. He didn't have the guts to call it out, he hedged his bets and in doing so he undermined the team on the verge of this competition.
"He didn't have the courage to stand by the England team on the verge of this competition, and he's wrong about that and that's a failure of leadership."
Former Labour prime minister Gordon Brown has praised England players for taking the knee - adding they were "bringing the whole country together".
In an interview recorded on Thursday, Mr Brown told the BBC's Political Thinking podcast that the team had taken a "difficult decision" in adopting the gesture - which England player Marcus Rashford has called the "right thing to do".
He added: "I don't think it was right for Downing Street not to support Marcus Rashford.
"Marcus Rashford has stood up for some really good causes over the last year, but he's also stood up for far better race relations and community relations in this country. So we should support the team when it does this.
Mr Brown, who was Labour prime minister from 2007 to 2010, told Nick Robinson he would "like Boris Johnson to come out publicly to support the England football team in what they do".
He warned it would be "bad for Britain" if "culture wars started to develop" and "people seized on one instance of someone doing something and trying to make it a big issue that divided the public rather than united the public".
On Friday, Scotland Manager Steve Clarke said the players had decided to take the knee for their game against England next Friday to show "solidarity" with England players "on the receiving end of abuse from fans".
The Scotland players will continue to stand for their other games during the tournament.
Mr Clark added that the team had "reflected" on the matter as a group, after "divisive and inaccurate comments" about their decision to stand instead of kneel.
"We remain committed to our principles of taking a stand, but we must also be unequivocal in condemning the opportunistic false narrative being presented by some," he added.
Scotland's First Minister Nicola Sturgeon backed the team's stance, saying that taking the knee alongside England players was a "good decision".
Asked about the booing on Sunday, Mr Rashford said: "It's something that we can't control, and for us we believe [taking the knee is] the right thing to do, so we're going to continue to do it."
England manager Gareth Southgate has said his team's gesture, adopted throughout the last Premier League season, is not "political" but an attempt to highlight racial injustice.
Wales will also take the knee at Euro 2020.
On BBC One's Question Time on Thursday, Ms Keegan said people were "perfectly free" to take the knee, but added it was "symbolism more than action".
Vaccines minister Nadhim Zahawi told BBC Radio 4's Today programme he "absolutely" backed the "symbolism of reminding the world of how painful it is to be subjected to the racism that Marcus Rashford has been subjected to".
He added: "If you then extrapolate to a Black Lives Matter movement that has a political agenda... that's a different place... which is why I think we just have to differentiate and rightly back our team."
American footballer Colin Kaepernick started kneeling during the pre-game national anthem in the NFL in 2016, in protest at police violence against African-Americans.
Since last year, when the Black Lives Matter movement gained momentum in the wake of the murder of George Floyd by a police officer in the US, many sportspeople around the world have chosen to take the knee.
Nick Robinson's interview with Gordon Brown will be broadcast at 17:30 BST on Saturday on BBC Radio 4. It will also be available on BBC Sounds.