Covid contracts: Priti Patel accused of lobbying for face mask firm
By Francesca Gillett
BBC News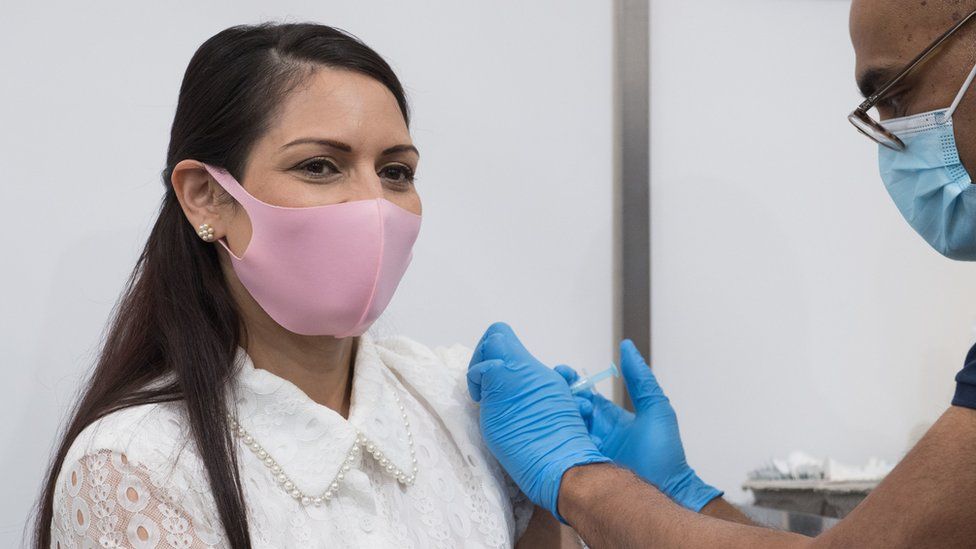 Home Secretary Priti Patel has been accused of lobbying a fellow minister on behalf of a healthcare firm trying to get a government contract.
In May last year, Ms Patel wrote to Michael Gove expressing disappointment the government had not bought face masks from a company that had links to someone she knew.
Labour has called for an investigation, saying she breached ministerial rules.
But Ms Patel's spokesman said she acted as she should have.
"The home secretary rightly followed up representations made to her about the vital supply of PPE," the spokesman said.
"During a time of national crisis, failure to do so would have been a dereliction of duty."
In recent weeks there have been a series of revelations about PPE deals awarded to those with government connections.
In May 2020, Ms Patel wrote a letter to Mr Gove, the Cabinet Office minister, about a company called Pharmaceuticals Direct Ltd that was in talks with the government about an order for face masks.
She said the government's "late stage" decision not to use the company had caused problems for the firm.
"I would be most grateful if you could review this matter urgently," she wrote in the letter to Mr Gove.
The contact at Pharmaceuticals Direct Ltd was a man called Samir Jassal, a Conservative activist who Ms Patel knew. According to his LinkedIn, he worked as an adviser to Ms Patel between 2014 and 2015 and on social media describes her as a "good friend".
Health Secretary Matt Hancock wrote back to Ms Patel to say the masks being offered by the firm were "not suitable for use in the NHS".
But the company was later awarded a contract in July 2020, worth just under £103m, to supply a different type of mask.
Labour called for an investigation, saying there was "no evidence that the Home Secretary had any interest" in the PPE deal until contacted by Mr Jassal, suggesting she did it "as a favour to her friend".
"This would represent a glaring and flagrant breach of the ministerial code," the party said, referring to the set of rules for ministers' conduct.
Labour pointed to this principle in the code: "Ministers must ensure that no conflict arises, or could reasonably be perceived to arise, between their public duties and their private interests, financial or otherwise".
The Good Law Project, a campaign group which took the government to court over not publishing PPE contracts, is taking legal action over the £103m contract for masks.
The government has previously said ministers have no part in deciding who gets contracts.
After coronavirus hit the UK, the government struck thousands of deals with private companies, spending billions of pounds of public money in the process.
Because it was an emergency, the government was allowed to go directly to preferred suppliers without any competition. But it has led to questions about the way the contracts were chosen.
Mr Jassal previously said the company has 20 years' experience in the healthcare sector and it asked to supply PPE via an online government portal. The company, he said, had supplied PPE to various outlets for many years.
Pharmaceuticals Direct Limited said: "The business is proud of its successful track record of procurement and supply to various medical organisations, including supplying NHS bodies.
"As a business that has specialised in the procurement and delivery of healthcare supplies for more than 20 years, PDL was (and is) both equipped and well suited to find solutions to the urgent demands of the pandemic."
The company also said Mr Jassal was not employed by PDL.
This article was updated on 18 May after Pharmaceuticals Direct Limited responded with a comment.