Analysis: Is the Green Party on the rise - and if so, why?
By Chris Mason
Political correspondent, BBC News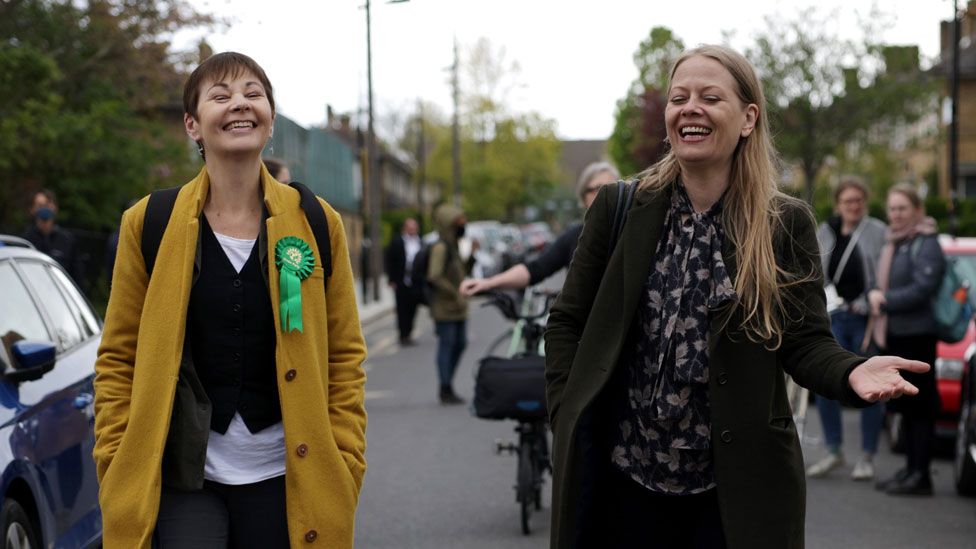 The joy of a buffet of elections is being able to graze on the details that emerge beyond the main headlines - the political afters while most people are gorging on the main course.
So, let's take a look at how the Green Party did in Thursday's polls.
Or should I say, green parties.
Others are poring over the pivotal role the Scottish Greens are likely to play in the coming years in the Scottish Parliament, given they serve up Nicola Sturgeon with a majority in favour of another independence referendum, which the SNP didn't manage on its own.
But what about the Green Party of England and Wales?
No such power-broking for them on the national stage, but some fascinating trends to take a peek at.
The party has gained more than 80 council seats so far.
We should be clear: that's a rise from a very small number, to a slightly bigger small number.
But then there are mayoral races.
"The Green Party is one of the two main parties in this city," said the party's candidate, Sandy Hore-Ruthven.
Sian Berry, the party's co-leader and candidate for Mayor of London, tweeted a video with delight celebrating her "really strong third place".
She managed just shy of 200,000 first-preference votes, double her party's total in 2012.
Bluntly, though, politics is a pursuit where you are either a winner, or one of the losers.
So does any of this matter?
Politics is also about building momentum, and fighting for attention.
If you get labelled as "other," an amorphous blob of minnows, that is rather hard.
So little wonder Jonathan Bartley, the party's co-leader alongside Sian Berry, suggested it should be their party rather than the Liberal Democrats, that found itself invited on to a television sofa this weekend to mull over the results.
The Lib Dems have 11 times as many MPs - Caroline Lucas is still the Greens' sole representative on the green Commons benches - and more than four times as many councillors in England, but the Greens claim to have more mojo, movement and growth.
The BBC's elections supremo. Professor Sir John Curtice says: "These local elections appear to confirm that the Greens are now able to win a non-trivial proportion of the vote."
Which council areas changed hands?
Please refresh your browser
But is this any more than the ebb and flow of election cycles? Or is it indicative of some sort of trend?
In a typically pugnacious post on social media, former Green MEP Molly Scott Cato said: "The way broadcasters are almost entirely ignoring the frankly astonishing gains by the Green Party is the best indicator to those who want real change and to challenge the establishment that they should always vote Green."
'Disillusionment with Labour'
I called her with a mild sense of trepidation (incidentally, Jonathan Bartley had been on Newsnight and Sian Berry talked to Huw Edwards on the BBC's election special, but we'll let that go).
The Green Party's performance at this set of elections was down to three factors, Ms Scott Cato told me.
"People are facing up to the climate crisis, which we've been thinking about for decades," she said.
There was also "disillusionment with Labour" and, finally, "the shoe leather thing", as she put it.
"You do find people who say they are Green voters. But you don't find anyone who says, 'My granddad voted Green.'"
In other words, if there is any tradition to voting Green, it doesn't run very deep.
The party has to scrap and harry for every single vote.
Ms Scott Cato reckons that makes the Greens distinctive, where others may be more complacent about at least something of a core vote.
Let's dig a little deeper.
Who is voting Green, and where? And how much of this points to evidence of a splintering on the Left, where, in very broad terms, Labour, the Lib Dems, the SNP and the Greens are all chasing voters who lean in that direction, leaving the Conservatives with a near monopoly for those who lean to the Right?
"The party's performance overlapped with Labour's, with the strongest Green showings in areas with the most graduates and professionals," writes Professor Rob Ford of Manchester University in the Observer.
"The quietly impressive performance by the Greens this week is a big hint that we may well be heading in the same direction as our European neighbours, such as Germany, where cosmopolitan parties are eclipsing the old centre-left."
He adds: "Fast forward 10 years and I'd not be surprised to see the Greens or the Lib Dems as a much bigger force, rallying zoomer graduates, middle-class professionals and city-dwellers in the face of a Labour Party that looks bewildered and lost."
Plenty of parties have been assumed by some to be on the brink of death, only to revive themselves.
George Dangerfield wrote a book called The Strange Death of Liberal England, in 1935.
Geoffrey Wheatcroft wrote a book called The Strange Death of Tory England, in 2005.
Others have been talked up, as the Greens have before, only to tread water or shrivel.
Predicting what might happen in politics is a brave game, which is what makes it so fascinating to observe.
The Green Party of England and Wales remains a tiddler, but there is evidence it is growing, and growing in confidence.