Election results 2021: Conservatives hurt Labour in its former heartlands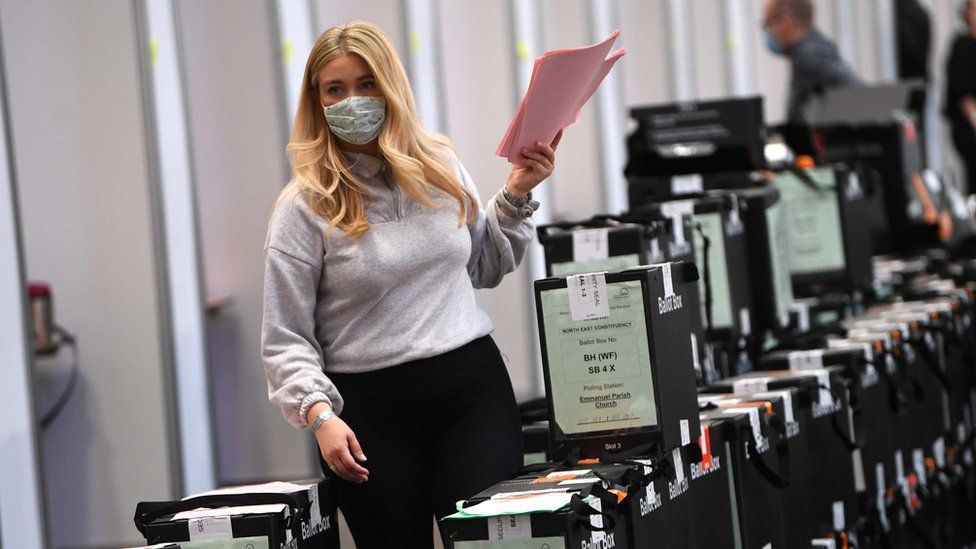 The Conservatives have continued to sweep aside Labour in its traditional north-eastern English heartland.
The party lost control of Durham County Council, which it has run since 1925, losing 15 seats as the Tories took 14.
This follows the Conservatives winning the Hartlepool parliamentary by-election and receiving 73% of the vote in the Tees Valley mayoral election.
But, elsewhere, Labour has kept hold of its mayoralties in London and Greater Manchester.
Most of the results of Thursday's local elections in England are now in.
The Liberal Democrats have won St Albans council, Hertfordshire, which was previously under no overall control.
And the Conservatives have taken Derbyshire's Amber Valley Borough Council from Labour.
So far, the Conservatives have made a net gain of 12 councils, while Labour has lost control of eight.
There was better news for Labour when Sadiq Khan was re-elected as London mayor, with the result coming late on Saturday, although his margin of victory over Conservative rival Shaun Bailey was not as big as opinion polls had predicted.
But Labour failed in its attempt to oust Conservative Andy Street as mayor of the West Midlands.
Among the results still to come are Bristol, where Labour is one seat off a majority, but where the Green Party are expected to do well.
The Conservatives would need to gain five seats to take control of Oxfordshire County Council, which is also expected to declare later on Sunday.
The results of the contest for the newly created role of West Yorkshire mayor will also be announced.
Click or tap to explore map
The elections are the biggest test of public opinion since the 2019 general election and the first electoral test for Sir Keir Starmer since he became Labour leader last year.
BBC analysis estimated the Conservatives would have won a 36% vote share in a nationwide general election, if those who voted in England's local elections behaved in the same way.
The projection, based on detailed data from 1,000 key wards, estimated a 29% share for Labour, 17% for the Liberal Democrats and 18% for other parties.
Liberal Democrat leader Sir Ed Davey said his party, which has lost a few council seats but held control of Cheltenham and Eastleigh, was "moving forwards and making progress".
The Green Party has picked up seats with 70 new councillors, with the party's one MP, Caroline Lucas, saying it felt like a "green spring is happening".
The Conservatives picked up control of several councils, including Southampton, Cornwall, Nottinghamshire and Basildon, as well as winning Harlow from Labour.
And it managed to keep the Tees Valley mayoralty - in an area once considered a Labour stronghold - with Ben Houchen increasing his share of the vote.
Labour lost control of councils including Sheffield and Plymouth - although it retained areas including Liverpool, Manchester, Hastings and Exeter.
Environment Secretary George Eustice said Labour had been punished in Leave-voting areas by "wrangling" over Brexit in recent years.
He added that the Conservatives had also reaped the benefit from the successful roll-out of Covid vaccines.
Labour's shadow home secretary Nick Thomas-Symonds said Labour needed to be "humble" in the face of disappointing results, and would be carrying out a "root and branch" review of its policies.
But he added that the Covid crisis "clearly has been a restriction on Keir being able to set out his own vision" to voters in England.