UK and Norway fail to reach fishing deal
By Justin Parkinson
Political reporter, BBC News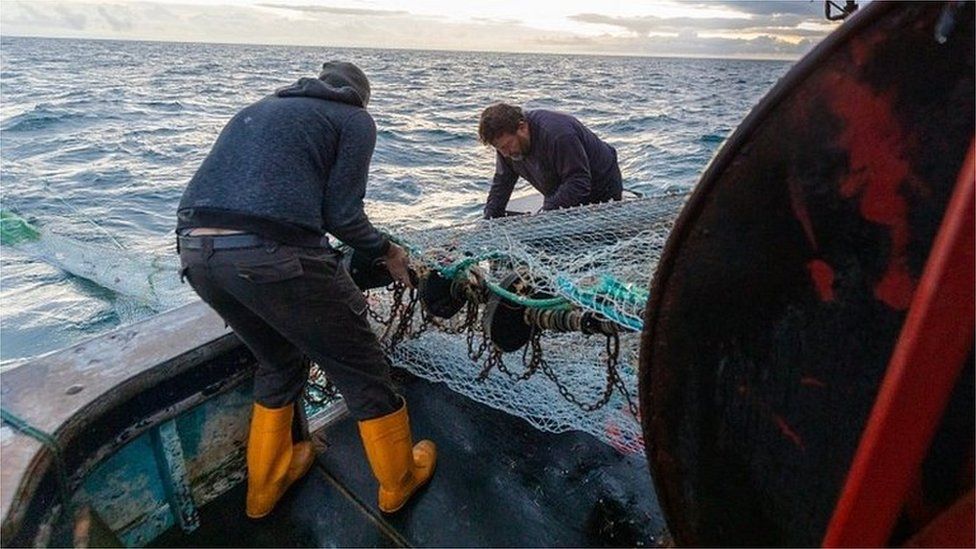 The UK and Norway have failed to reach a fishing deal for this year, with the industry warning that hundreds of crew members will be left out of work.
It means UK fleets will have no access to Norway's sub-Arctic waters, known for their cod catches.
The government said its "fair offer" had been rejected in talks.
The firm UK Fisheries called it a "disgrace", saying fishermen in Hull would be particularly badly affected by the lack of progress.
In 2018, UK fleets landed fish worth £32m in Norwegian waters, according to the government.
With the UK no longer part of the European Common Fisheries Policy, it now deals directly with Norway - which is not an EU member state - on fishing matters.
The two countries agreed last year to a post-Brexit system of co-operation, including annual negotiations on quotas and access to each other's waters.
But a deal for 2021 proved impossible, despite weeks of talks.
UK Fisheries chief executive Jane Sandell complained that the UK government had failed "even to maintain the rights we have had to fish in Norwegian waters for decades".
She added: "In consequence, there will be no British-caught Arctic cod sold through chippies for our national dish.
"It will all be imported from the Norwegians, who will continue to sell their fish products to the UK tariff-free, while we are excluded from these waters. Quite simply, this is a disgrace and a national embarrassment."
UK Fisheries said it had invested approximately £180m in the last 20 years in the Humberside fishing industry, and had planned to put in a further £100m.
The company's giant vessel, the Kirkella, normally catches around 10% of all the fish sold in the UK's chip shops.
A Department for Environment, Food and Rural Affairs spokesperson said it had always been clear it would only strike agreements "if they are balanced and in the interests of the UK fishing industry".
"We put forward a fair offer on access to UK waters and the exchange of fishing quotas, but we have concluded that our positions remain too far apart to reach an agreement this year," they added.
"Norway is a key partner and we will continue to work with them over the course of the year."