Starmer says he is proud to support John Lewis after Tory criticism of photo op
By Justin Parkinson
Political reporter, BBC News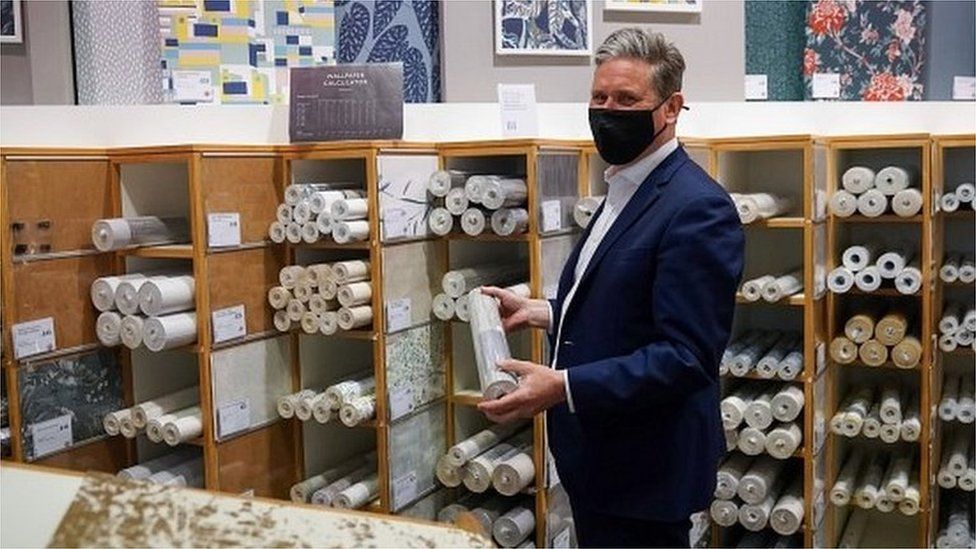 Sir Keir Starmer has hit back at Conservative criticism of a department store photo op, saying he does not "turn his nose up" at John Lewis.
The Labour leader's Thursday trip to the wallpaper section of the Manchester branch was meant as a dig at the PM over the No 10 flat redecoration row.
The Tories accused him of "playing politics" but Sir Keir said he was "very proud to support John Lewis".
Several investigations are under way into the Downing Street flat.
Mr Johnson insists he has covered the costs of the upgrade out of his own pocket.
But speaking on an election campaign visit to Hull on Friday, Mr Starmer continued to press for details of who initially paid for the redecoration.
"The prime minister knows the answer to that question but he won't answer it," he said.
"He could end all this, we could move on, all these investigations could be closed down in five minutes if the prime minister answered the question."
Mr Johnson has said he will co-operate with the investigations, adding: "I don't think there is anything to see here or worry about."
The Downing Street flat refurbishment - overseen by Mr Johnson's fiancee Carrie Symonds - is reported to have cost up to £200,000.
The Electoral Commission is investigating its funding, as are the UK's top civil servant and the prime minister's own standards adviser.
On Thursday. During a campaign visit to Greater Manchester ahead of next week's local and mayoral elections, Sir Keir popped in to the chain's Trafford Centre store.
He made for the furnishing, fabrics and cushions department, on the first floor, and inspected the wooden wallpaper racks.
Sir Keir read the "wallpaper calculator" and picked up some of the rolls - patterned and plain - at one point smiling to a photographer.
Ms Symonds has denied reports that she objected to the way the flat had been decorated by her fiance's predecessor, Theresa May - which society magazine Tatler claimed a visitor had once called a "John Lewis furniture nightmare".
On a trip to a London school, Mr Johnson joked that this was "the one thing I object to in this whole farrago of nonsense", adding: "I love John Lewis."
Sir Keir's move appeared to anger Ms Milling, who tweeted one of the pictures, writing: "When we say Labour are playing political games this is exactly what we mean.
"Today the PM visited a school to see how we are levelling-up opportunity, focusing on people's priorities. Keir Starmer is doing exactly what we said he'd do - playing politics."
Earlier, Labour's deputy leader Angela Rayner said the "general public need to know" about the flat payments.
Prime ministers get £30,000 towards refurbishing their Downing Street accommodation.
The recent work carried out for Mr Johnson and Ms Symonds was by designer Lulu Lyttle - whose company says its aim is to contribute to the "joyful atmosphere of any interior".
Mr Johnson has said he paid the costs himself, but he has not specified whether this happened when he first received the bill, or whether he was loaned the money and later repaid it.
The Electoral Commission - which oversees political finances - will investigate the Conservative Party's compliance with laws on political donations, having said there are "reasonable grounds to suspect that an offence or offences may have occurred".
Sir Keir said the situation was becoming "farcical", adding that "it would take [Mr Johnson] about one minute" to give the details of who paid for the works, and when, "and then he can get back on with the day job".
But Mr Johnson insisted he was "focusing on the stuff that really matters", including "priorities", such as easing Covid restrictions and improving the economy.
The prime minister's flat is actually above 11 Downing Street, rather than No 10, because it offers more space.