Dyson lobbying row: No 10 announces leak inquiry into Johnson's texts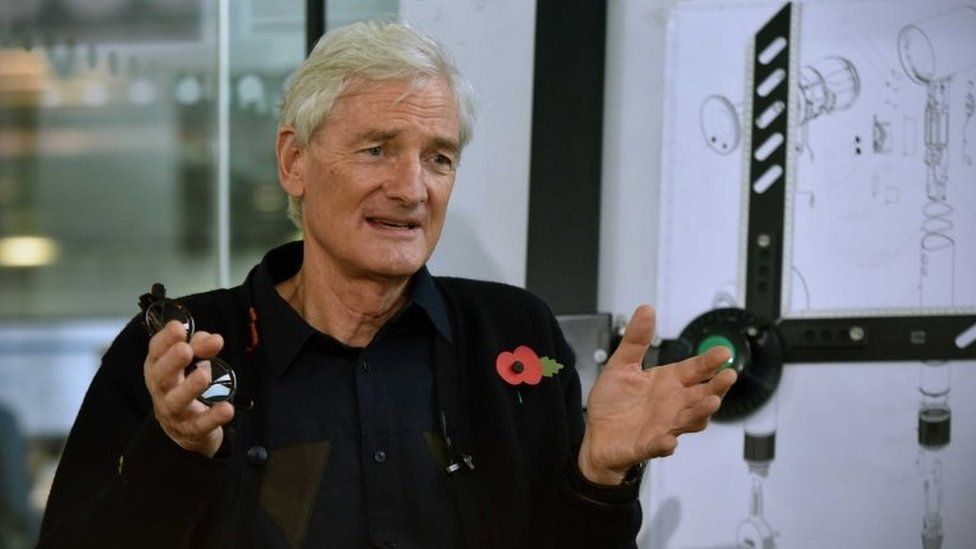 The government has announced an internal inquiry into the leak of private messages between Boris Johnson and businessman Sir James Dyson.
Texts published by the BBC showed the prime minister promising Sir James he would "fix" an issue on the tax status of Dyson staff working in the UK during the pandemic.
Labour has said the messages are part of a pattern of government "sleaze".
The PM said he made "no apology" for trying to get ventilators for the NHS.
Asked about the leaks, Mr Johnson's official spokesman said: "We have instructed the Cabinet Office to look into this."
Labour leader Sir Keir Starmer said the issue wasn't about getting hold of ventilators but "whether those who are well known to the party, the Tory party, friends etc who've got the prime minister's number can access him and ask about tax breaks".
He said people who could access the prime minister directly were in a "magic circle," while others were left "outside".
He urged the prime minister to "disclose all of the contacts that he's had".
At the beginning of the coronavirus pandemic, the government asked companies, including Dyson, to help supply ventilators.
Sir James sought assurance from the Treasury that his workforce would not be hit with extra taxes if they came to the UK to help with the effort.
Having failed to get a response, he contacted the prime minister directly via text.
In the messages seen by the BBC, Mr Johnson told Sir James: "[Chancellor] Rishi [Sunak] says it is fixed!! We need you here."
In a later text Mr Johnson said: "I am First Lord of the Treasury and you can take it that we are backing you to do what you need."
In a statement, Sir James said he was "hugely proud" of Dyson's actions in the pandemic.
He added that Dyson had not "any benefit from the project" and that the company had "voluntarily covered the £20m of development costs".
"Not one penny was claimed from any government, in any jurisdiction, in relation to Covid-19."
When challenged about the texts at Prime Minister's Questions on Wednesday, Mr Johnson said he made "no apology for moving heaven and earth" to improve supplies of equipment to treat coronavirus patients.
Mr Johnson said there was "nothing to conceal about this" and added that he would share details with MPs.
The prime minister's official spokesman said No 10 was "pulling together that information it will be published shortly".
The spokesman did not deny reports that the government's top civil servant Simon Case advised Mr Johnson to change his phone number following concerns that it was too easy for lobbyists and business leaders to contact him
Meanwhile, Sir Bernard Jenkin, chair of the Liaison Committee - made up of senior MPs - has said they will consider Labour's request to examine the PM's contacts with Dyson.